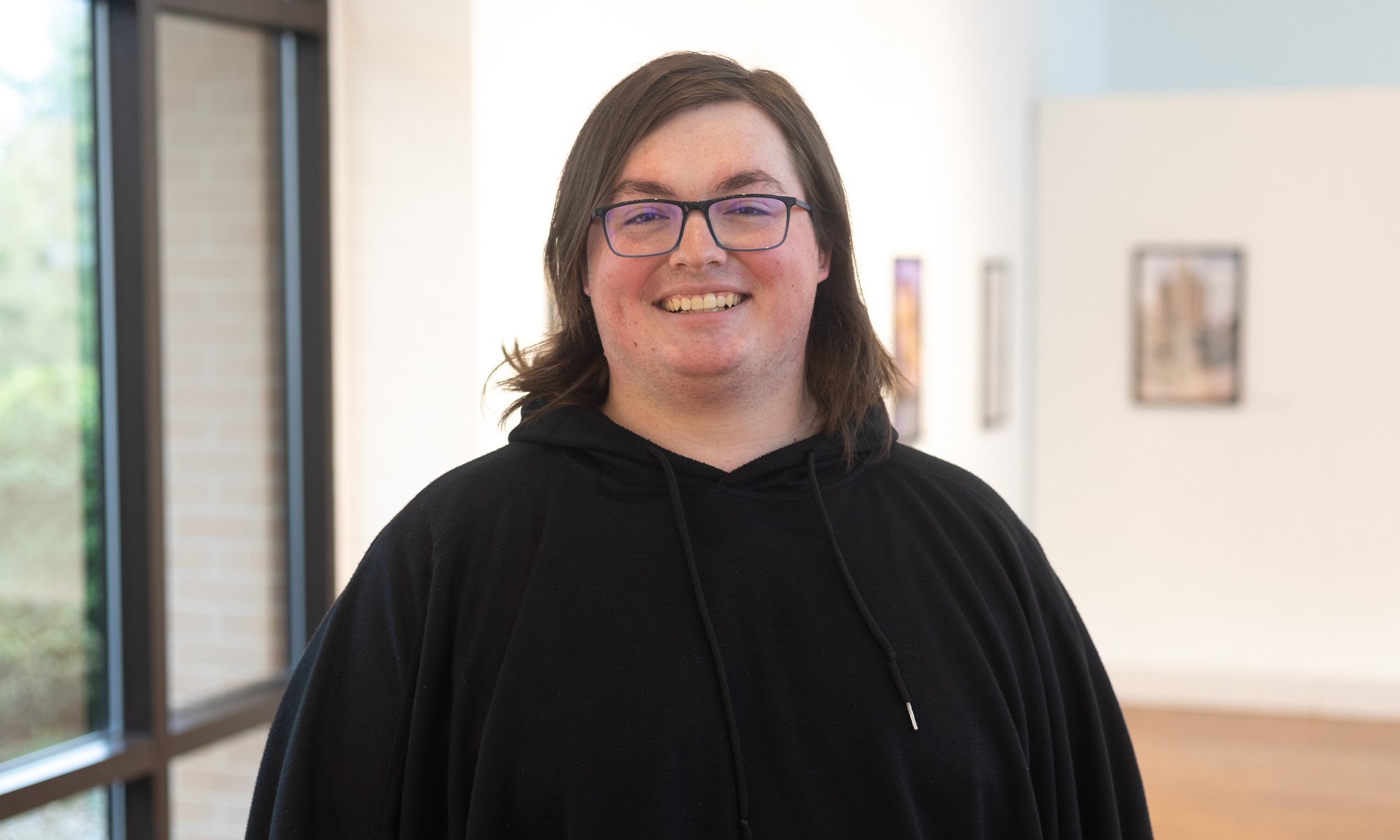 ---
Meet Gabe Pennhallegon, a church music major who never thought he'd be continuing the family line of church work.
Editor's note: This is one in a series of stories highlighting a few of Concordia's uncommon May 2023 graduates. Faculty and staff submit candidates for consideration. Stories are posted in the days leading up to commencement. View more uncommon graduates here.
---
Gabe Pennhallegon's reason for choosing Concordia University Ann Arbor may have begun with family influence. However, throughout his college experience, he came to learn what sets him apart from a lineage of Concordians.
On Sunday, he'll proudly walk the commencement stage, signifying the completion of the Bachelor of Arts in Church Music program. He has the distinction of being the final Pennhallegon of his generation to graduate from CUAA.
Passing the Cardinal torch
Gabe comes from a family line of CUWAA alumni. Both of his parents attended CUAA. His father, Rev. Dr. Philip Penhallegon, even served as a faculty member for many years. Then came his older brother, Micah, and younger sister, Abigail. Additionally, his older brother, Benjamin, attended CUW.
Naturally, CUAA was on Gabe's list of colleges to tour as he was selecting his next steps after high school.
"A large part of my decision came from family influence, but what really stuck out to me was how much faith was an integral part of campus life here."
Like family members before him, Gabe quickly fell in love with Concordia Ann Arbor. But when it came to his area of study, he was determined not to mimic everything his family members did—at least initially.
Church work didn't always compute
As a college freshman, Gabe declared computer science as his major. However, after taking a few introductory classes and attempting to learn various coding languages, he decided it wasn't the right fit. In the midst of his struggles with computer code, Penhallegon found retreat in his music lessons and ensembles that he practiced and performed with on campus.
Growing more and more passionate about music, he declared music as his major. The only issue was, he didn't see how he was going to make a career out of it. When he learned about CUAA's contemporary track, things began to click.
Family life on campus
In addition to discovering his passions on campus, growing in personal friendships, and developing lifelong connections with his professors, Gabe also got to see his family on a daily basis. From getting lunch together, hanging out, studying, or meeting up with their dad, the Penhallegon siblings benefitted greatly from having their family on campus.
It was a unique experience, to say the least. For one semester, three Pengallegon siblings were all attending CUAA at the same time, while their father, Rev. Dr. Penhallegon was a professor of theology. Despite the high density of Pennhallegons on campus, each sibling had the freedom to have their own friend groups and interests while at college, with the added convenience of having a built-in friend only steps away.
Standing center stage
Being the last of his family members to graduate from CUWAA added its own pressure to this semester in addition to something Pennhallegon could have never imagined doing – singing a senior recital. This night was dedicated to the growth and development of not only Pennhallegon's musical talents but also the growth in his confidence that was gained over the course of his college career and time in the music program. As a member of Concordia Choir, Arborsong, Wind Ensemble, Marching Band, and multiple worship arts ensembles, performing in front of a crowd has never been a foreign concept. However, this recital put him at center stage will all eyes in the room focused on him, and it couldn't have gone smoother.
Looking to the future Pennhallegon is excited to take the leadership skills and musical talents that he has refined over the last few years and serve an LCMS church. He is still currently interviewing and prayerfully discerning where he is supposed to serve, but has hope in God's calling on his life. Not only will Pennhallegon be leaving CUAA as a future church worker, but he will be ending the line of this generation's Penhallegon-Concordians.
---
Want in?
The School of Arts and Sciences encompasses a broad range of disciplines, across 12 departments, which house more than 40 degree programs. The School also guides the experience of all Concordia undergraduate students through the Concordia Core. Click on the link below to learn more.
---