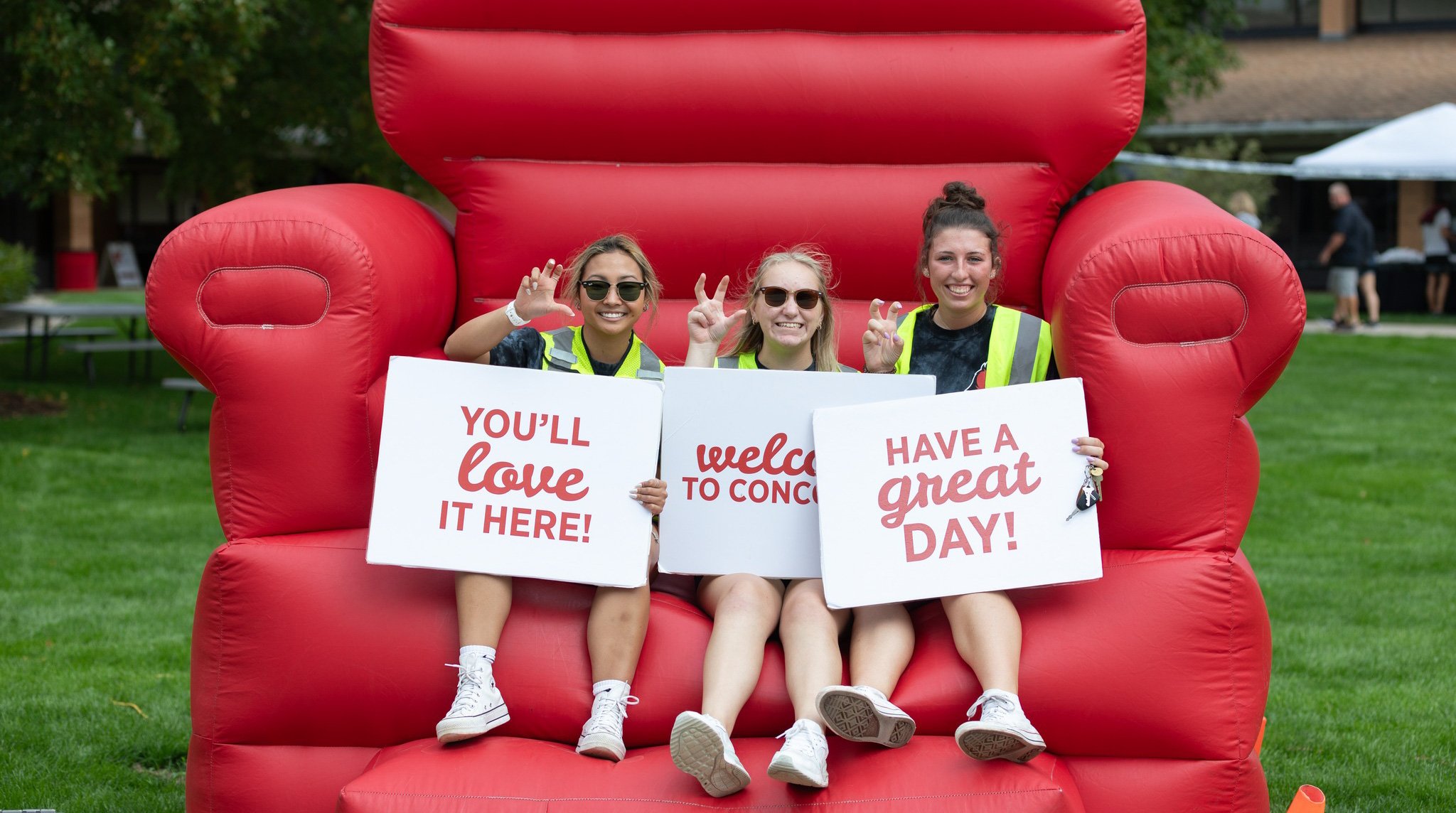 ---
Concordia's fall visit options are now live online! Schedule your visit today.
---
You're invited to explore campus, meet admission staff and academic faculty, try the food, connect with current Cardinals, and more! Choose from many types of visit options below. You're sure to find a program or date that works for you!
Main Campus Visit Experience
Monday-Friday at 9:30 a.m. and 1:00 p.m.
This individualized experience includes a guided main campus tour, residence hall tour, and a meeting with an admission counselor. You can customize your visit experience based on your individual interests by meeting with a faculty member, attending a class, orc connecting with an extracurricular representative.
Schedule a Main Campus Visit Experience
North Building Visit Experience
Monday-Friday at 12:00 p.m.
This experience is ideal for students interested in our Athletic Training, Exercise Science, Nursing, and Rehabilitation Science programs. Tour our North Building where you'll see our state-of-the-art simulation labs, nursing skills lab, athletic training lab, and more. Along with meeting with your admission counselor, you can attend a class, or meet with a faculty member. Your visit experience will conclude with a tour of main campus.
Schedule a North Building Visit Experience
Twilight Tour
Select Thursday evenings starting at 5:00 p.m.  
Interested in visiting campus, but can't miss school or work? Our Twilight Tours are the perfect solution! These evening tours begin at 5 p.m. and are offered on select nights in September and October. This visit experience includes a guided Main Campus Tour, Residence Hall Tour, and a meeting with an Admission Counselor.  
Click the date of your choice to register for a Twilight Tour!
Preview Days at Concordia 
These group visits are perfect opportunities to get to know CUAA (especially if it's your first time here!), experience campus life, and have an up-close look at what it's like to be a Cardinal. Preview Days include guided campus tours, information sessions, and lunch (our treat!)
Click the date of your choice to register for a Preview Day! 
Exploration Days  
Are you interested in one of the following academic programs; education, business, church work, nursing, or health professions? If so, come explore Concordia and do a deep dive with an academic area! Exploration days allows guests to attend a class, meet with a professor or advisor, interact with current students that are in the program, and even participate in a hands on learning exercise or simulation. Exploration days will be in November with formal dates and registration links available September 1st.
---
Want in?
Concordia University Ann Arbor offers you more than a degree. Here, you can learn fully—in mind, body, and spirit—and be completely you. In class and out of class, you will make real connections; you'll build relationships that will last a lifetime with people who sincerely want to see you achieve your fullest potential. Learn more about Concordia life. Visit or apply today.
Questions about visiting Concordia? Call 734-995-7505 or email visitcuaa@cuaa.edu
---