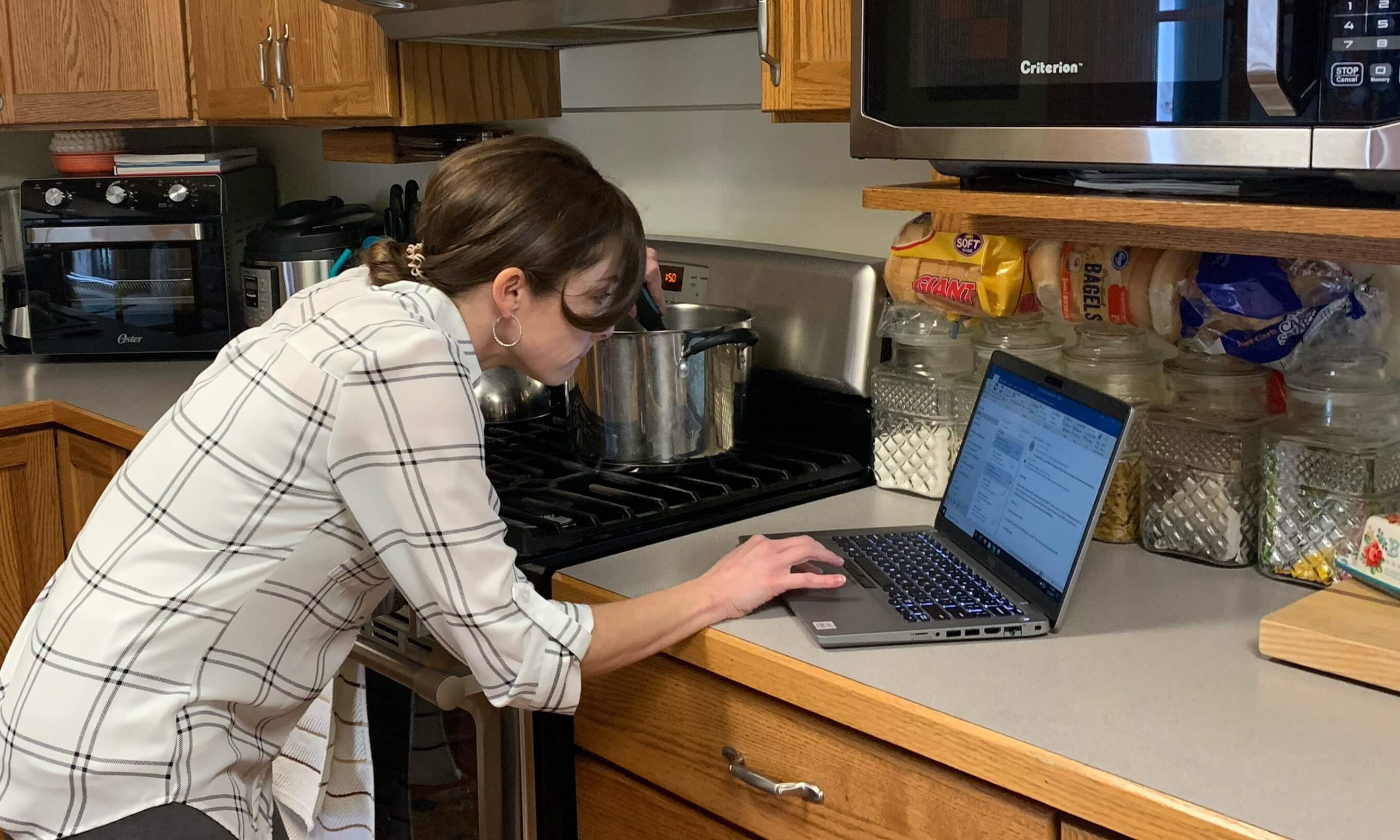 With more people working while completing school at home, the challenge to separate work-from-school and school-from-home becomes more difficult than ever.
---
Occupational therapist program faculty at Concordia University Ann Arbor provide a series of tips for wellness in the workplace and in the classroom.
Role balance—also known as occupational balance—is essential for overall wellness, participation in meaningful activities, and to maximize your quality of life.
Here are a few tips to incorporate balance of roles into your life.
You need space
Have a designated work SPACE.  Wherever you sit to do work, try to keep it consistent and avoid sitting in that space when it is not work time. If you do work at the kitchen table, sit in a different chair or on another side of the table for meals.  If possible, complete work and school tasks in a room that you do not usually use for leisure at home.
Establish and respect your boundaries
Designate a specific time for work tasks to be done. When the clock hits the time you have designated to end work—set an alarm for yourself if you need a gentle reminder to wrap up your work—shut off the computer, stop checking your email, and step away from your work or school materials. Some people cannot completely shut off work because of the nature of their position.  If that is true for you, limit the amount of times you check your email to once every other hour.
Take a lunch
Many people work through their lunch or eat while they are working. When our brains don't get a small break during the day, they are not as productive. Give your brain a breather by disconnecting from work or school during a designated lunch time. You will be better equipped to handle your afternoon when it has a short rest, which will make the transition to rest at the end of the workday smoother.
Schedule wind-down time
Before engaging in home tasks, give yourself 5-10 minutes to decompress. You can do this by taking a walk around the block, listening to a song that makes you smile or dance, or engaging in a mindfulness activity like meditation. This wind down time helps your brain to conclude the work day and prepare for the non-work or school activities you get to engage in later.
Schedule in FUN time!
When you feel like life is all work and no play, you can become emotionally drained. That overwhelmed feeling can get in the way of enjoying non-work time! We schedule our meetings, classes, and other work-related tasks, so we should set aside time for fun as well. Take a look at your calendar and find a few hours to dedicate to just doing something you enjoy. This can be individual or involve your family or friends in a COVID conscious way. Respect that fun time in the same way you respect your work or school time.
Prioritize
Ask yourself, "What needs to be done and what can wait until tomorrow or later?"  We tend to feel like we have to do it all right now, but that mindset puts a lot of unnecessary pressure on ourselves and we can become burned out quickly.  Take a look at your work or home to-do list and identify the most important tasks. You will find that most things are not as time sensitive as we imagine them to be. You may even be able to delegate some of the tasks on your list to others.
More on Wellness in the Workplace and the Classroom
---
Learn more about Concordia University Ann Arbor's occupational therapy graduate program, with an anticipated program start in 2022. Are you an undergraduate student with interest in studying occupational therapy after graduation? Check out CUAA's bachelor of science in rehabilitation science.
Meet the OT team
Juliane Chreston, OTD, OTRL
Program Director
Assistant Professor
Research Interests: Professional identity development, scholarship of teaching
Teaching interests: Occupation-based practice, physical medicine and rehabilitation
---
Jennifer Beuby, OTD, OTRL
Academic Fieldwork Coordinator
Assistant Professor
Research interests: Strategies for improving student confidence for application of learned OT skills, Lifestyle redesign for chronic pain management
---
Accreditation statement
The Concordia University Ann Arbor entry-level occupational therapy doctoral degree program has applied for accreditation by the Accreditation Council for Occupational Therapy Education (ACOTE) of the American Occupational Therapy Association (AOTA), located at 6116 Executive Boulevard, Suite 200, North Bethesda, MD 20852-4929. ACOTE's telephone number c/o AOTA is (301) 652-AOTA and its Web address is www.acoteonline.org.
The program must be granted Candidacy Status before students can be admitted to the program. Concordia University and Dr. Chreston are fully committed to the development of the entry-level occupational therapy doctoral degree program, but prospective students should be aware there is no guarantee that the program will receive Candidacy Status or be allowed to admit students. An ACOTE candidacy decision is expected in December 2021.  Prospective students will be informed of acceptance into the program January 2022 with an anticipated program start of May 2022.
The program must be granted Candidacy Status, have a pre-accreditation review, complete an on-site evaluation, and be granted Accreditation Status before its graduates will be eligible to sit for the national certification examination for the occupational therapist administered by the National Board for Certification in Occupational Therapy (NBCOT). After successful completion of this exam, the individual will be an Occupational Therapist, Registered (OTR). In addition, all states require licensure in order to practice; however, state licenses are usually based on the results of the NBCOT Certification Examination. Note that a felony conviction may affect a graduate's ability to sit for the NBCOT certification examination or attain state licensure.
—
If this story has inspired you, why not explore how you can help further Concordia's mission through giving.