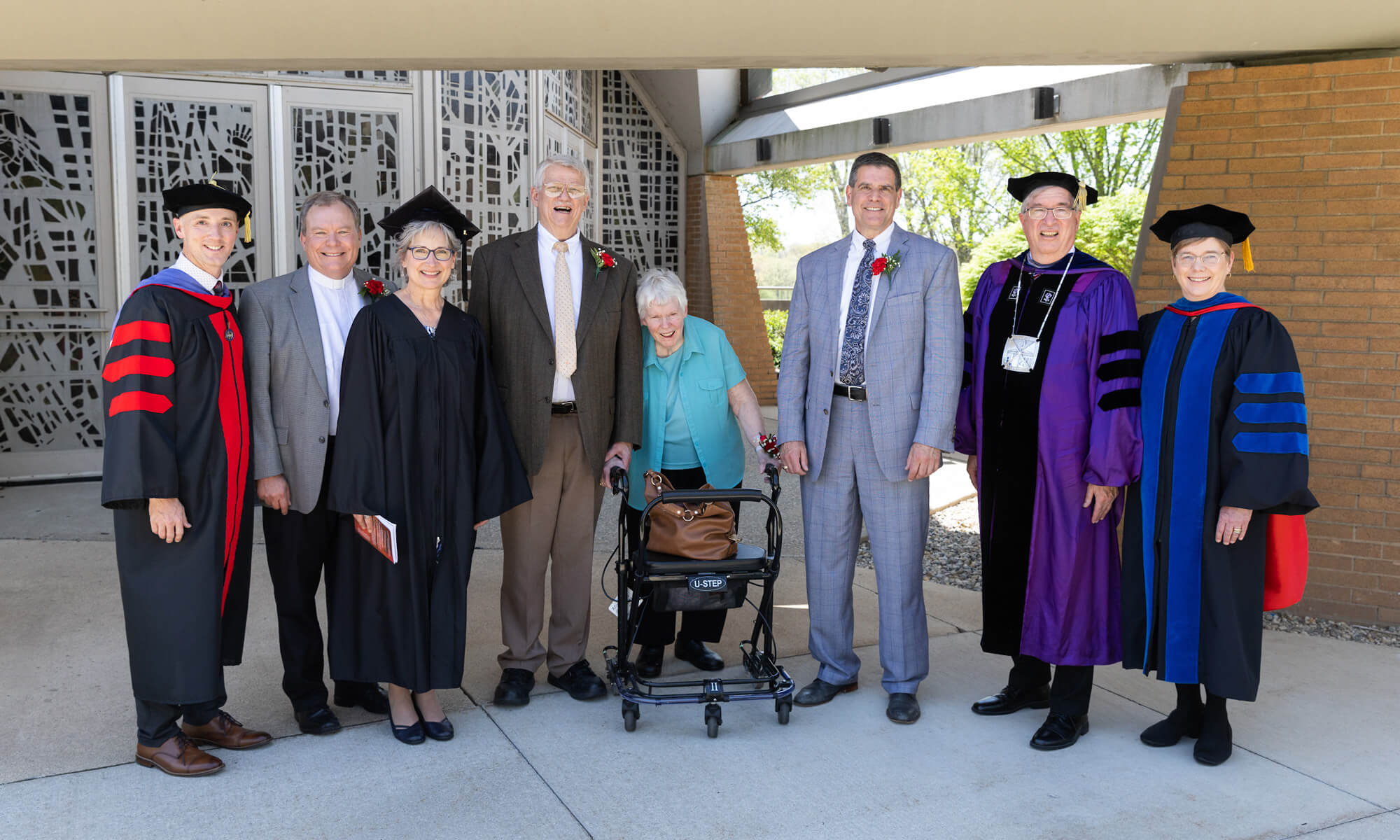 Concordia University Ann Arbor is pleased to announce this year's Christus Primus and Outstanding Alumni commencement honorees: Neil Martin Skov and David R. Schmitt, respectively.
---
Neil Martin Skov – Christus Primus
The Christus Primus Award is a service award presented to clergy, educators or laypersons of the Lutheran Church—Missouri Synod. Recipients are recognized for their distinguished service to the Church and community.
Dr. Neil Skov is, as he defines himself, "at one and the same time a poor miserable sinner and, for Christ's sake, a redeemed child of God, who has been privileged to serve his Lord in multiple ways." In addition to his vocations as husband and father, he served as a Lutheran school teacher for 50 years. His first call was to teach a combined seventh and eighth-grade class at St. Peter Lutheran School in Chicago. From 1970 through 1975, he served as a physics, chemistry, algebra and religion instructor, and assistant football and basketball coach at Lutheran High School, Mayer, Minnesota. In 1975 he was called to what is now Concordia University Ann Arbor, where he was a full-time faculty member for 38 years until his retirement in 2013. After retirement, he continued to teach part-time at CUAA until 2018.
Dr. Skov earned a Bachelor of Science in Education from Concordia Teachers College in Seward, Nebraska; a Master of Science in Teaching from the University of North Dakota; and a Master of Science in Computer Science and Doctor of Education from the University of Michigan. As a CUAA professor, Dr. Skov taught students in a wide range of courses, including undergraduate courses in physics, chemistry, computer science and mathematics, and graduate courses in information systems and instructional technology. He also enjoyed mentoring many students' senior projects in the natural sciences and mathematics.
In his local parish, St. Paul Evangelical Lutheran Church in Ann Arbor, Dr. Skov has been an elder for over 20 years, has sung in the adult choir for 47 years, and serves as a Bible study teacher. He and his wife Pat continue to be great supporters of CUAA and Lutheran education, both with their treasure and their talents.
---
David R. Schmitt – Outstanding Alumni
The Outstanding Alumnus Award honors graduates of Concordia for reflecting in their lives and careers the values upon which the university is founded.
Rev. David R. Schmitt graduated from Concordia College, Ann Arbor in 1984. While at Concordia, he was introduced to the intersections of faith and literary culture, earning majors in English and Biblical Languages.
Rev. Schmitt served as an RA for Jonathan dorm, enjoyed acting in the yearly theater productions, and worked for Dr. Marilyn Beyer in the English department. After graduation, he went to Concordia Seminary, St. Louis for his M. Div. (1988), the University of Illinois for an M.A. in English literature (1990), and, then, Washington University in St. Louis for an M.A. and a Ph.D. in English literature (M.A., 2002; Ph.D., 2005).
In 1990, Rev. Schmitt was called to serve as pastor of St. John the Divine Lutheran Church on the south side of Chicago and occasionally taught literature as an adjunct instructor at a local community college.
In 1995, he was called to teach preaching at Concordia Seminary, St. Louis. He is the chair of the Department of Practical Theology and holds the Gregg H. Benidt Endowed Memorial Chair in Homiletics and Literature. The responsibilities of this position involve teaching courses in preaching and literature and serving as a resource to the church-at-large through writing, speaking, and conducting workshops and symposia.
Rev. Schmitt was blessed by God to attend Concordia, Ann Arbor. Here, the Lord laid a firm foundation for him in the faith and taught him to love how faith intersects with the arts. Upon this foundation, he has devoted his life to teaching, preaching, and literary work, exploring such matters as art, spiritual autobiography, the devotional life, and the changing dynamics of faith, culture, and beauty.
---
— This story is written by Allie Milot, social media manager for Concordia University Wisconsin and Ann Arbor. She may be reached at alexandria.milot@cuaa.edu or 734-995-7403.
If this story has inspired you, why not explore how you can help further Concordia's mission through giving.