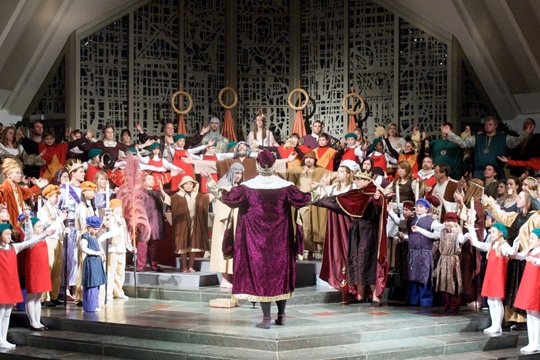 Concordia University Ann Arbor (CUAA) students, faculty and staff soon will come together to enact medieval Christmas traditions and the story of Christ's birth in a moving spectacle, called Boar's Head Festival.
---
The 38th annual Boar's Head Festival performances – directed by Gerald Dzuiblinski, with musical direction by Brian Altevogt – will take place throughout the first weekend in December in The Chapel of the Holy Trinity on CUAA's central campus.
In 1978, three professors – Dr. Paul Foelber, John Sturmfels and Quentin Marino – brought the Boar's Head Festival to CUAA. The festival was presented for centuries at Cambridge and Oxford Universities before being brought to the United States. Its origins lie in fact that wild boar was often killed and served during the Christmas season. Through the years, the Christian Church has transformed the symbolic festival into a service of praise in celebration of the nativity.
The Boar's Head Festival has become a treasured memory for many. It remains a vibrant and living tradition as it continues to profess the wonder of the Christmas miracle.
Show times are at 7:30 p.m. Friday, Dec. 4 and Saturday, Dec. 5, and at 4 p.m. Sunday, Dec. 6. Ticket and show information is available through the Concordia University Box Office telephone number 734-995-7537.
— Rachel Thoms served on Concordia University's Strategic Communications team from 2015-2022. Any inquiries about this story can be sent to news@cuaa.edu.
If this story has inspired you, why not explore how you can help further Concordia's mission through giving.