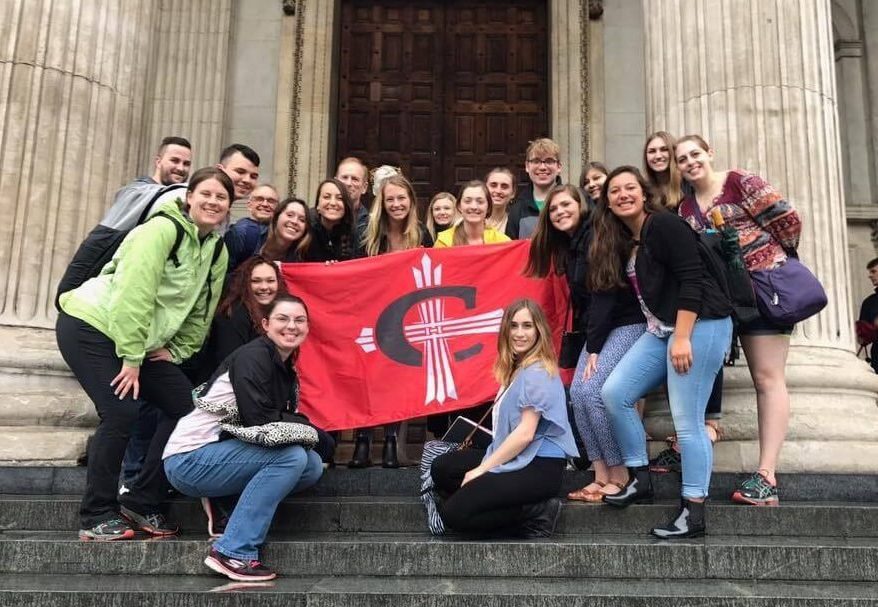 Study abroad is booming at Concordia University.
---
The university saw its largest send-out during the 2017-18 academic year, with 315 students—representing online, centers, and the Ann Arbor and Mequon campuses—participating in dozens of distinct global learning opportunities in more than 30 countries.
On the Ann Arbor campus, the influx of global learners is largely thanks to a surge of new global education courses being offered (i.e. faculty-led study abroad opportunities that can be completed for course credit and that typically last one to three weeks) as well as some long-running favorites.
Ask anyone who's gone on an international learning expedition and they'll readily tell you it's well worth your while. In fact, once you graduate, you'll be hard-pressed to find a more affordable way to travel abroad. So if you're looking to take the uncommon route of exploration through study, here are five opportunities you should consider.
---
Israel: The Holy Land (REL 476)
Even though it's only been two years since the course was first offered in 2016, The Holy Land has quickly become a favorite among both CUAA and CUW students alike. Rev. Daniel Flynn guides the course, making all of the sites accessible while helping students form a bond with their cohort. This trip explores major biblical sites throughout Israel and the West Bank including Jerusalem, Nazareth, Bethlehem, Jericho, the Sea of Galilee, Caesarea Philippi, the Negev desert and Qumran. Photo courtesy of Daniel Flynn

---
London: Twentieth Century Arts and Culture/Urban Society (ART 382/SOC 255)
The longest-running study abroad opportunity at CUAA is also one of the most preferred. The London course offers a unique chance for studies in 20th Century Arts and Culture and Urban Society. London is the epicenter of England, featuring an abundance of art, both on the streets and in its historic museums. This offer includes an independent approach of studying abroad, with the chance to stay in an apartment suite in a Victorian manor and explore several attractions for yourself. A brief excursion to Paris is featured within the trip.This course is led by Dr. Mark Looker who teaches in the School of Arts and Sciences. Dr. Looker has led this study for 15 years, and is the best person to contact for questions about the program. Photo courtesy of Aubrey Alfano 
---
Caribbean: Ecology of the Tropics (BIO 357/367)
You may be interested in conveniently fleeing the January weather of Michigan. This program is open to all Concordia students looking to develop an increased appreciation for God's creation through studying tropical ecosystems. Activities include kayaking in the mangroves; snorkeling to observe coral reefs, tropical fish, and sea turtles; and dolphin/whale watching. It is a nine-day cruise to five different tropical ports around the Caribbean, taking place during Winterim. Ecology of the Tropics is an incredibly worthwhile elective for your CUAA academic experience. This course is led by Dr. Elizabeth Peckham from Ann Arbor and Dr. Mark Schmitz from Wisconsin. Photo courtesy of Liz Larsen
---
Kenya: Nursing Clinical Rotation (NURS 451)
The most popular of the three global clinical sites launched in 2017 by CUAA's school of nursing alongside the Uganda and Guatemala programs. The Kenya trip allows a venturesome experiences for students to complete their community health clinical hours. Focusing on women's health and communicable disease control, this programs lends students to work with nurse practitioners and spend time in Nairobi and the nearby area of Voi. The Kenya trip will introduce you to the challenges and rewards of providing health care in a low-resource setting. Photo courtesy of Ashlyn LeBlanc
---
Uganda: Nursing Clinical Rotation (NURS 451)
For the first time in 2017, several nursing students spent time in Uganda volunteering their time and talents in rural slums, clinics, community hospitals, and family households. Another nursing clinical practicum like Kenya, Uganda is a community-oriented trip allowing students the opportunity to impact lives and implement skills. Experiences include maternal and child health promotion; nutrition demonstrations; communicable disease prevention and control; community gatherings and church activities; and excursions to local markets and sights. Photo courtesy of Caitlyn Freshour

In addition to the short-term global ed courses, Concordia students have a plethora of other options for studying abroad. Students annually participate in international internships, clinical rotations, mission trips, and long-term study abroad experiences. Click here to check out more study abroad options!
—
If this story has inspired you, why not explore how you can help further Concordia's mission through giving.