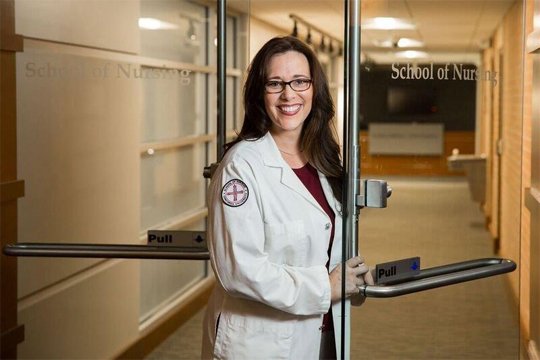 For Kathie Pereira, the heritage of Concordia University Ann Arbor's Homecoming has an entirely new meaning.
---
Reconnecting with favorite professors, walking through the halls of one's alma mater, and admiring renewed campus amenities is not just a pre-kick-off tradition; she experiences a homecoming every day.
Following the approval for a new School of Nursing by the Michigan State Board of Nursing in fall 2015, CUAA began hiring its first School of Nursing faculty and staff. Pereira, a CUAA alumna, accepted a position as skills lab coordinator and clinical liaison.
"Two of my favorite things have now come together: Concordia University Ann Arbor and nursing," said Pereira. "When I read in the Arbor Light magazine last year that Concordia was launching a School of Nursing, I knew I needed to be a part of it."
Pereira graduated from CUAA in 2001 with a double major in art and English, and had a change of heart that led to a change in career. She continued her education at the University of Michigan's School of Nursing. It was there that she had Cindy Fenkse as a professor, who has since become campus dean of the CUAA School of Nursing.
"After reading the article, I wrote to Cindy and asked, 'Where do I apply?' I wanted everything to do with laying the foundation for this program and setting the tone for success."
Pereira was working as an RN in the cardiac cath lab at St. Joseph Mercy Hospital in Ann Arbor and teaching clinicals at the local community college prior to coming to CUAA. Once she was hired, she immediately got to work.
"When you're starting something from the ground up, you get to leave your thumbprint on every area of what you're building, and we also feel responsible to be good stewards of this incredible opportunity," said Pereira. "Witnessing firsthand the resources and amount of care that my alma mater has invested into the new School of Nursing is nothing short of wonderful."
Pereira says she has a natural love for CUAA, and the years she spent at there were some of her best. She is eager for the first cohort of nursing students to join her as CUAA alumni.
"Concordia nursing students are going to be well-equipped, high-caliber, compassionate, service-oriented nurses because of the rigor and expectation of our program," says Pereira. "But most importantly, they will be prepared for service to Christ because of our mission."
— Rachel Thoms served on Concordia University's Strategic Communications team from 2015-2022. Any inquiries about this story can be sent to news@cuaa.edu.
If this story has inspired you, why not explore how you can help further Concordia's mission through giving.