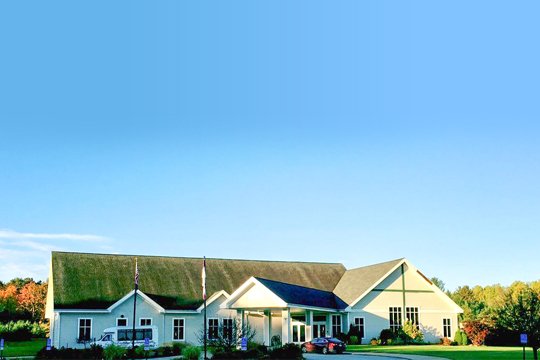 The congregants of Emmanuel Lutheran Church in Cadillac, Michigan, must really love their baked goods. That, or they're really passionate about supporting Lutheran education. Truth be told, it's probably a bit of both
---
Each year on a designated Sunday in June, the 280-member congregation puts on a bake sale during their education hour to raise scholarship money for students within the church who plan to attend Concordia University Ann Arbor, or any of the other schools in the Concordia University System or one of the seminaries.
"Bake sale" is probably a deceptive term, because you won't find your typical brownies from a box wrapped in cellophane and priced at a modest 50 cents a square.
At Emmanuel Lutheran's bake sale, pies and cheesecakes are auctioned off at $300 a pop, and the now-deceased Mae Elenbaas' legendary six pints of canned pickles go for $125 a jar.
The Church's School
CUAA is a mission-based university that exists to prepare students for service to Christ in the Church and in the world. Congregations and church members are vital to mission achievement. Here are just a few of the ways that congregations can help CUAA prepare more students to advance His Kingdom.
Pray for students
Refer students
Financially support CUAA
Bring students to campus or direct them to www.cuaa.edu
Schedule a Concordia Sunday
Display CUAA literature
For more information about how your congregation can support CUAA, please contact John Bush, director of donor relations, atJohn.Bush@cuaa.edu.
The congregation raised just over $3,000 at last summer's hour-long bake sale to continue supporting students, like Mike Salminen, a current CUAA student, and others before him.
Over the past two decades or more, church leaders say they've financially supported more than a dozen students attending one of the Concordias or seminaries.
Before the bake sale, some 20 years ago, there was a trust fund dedicated to the mission of sending Emmanuel youth to Lutheran higher education institutions. Even though the trust fund was eventually depleted, the church's Board of Education kept its resolve to continue the tradition.
"I really think that our congregation in general has always really valued Christian education, even though we don't have a day school connected to our church," says Beth Menz, a 39-year member and current chair of the Board of Education. "We had a lot of congregants who really got behind our fund-raisers, just because they saw the value of people attending one of the church schools."
A 1971 CUAA graduate, Menz personally knows the value of a Concordia education. Her son Andrew also attended CUAA and now serves in a parish in Coloma, Michigan.
It's not just the monetary support that keeps teens attending Concordia schools, however, points out Rev. Joel Hess, pastor at Emmanuel.
Hess says he makes a point of personally encouraging students whom he thinks would be a good fit for CUAA. He even annually taxies a carload of youth to the Ann Arbor campus on his dime.
"I am pretty proud of the history we have here of sending youth to Concordia," Hess said. "I know that they will be getting not only a good education but a Christ-centered education at Concordia."
— This story is written by Kali Thiel, director of university communications for Concordia University Ann Arbor and Wisconsin. She may be reached at kali.thiel@cuw.edu or 262-243-2149.
If this story has inspired you, why not explore how you can help further Concordia's mission through giving.