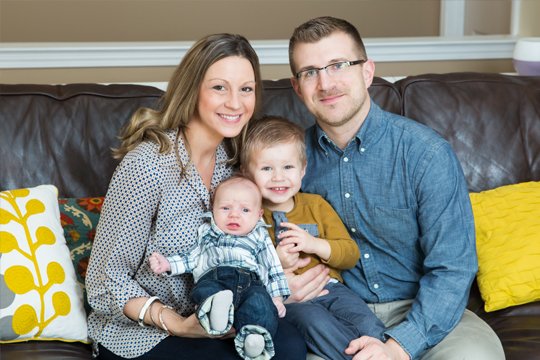 Joshua Schumacher dreamed of being a college head football coach since he was 12 years old.
---
In high school, Schumacher would constantly draw plays, collect playbooks, record games on VHS tapes, and then rewind plays over and over so that he could draw them out.
"I've probably watched the 1997 Packers Super Bowl victory at least 100 times," Schumacher chuckles.
Now, the Lord has led Schumacher to a new opportunity that fulfills his childhood dream. Coach "Schu" was announced as Concordia University Ann Arbor's new head football coach on November 15, 2016.
Schumacher succeeds Lonnie Pries, who stepped down as head coach following a record-breaking 2016 football season to focus on athletic director responsibilities. Pries didn't hesitate to endorse former CUAA defensive coordinator Schumacher, a technical whiz known for his attention to detail, to become the third football coach in the program's history.
The two go way back.
In 2006, Schumacher was about to begin his senior year at Concordia University Chicago and the program was searching for a new head football coach. Schumacher was on the interview committee as a player representative.
"Coach Pries was the first coach to connect faith and football for me, two of the most important things in my life that hadn't, until that point, really connected," said Schumacher, who knew within moments of meeting him that he wanted Pries to be his coach.
Six years later, Concordia Chicago football was coming off an undefeated regular season and head coach Pries accepted an offer to leave Chicago for Ann Arbor, taking the helm as athletic director and the head coach of a brand-new football program.
Schumacher, who was teaching and coaching at Faith Lutheran High School in Las Vegas, Nevada, at the time, was one of his first calls.
"I hadn't talked to Lonnie in years," said Schumacher. "I thought he was asking me to join him in Chicago. I remember writing, 'Ann Arbor?!' on a piece of paper and lifting it up to show my wife, Laura."
Though they had never been to Ann Arbor, the Schumacher's didn't bat an eye. Joshua hopped in the car and left sunny Las Vegas to drive across the country, through Winter Storm Draco, to join Pries in Michigan just days after the phone call.
"I had specifically prayed about being a college coach at a Concordia. I prayed about it a lot. I've known that's what I really wanted to do since I was very young," said Schumacher.
As a kid, Schumacher went to the local high school football games, but instead of playing football behind the bleachers with the other grade school kids, his father sat right next to him and explained the rules of the game with every passing play.
Schumacher's parents still watch every play, but instead of sitting next to their son on the bleachers, they watch him coaching on the sidelines from their computer screens in Ghana, West Africa, where they serve as career missionaries through The Lutheran Church—Missouri Synod.
"My mom will tell me after a loss, 'You guys didn't play very good defense that game,'" said Schumacher, with a laugh. "They love me and support me, and I appreciate it."
Now a father to his own two sons, Schumacher takes seriously his responsibility to develop the young men on his team as both football players and men of faith.
"I'm a Concordia football coach because of our mission statement; we exist as a program to develop our members as athletes, students, men, and Christians," said Schumacher. "We had no football field and 25 guys on the roster when I first started, and now we compete in a beautiful stadium with nationally ranked teams. Through all of that change and growth, our purpose remains the same."
"What more can I do?" has always been a mantra of Schumacher's as he has assisted coaches throughout his life, hoping to advance and refine his skills as a future head football coach.
Now that his prayer has been answered, Joshua Schumacher eagerly anticipates "What more will He do?" through His good and faithful servant.
— Rachel Thoms served on Concordia University's Strategic Communications team from 2015-2022. Any inquiries about this story can be sent to news@cuaa.edu.
If this story has inspired you, why not explore how you can help further Concordia's mission through giving.