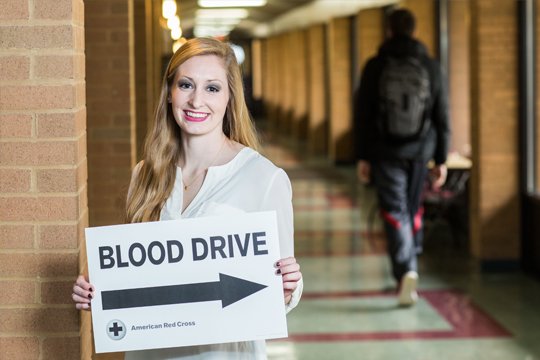 Eighteen years old, unsure of what she wanted to study, and more than 700 miles from home, Sidney Bosley had no idea what plans the Lord had in store for her at Concordia University Ann Arbor as she began her freshman year in fall 2013.
---
Now, in the final weeks of her senior year, Bosley reflects on the God-given gifts and talents she has discovered through opportunities she may not have otherwise had if it weren't for Concordia.
"I feel grateful," said Bosley, a biology major from Canton, Georgia. "It is amazing what you can learn about yourself when you step out of your comfort zone and take advantage of trying something new."
And step out, she did. In her four years at CUAA, Bosley has taken command of student blood drives; served in numerous leadership positions on campus; and is the recipient of the prestigious NAIA Dr. LeRoy Walker Champions of Character Award, hand delivered to her in early January by the commissioner of the Wolverine- Hoosier Athletic Conference.
By her sophomore year at CUAA, many around campus were already noticing Bosley's leadership. She was elected team captain for both cross country and track; nominated to the Student Athlete Leadership Team; and was one of 12 students in the nation selected to join the Red Cross leadership class of 2015, part of the Red Cross/NAIA Collegiate Leadership Program.
That summer, Bosley spent two weeks in Washington, D.C., gaining leadership skills and putting together plans for future blood drives at CUAA, which have since doubled in units collected since she took ownership of the responsibility.
"Planning blood drives at Concordia is a way that I can bring students together from all across campus, and we can do something simple that has a huge impact," said Bosley.
In July 2016, she was chosen as the Wolverine-Hoosier Athletic Conference recipient for the Leroy Walker Champions of Character Award—one of the most prestigious awards in the NAIA—created to recognize one student from each of the 21 NAIA conferences throughout the country who demonstrates excellence in academics, athletics, and leadership.
"I love that Concordia has brought out the best in me," said Bosley. "Not only is this a place where you can try new things and find out what you're good at, but you get to do that with a supportive and kind community around you that cares about your faith."
On May 14, 2017, Bosley graduates from Concordia, prepared to take her faith and college experiences into the world. She will leave with a better understanding of her leadership capabilities, the love of Jesus Christ, and a greater sense of self. Bosley plans to pursue a career in biological product sales, seeking opportunities in six different cities among five different states.
A new adventure awaits.
— Rachel Thoms served on Concordia University's Strategic Communications team from 2015-2022. Any inquiries about this story can be sent to news@cuaa.edu.
If this story has inspired you, why not explore how you can help further Concordia's mission through giving.