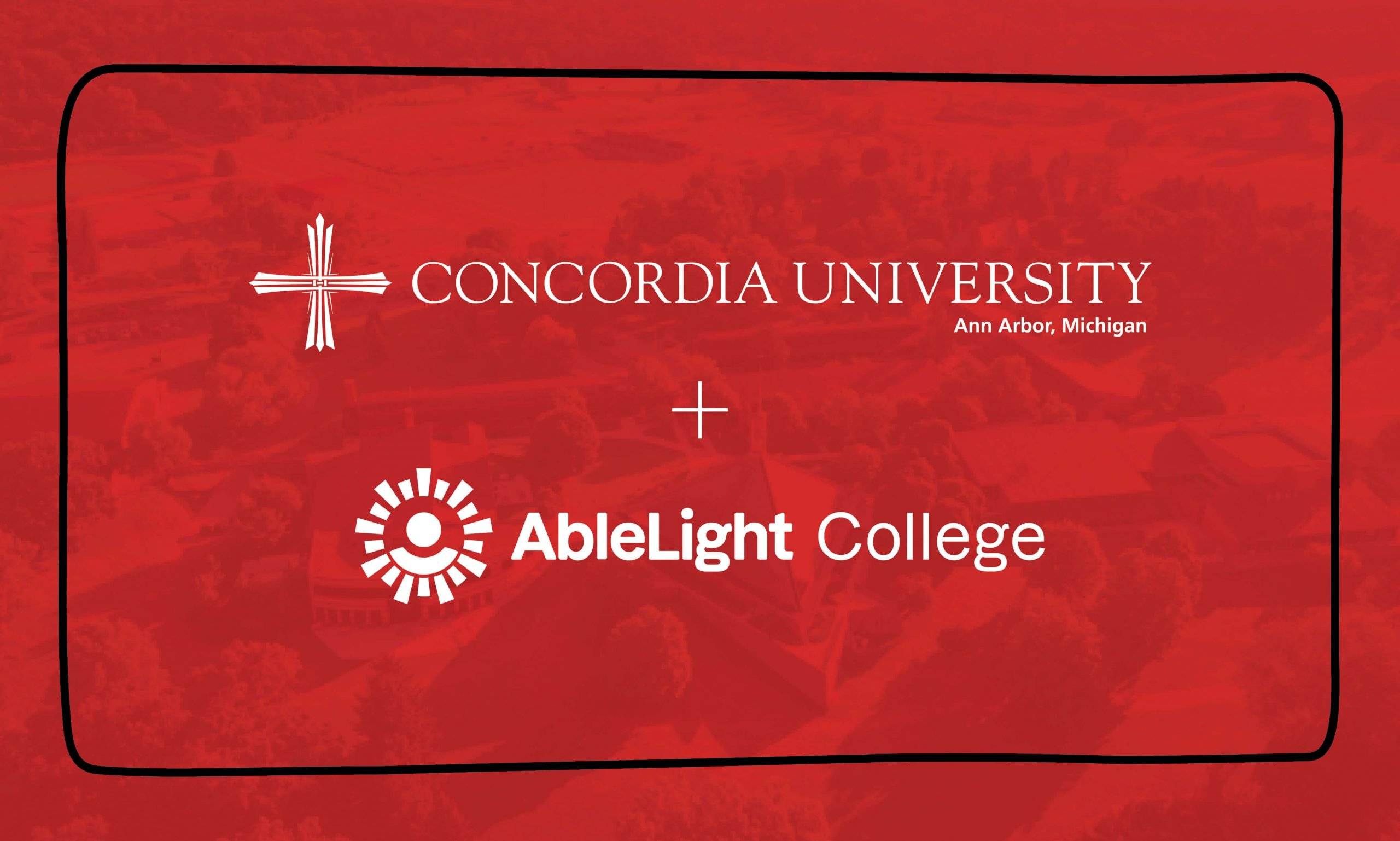 AbleLight College will open at Concordia University Ann Arbor in Fall 2022, providing young adults with intellectual and developmental disabilities an exceptional opportunity to learn and grow through a true college experience.
---
The program is an expansion of Bethesda College at Concordia University Wisconsin, a program that has been in place since 2014. In fall 2021, Wisconsin's program experienced a record enrollment totally 21 students. Both programs will acquire the AbleLight name as Bethesda undergoes a brand revitalization and will change its name to AbleLight in January 2022.
"We are thrilled to partner with AbleLight College and are eager to work alongside them as we provide young adults with uncommon educational experiences," said Vice President of Administration Rev. Dr. Ryan Peterson. "This partnership is consistent with our mission of developing students in mind, body, and spirit for service to Christ in the Church and the world. Our Concordia team welcomes AbleLight to our campus community!"
AbleLight College: A proven model
In the seven years since the Wisconsin program began, 37 students have completed the program. Upon the completion of the two-year program, students walk the commencement stage and receive a Certificate of Applied Learning. The college offers life and work skills training, and the students enjoy the opportunity to attend traditional Concordia University classes alongside other students. They live on campus in a dorm and commute to nearby employment opportunities.
 Related: First Bethesda College students to graduate Saturday
"The students of AbleLight College have goals and big dreams just like all college students," said Kristine Leonard, Director of AbleLight College at Concordia's Wisconsin campus. "They just need a little extra help in achieving them. Through our program, with the encouragement of our dedicated staff and with the full support of Concordia University, we are able to help these dreams become reality."
After graduation, students have been able to secure jobs in areas such as maintenance, restaurant work, travel agency support, day care or hospital worker, and office staff.
Programs like AbleLight College can help alleviate the concerns over future employment and independence. AbleLight College forges connections with area employers to create job shadow and employment opportunities for its enrollees. Studies show that four out of five adults with developmental disabilities do not have a paid job, and there is a 33% unemployment rate for people with a developmental disability who have looked for a job in the previous 12 months.
"Our entire campus community will benefit through our partnership with AbleLight College. We know that students, who learn in the least restrictive environment, learn better," said CUAA's Vice President of Academics Dr. Erin Laverick. "Their peers also benefit, becoming more tolerant of differences and learning how to collaborate.  Having AbleLight students in our CUAA classes, participating in co-curriculars, etc. will bless the entire community.  I am excited to see these relationships bloom and walk with our AbleLight students in this very exciting journey."
More about AbleLight
AbleLight College is one of many services AbleLight provides people with intellectual and developmental disabilities, striving to meet the needs of the whole person through their whole life. Other areas of focus include providing safe and loving homes, ensuring financial security, promoting independence and wellbeing, innovation and technology, and supporting community and faith connections.
Additional AbleLight College programs are anticipated on college and university campuses across the country.
In January 2022, Bethesda will become AbleLight. Bethesda is a national leader in pioneering life-changing services that empower people with intellectual and developmental disabilities to thrive. Founded in 1904 in Wisconsin, Bethesda promotes independence and inclusion across the U.S. through comprehensive and individualized supports that include housing, employment, financial services, assistive technology and much more. For details, visit Bethesda's website, or follow them on Facebook, Twitter, LinkedIn or Instagram.
— Rachel Thoms served on Concordia University's Strategic Communications team from 2015-2022. Any inquiries about this story can be sent to news@cuaa.edu.
If this story has inspired you, why not explore how you can help further Concordia's mission through giving.