The times may be unprecedented and the future uncertain, but your Concordia University Ann Arbor admissions team is still working hard to meet you. Though our tours and visit days look different, we are still just as excited to connect with prospective students and share more about CUAA.
---
Whether we meet via a screen, in a small family group, or through a college fair, our first priority is making you feel welcome. Here are all the ways to get connected with CUAA in the next few months.
Remote Tour
You can tour CUAA remotely via our website. Check out our remote tour here, complete with 360 views of many different areas on campus.
Virtual Visit
We'll bring campus to you! If you're wanting to connect with a counselor and learn more specifics about CUAA but not quite ready to set up an in-person visit, then this is the visit for you. To schedule a virtual campus visit click here.
In-person Visit
Ready to check out campus, walk the sidewalks, and experience a day in the life with your own eyes? We're welcoming back prospective students for campus visits. Schedule a COVID-concious campus visit here.
Have questions about visiting campus? Reach out to us at admissions@cuaa.edu or call 734-995-7505.
College Fairs – Come say hello!
The CUAA admissions team is hitting the road and will be participating in college fairs throughout the United States this fall. Here's where you can find us!
Are we coming close to you? Need a link to a virtual fair? Reach out to admissions@cuaa.edu and let us know!
*Note, due to COVID-19, it's possible some of these fairs may not take place. For the latest updates on the NACCAP college fairs or to register, visit naccap.org or macrao.org (Virtual Fairs). (*Bold indicates NACCAP fairs, Italics indicates MACRAO fairs)
September 20-26
Troy, OH
Dallas, TX
Houston, TX
Mansfield, OH
Walbridge, OH
September 27-October 3
Mishawaka, IN
San Antonio, TX
Fort Wayne, IN
Willow Park, TX
Indianapolis, IN
October 4-10
Detroit, MI (Virtual)
Escanaba, MI (Virtual)
October 11-18
New Berlin, WI
Green Bay, WI
Elgin, IL
Northfield, IL
Bloomfield Hills, MI (Virtual)
NMC & Traverse Bay Area (Virtual)
October 18-24
Rockford, IL
Palos Heights, IL
Aurora, IL
Anchor Bay, MI (Virtual)
Muskegon, MI (Virtual)
Schoolcraft College Fair (Virtual)
Chesaning High School (Virtual)
Grand Rapids, MI (Virtual)
October 25-31
Oakland County College Fair (Virtual)
Chippewa Falls, WI
November
December
Apply to Concordia University Ann Arbor at cuaa.edu/apply. For questions about any of the listed visit options or college fairs or to get in touch with Admissions, email admissions@cuaa.edu or call (734) 995-7505.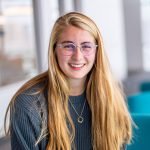 —
If this story has inspired you, why not explore how you can help further Concordia's mission through giving.