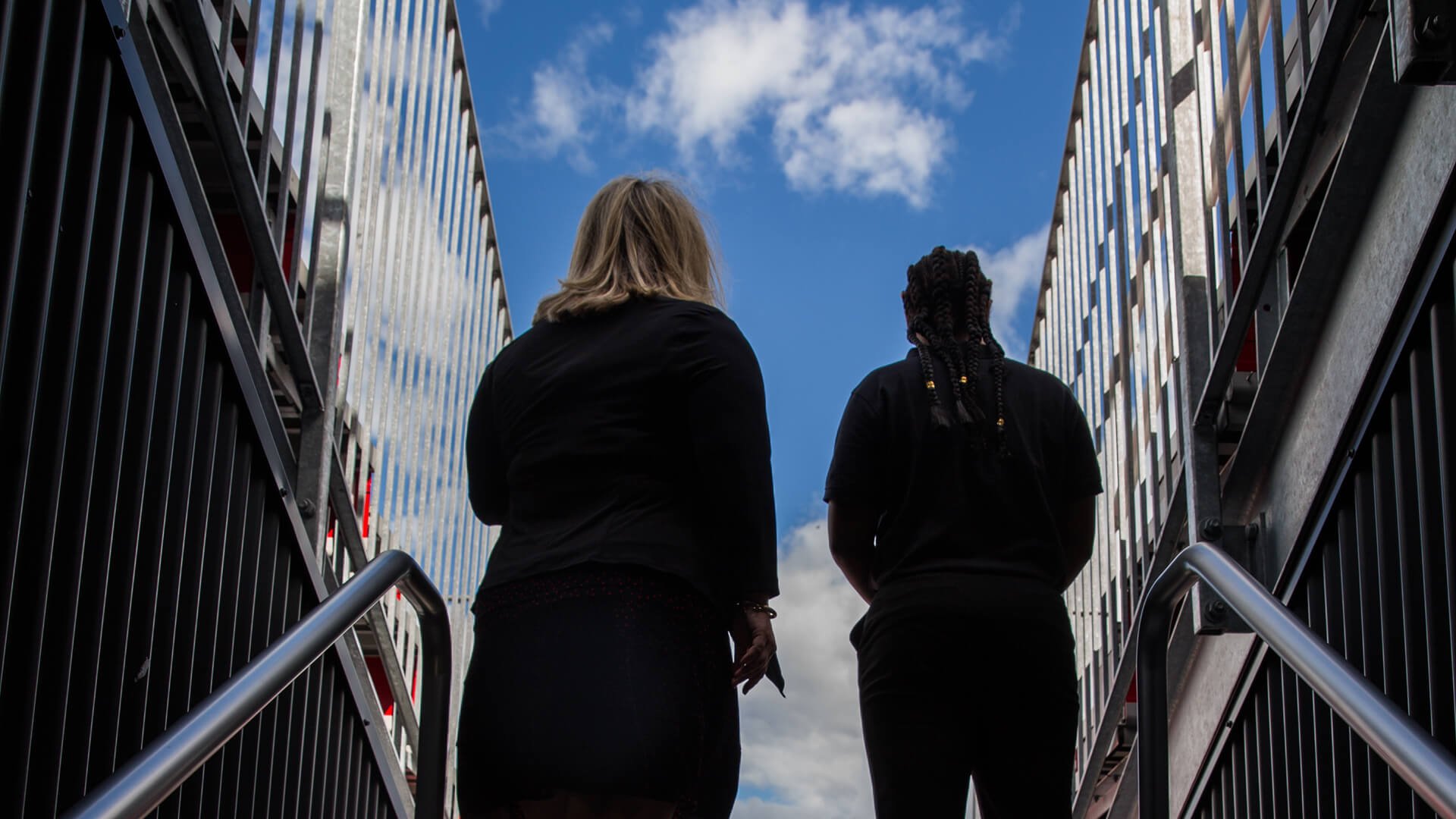 Concordia University Ann Arbor is putting a full court press on experiential learning opportunities for students in the sport and entertainment business program.
---
Along with the fun of touring locker rooms, visiting front offices, and snapping selfies from the fields of the most well-known arenas in the nation, students are rolling up their sleeves to work internships throughout the country and in Canada at the most renowned events in sports.
For the students in the Haab School of Business Administration's largest program — and Concordia's fastest growing program over the past three years — some of those events have included the NFL Super Bowl, the NBA All Star-Game in Toronto, and the 2016 Summer Olympics with NBC Sports.
"The industry of sport and entertainment business globally produces over $900 billion per year," said Joey-Lynn Bialkowski, director of the Department of Sport and Hospitality Business at CUAA. "The layers of this industry are vast, and we educate our students to understand the areas within those layers that are needed to make events, iconic teams, or well-known brands a reality."
CUAA began in 2012 to offer classes to business students who had an interest in careers in the sport and entertainment realm. Bialkowski has shepherded the program from its start.
Bialkowski was still a full-time professor at the campus in Wisconsin at the time, and together with the Haab School of Business Administration campus dean, she decided to begin offering classes at CUAA. This was before Wisconsin and Ann Arbor had officially become one University.
"What we did to align the curriculum and offer a new program hadn't been done before," she said.
Bialkowski used video streaming capability in the beginning stages of the program when only a handful of Ann Arbor students were enrolled in the classes.
"One day, I decided to surprise the Ann Arbor students," she said. "They were sitting, waiting for class to begin like any other day. This time, instead of appearing on the screen, I walked through the door. I thought they were going to fall out of their chairs."
It was after that visit that Bialkowski embarked on a new professional lifestyle to do everything she could to build a solid foundation for a program that had vast potential to grow rapidly. Bialkowski rotated her location every two weeks between Wisconsin and Ann Arbor, video conferencing classes back and forth.
Since then, the SEB program at Concordia is as booming as its industry. A few years have passed since those first classes were held in 2012, and SEB is now one of CUAA's most popular programs. Bialkowski attributes the success of the program to advisory board guidance and strategy, dedicated faculty on both the Ann Arbor and Wisconsin campuses, and strong relationships with industry professionals.
From the fan and hospitality experience of the NCAA Final Four and College World Series to the blue carpet of the Wisconsin Sports Awards, Concordia students are not only having experiences of a lifetime, they are gaining practical knowledge that they can include on their resumes, giving them an advantage over other applicants for future internship and career opportunities.
"The students challenge me every day. Selfishly, they keep me young, but more than that I have to remain current in this vocation that I love, so that the information I'm sharing with them is credible," said Bialkowski, adoringly known by her students as "Professor B."
In addition to SEB, Bialkowski also chairs at both campuses the Hospitality and Event Management (HEM) program, another industry that produces billions of dollars annually. Both SEB and HEM will often intersect, as do their industries, giving students complete perspective of the vast career opportunities in these fields.
"From human resource management and compliance within hospitality and sport organizations to the facility, fan zones, and food and beverage experiences, the list goes on forever on all of the different facets that students need to be aware of," said Bialkowski. "Our program is a very comprehensive curriculum spanning all those areas of specialization."
Bialkowski says that while comprehensive curriculums and internships are preparing students for their careers in sport, it is the mission of Concordia and development taking place in mind, body, and spirit that is preparing students for careers as Christian leaders.
Concordia students' demonstration of strong character, responsibility, and professionalism at various internships has impressed industry professionals so much that the opportunities for students continue to increase.
"The phone rings and I think, 'Where are our students going now?'" said Bialkowski. "Every decision I make as the director and chair of this program is to enhance students' learning, opportunities, and the pathways and pipelines that will lead them to achieve their professional goals and aspirations."
— Rachel Thoms served on Concordia University's Strategic Communications team from 2015-2022. Any inquiries about this story can be sent to news@cuaa.edu.
If this story has inspired you, why not explore how you can help further Concordia's mission through giving.