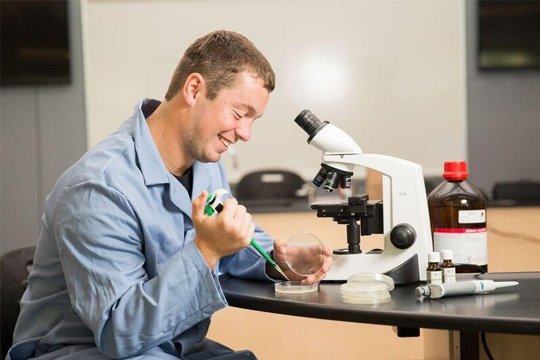 What do Bill Gates, lemongrass oil, Pepto-Bismol, and Concordia University Ann Arbor have in common? Collin Christensen.
---
Since the third grade, Christensen, a senior biology major, has wanted to help people feel better.
"I always knew that I wanted to make a lasting impact on other people's lives," said Christensen. "So, I focused on medicine."
Making things better is exactly what Christensen is doing at CUAA, and he's had plenty of support along the way.
Although not an obvious choice of school for pursuing a medical degree, CUAA became Christensen's school of choice because of his connection to Lonnie Pries, the University's athletic director and football coach.
"Once I met Coach Pries, I knew that he was someone that I could both play for and learn from, both on and off the field," said Christensen, who was a stand-out football player in high school.
Coach Pries wasn't the only CUAA leader who took special interest in Christensen. Kelsi Anderson, Ph.D., former coordinator of academic operations at CUAA, was Christensen's biology professor and had many connections in the scientific community.
One of her connections, a senior scientist from Procter & Gamble, introduced the research profession in one of Christensen's Pre-Healthcare Professional Club meetings.
At Procter & Gamble, the senior scientist works on improving commercial health products like Pepto-Bismol. It was then that Christensen fully realized he could contribute to the overall quality of life through scientific research.
Anderson recognized Christensen's enthusiasm and invited him to participate in a summer research project that would test the effectiveness of essential oils against Staphylococcus aureus (staph infection) growth.
Essential oils are growing in popularity as an alternative treatment for a variety of conditions. They're often perceived as the natural, least invasive option, despite the limited data to support the oils' effectiveness.
But do they actually work? Answering that question put Christensen and Anderson on a year-long mission that concluded with them presenting their findings to 11,000 scientific researchers.
Anderson and Christensen began their research by studying the antibacterial properties of three common essential oils: lemongrass oil, tea tree oil, and willow bark extract against Staphylococcus aureus growth.
Lemongrass oil showed the greatest promise, so the researchers pivoted from comparative research to strictly focusing on lemongrass oil. Results demonstrated that lemongrass oil does exhibit antibacterial properties against bacterial strains that have become resistant to antibiotics like penicillin.
Because of Anderson and Christensen's research, there's a greater understanding of the research-based effectiveness of lemongrass oil.
In summer 2016, Anderson and Christensen presented their findings at the American Society of Microbiology Conference in Boston, Massachusetts, the very same conference where Bill Gates, founder of Microsoft, spoke.
"It was incredible to be in that setting," says Christensen. "I was one of only a handful of other undergraduate students presenting at this important event."
Christensen is already participating in his next research project. He recently completed a summer research fellowship at the University of Cincinnati Medical Center, where he focused on finding novel treatments for respiratory disorders like Cystic Fibrosis and COPD.
Upon graduation, Christensen plans to pursue his Ph.D. in microbiology. As he enters his senior year, Christensen is grateful to CUAA and the people who have gone out of their way to help him.
"I always knew I wanted to change lives," he said. "God put together the right people at the right time and at the right place to help me figure out my purpose."
—
If this story has inspired you, why not explore how you can help further Concordia's mission through giving.