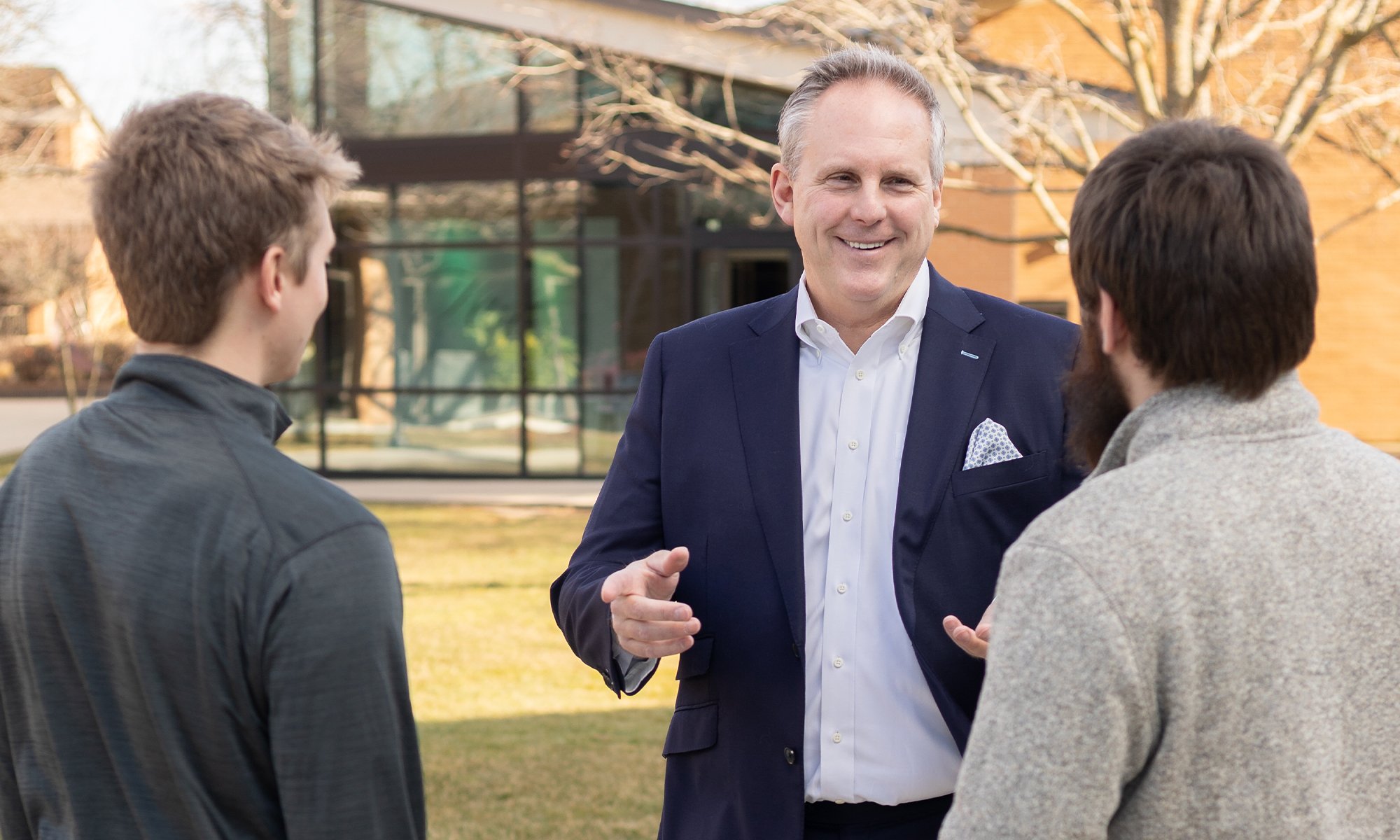 ---
Dean Pate ('87) will readily say that his time at CUAA prepared him for life after graduation, but not always in the ways one might expect.
Editor's note: This story first appeared in the spring 2023 edition of Hearts Together, a magazine publication of Concordia University Wisconsin and Ann Arbor.
---
Sure, professors' lectures and assigned readings played a role, but it was the lived experiences that made all the difference.
"What I got at Concordia was good base knowledge, which gave me the ability to adapt and inspired me to continue learning into the future," says Pate. "Taking advantage of your time at the university by being part of things like Student Government Association, that is really the stuff that goes above and beyond to prepare you for later in life."
Student Government Association ultimately became a hallmark of Pate's CUAA experience, but it wasn't what initially drew him to the school. As a high schooler, Pate was interested in playing basketball at a small college and was being recruited by a number of schools. Concordia ultimately rose to the top because of its proximity to Ann Arbor, a Big Ten college town.
CUAA's small size then afforded him the opportunity to be involved in a lot of different areas of campus life.
"You're probably not going to go to U of M and be the captain of a basketball team and be on the baseball team and be student body president," Pate said. "At Concordia, I could do that."
He joined SGA as a sophomore at the urging of the outgoing president at the time. Much to Pate's pleasant surprise, the experience proved far more useful than he ever could have imagined. In particular, Pate's time as SGA president taught him important life lessons like how to: work towards a consensus, have productive meetings, and delegate.
He continues to employ these skills as Strategic Product & Solutions Manager at Konica Minolta Business Solutions USA, a global manufacturer and distributor of software and hardware products. Pate manages the company's upper Midwest region and oversees a team of seven who cover 13 states among them.
As a supervisor, Pate has put into practice the fine art of leading. He wants to ensure that today's CUAA students and alumni reap the benefits that exist beyond the classroom as well. To that end, he's looking to develop a professional network of CUAA SGA alumni to mentor current members and create an SGA endowment to provide annual funds for community service events and campus projects.
"There's no student government legacy program that currently exists at Concordia even though a lot of former SGA members have naturally moved on to leadership roles, either within the church or other professions," Pate said. "I think there's tremendous potential for students to tap into the shared life experiences that former executive council members of SGA have experienced over their lifetime, and I'm hopeful we can begin to create something meaningful."
---
Want in?
Are you interested in serving on the planning team for the SGA legacy program? Email Linda Sproul (Linda.Sproul@cuaa.edu) if you were once an SGA representative at CUAA and are interested in joining the effort.
---
The spring 2023 Hearts Together magazine hit mailboxes in April. View a PDF version of the magazine here. If you are not on our mailing list, but are interested in receiving a free copy, email Jennifer.Hackmann@cuaa.edu.
---