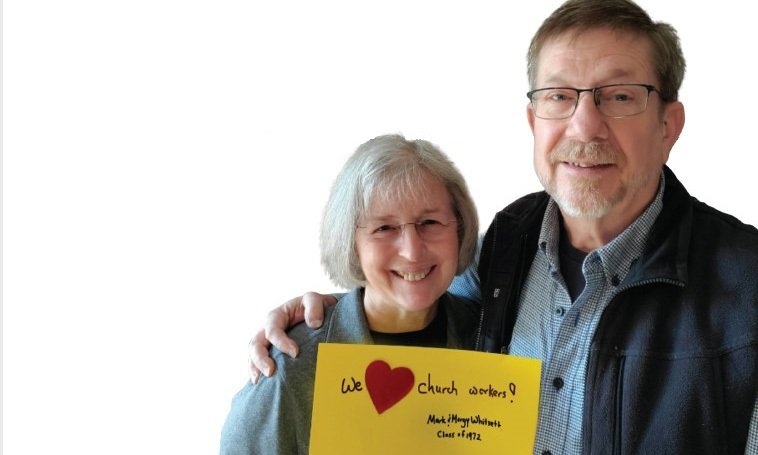 ---
Members of the classes of 1969, 1970, 1971, and 1972 have raised nearly $135,000 in support of church work endowments at CUAA, as of this blog's publish date.
Editor's note: This story first appeared in the spring 2023 edition of Hearts Together, a magazine publication of Concordia University Wisconsin and Ann Arbor.
---
They say it takes a village to raise a child. Well, oftentimes, it takes a community of CUAA supporters to raise up the next generation of Christian leaders for the Church and world.
And several dozen graduates of Concordia Lutheran Junior College have done just that.
In celebration of their 50th anniversaries as graduates of CLJC, members of the Classes of 1969, 1970, 1971, and 1972 pledged to raise $25,000 per class to establish endowments in support of future students who want to pursue degrees in any of CUAA's church work programs.
Three of the classes – 1969, 1970, and 1971 – have already surpassed their fundraising goal. The Class of 1972, which started their effort in August, 2022 during their 50th reunion weekend, is about halfway there. To date, a total of 148 gifts have been made to raise nearly $135,000 for church-work endowments at CUAA. The Class of 1969 even surpassed the $50,000 mark.
Read on to hear from a few of the contributors as to why they joined the effort.
1969
Paul and Jane (Bernhardt) Hoffman
Paul: As a pastor, I always enjoy taking part in another pastor's installation. I want to welcome him to our area and offer God's blessings on him. I especially enjoyed taking part in a graduate's installation at his first call. This new pastor is usually smiling as he reaches out to his new members and he usually has some plans for getting started. This is an especially joyous time!
However, sometimes the newly ordained pastor will share with us his financial concerns. The seminaries now help the students with their funding, but often they are still paying for the first four years at college. This can be an enormous debt for them as they try to get their families situated at their new congregation.
I think about the time when I graduated from the seminary after two years at Concordia and two years at the Senior College, and I realized that we didn't owe much when we came to our first church. That's because those precious saints from years ago would give ample money to the Synod to help pay for our schooling. I remember when I was a student at Concordia, that we had to serve some "Synod Hours" in recognition of the Synod generously providing for us. Sometimes we maybe groused about these extra hours, but we were very grateful when we graduated!
Thus, I wanted to take part in our Class of '69 Endowment Fund and help especially the theological students have some relief from their debt. I am so thankful for what many special people in our synod gave for me that in recognition of their generosity, I want to help a student, too! In this way, I'm looking up at heaven and feeling a certain oneness with those who have gone before me! Indeed, I feel the joy that the Philippians did when Paul said, "I rejoiced greatly in the Lord that at last you renewed your concern for me" (Phil. 4:10). I really am pleased to participate in the '69 Graduate Endowment Fund!
Drs. Craig ('69) and Meredith Dohse
I am very impressed at the way Concordia Ann Arbor moved from the brink of extinction into a solid institution with a plethora of academic programs…and all of these programs function and thrive because they hold Jesus Christ as "preeminent " in all of life. Because Jesus Christ graced my wife and I with a successful business to accompany our theological and educational background and endeavors we felt that it was vitally important to support a University that put Christ-motivated men and women into the marketplace. We were honored to support Concordia through the 1969 class gift. Also, we established an academic scholarship for the business school. We pray that these gifts assist the University in graduating men and women who bring the Kingdom of God to bear on our world. May our Lord bless Concordia mightily!!!
1970
Pastor Ronald and Jean (Oelrich) Weidler
Both of us look back on our two years at Ann Arbor as a great blessing from God. We both agree that our CLJC time was the highlight of our educational experience. It was the toughest and most demanding academic time that either of us ever experienced, yet it was also the most rewarding and satisfying. Our professors were both challenging and supportive. Their love for their subjects, their students, and their Lord was always evident.
Our time at Concordia was also a time for spiritual growth and development. 'That in all things Christ might have preeminence' was not just a slogan. It was put into practice. We made friends with fellow believers, and these friendships have lasted the rest of our lives.
Last but not least, Concordia is where we became best friends and life partners. In 1970, we celebrated our 50th-year anniversary as graduates of Concordia. 1972 marked our 50th anniversary in our marriage. We have been blessed beyond measure!
If our Endowment Fund gift can help give someone else the chance to experience all that we found at Concordia Ann Arbor, we shall be even more blessed! And we are confident such is and will be the case!
1971
Harlan "Harley" Burk
I felt compelled to give, first and foremost, because I was asked. And after I was asked, I gave because I have been sufficiently blessed that I can give, and I will continue to do so. It's what alumni do. A Concordia student's education, back in the '60s and '70s, was subsidized by Synod. That no longer is a contributing factor. The need is great and I am thankful I can help!
I recently did a major woodworking project for my church. After it was completed the congregational president told me that the congregation wanted to pay me for my work. My reply: "I don't accept payment for my work on behalf of the church, but if you want to make a gift in my name to the 1971 class endowment at Concordia Ann Arbor, I would be very pleased." The congregation contributed $1,500 to the fund. I was humbled and surprised and so pleased.
Others in my class have equally heartwarming stories of generosity:
We had an anonymous classmate who wrote Linda Sproul (Director of Donor and Alumni Relations) a letter and said that she and her husband had $20,000 that they wanted to give to a place that would make a difference. They had been praying for guidance. After reading the appeal letter for this endowment fundraising effort, they decided immediately where they wanted it to go. This couple alone was responsible for two-thirds of our class goal! Thanks be to God for their generosity!
While my service to the church only lasted three years, I feel very strongly about supporting the students where I spent the first two years of my college education. The relationships are lifelong and so very meaningful, and I thank God for all of them. It was an honor to serve with pastors and teachers on the reunion committee."
1972
Mark Whitsett and Margy (Claus) Whitsett ('73)
Mark: We share, as we have been given, out of joy and thanksgiving for the years that shaped our hearts, faith, and lives. Margy and I met and found love with each other at Ann Arbor. Both of us made friendships with classmates and professors which have lasted even to the present. While on the Concordia campus, we discovered the joy of fellowship and worship in Christ, and grew in gratitude for God's great love found in following Jesus.
I, personally, was the beneficiary of the gracious generosity of others who made it financially possible for me to fulfill a calling in Christian service. It seems only natural to respond in a similar way now. God has taken care of our needs with more than enough. We are glad to pass these blessings along in hopes that present and future church worker students are able to fulfill a calling in Christ-filled service.
Margy: For me, my two years at Concordia were absolutely foundational. They were filled with friendship. It was a time of faith-finding fulfillment in activities such as Ambassadors for Christ weekends, singing with the praise group, Maranatha, and our choir and band tours. Looking back after 50 years I am sure that I would not have had the resources for the path I have walked without the gifts I received in the time I spent at Concordia. Giving is a way of saying thanks and helping another person on the Way.
---
Support Concordia
Your generous donation is more than just a gift of money. It's a gift that directly helps our students develop in mind, body, and spirit for service to Christ in the Church and the world. Click below to learn more about our different giving options.
---
The spring 2023 Hearts Together magazine hit mailboxes in April. View a PDF version of the magazine here. If you are not on our mailing list, but are interested in receiving a free copy, email Jennifer.Hackmann@cuaa.edu.
---