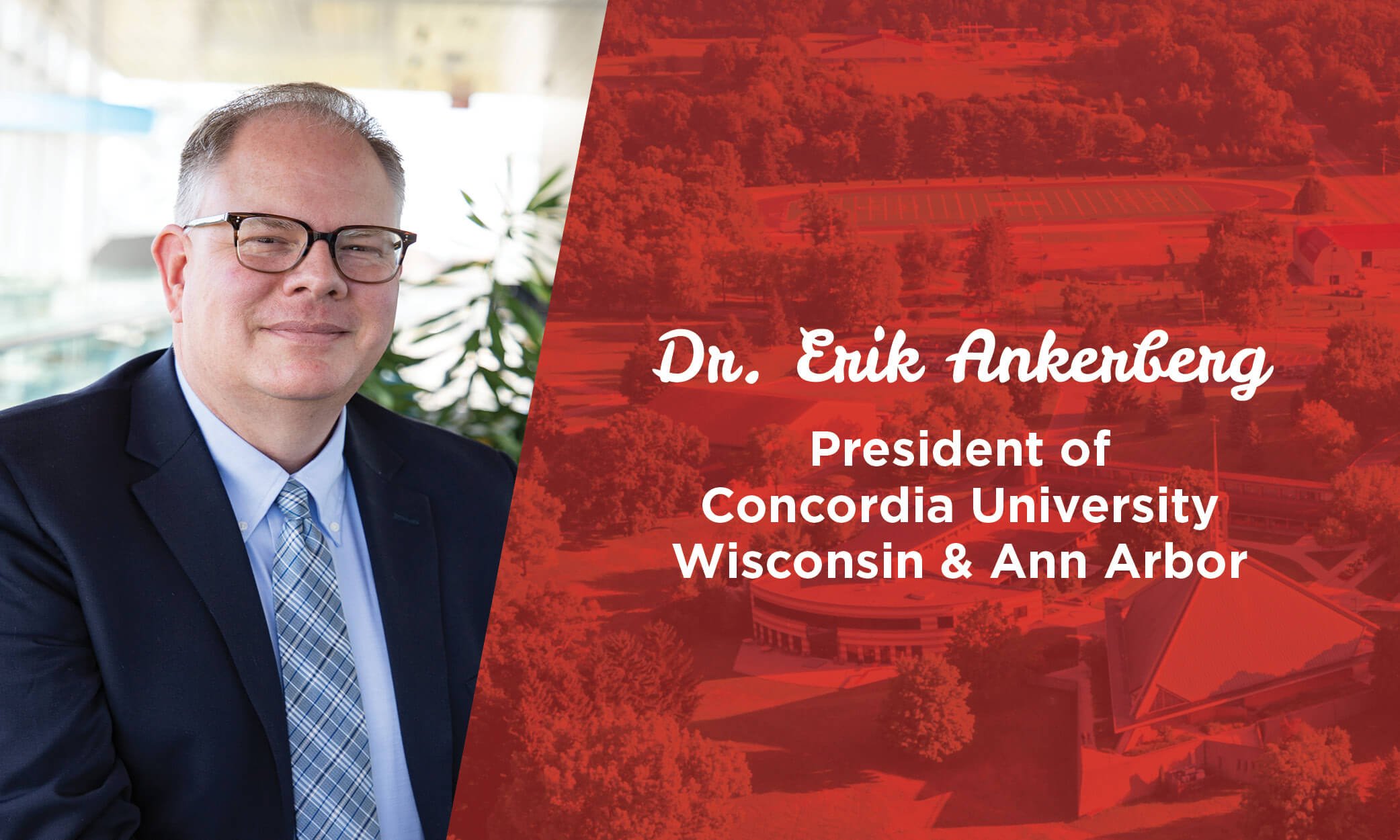 ---
Erik P. Ankerberg, Ph.D. has accepted a call to serve as the next president of Concordia University Wisconsin and Ann Arbor. He will begin his term on Jan. 9, 2023.
---
The Board of Regents is pleased to announce that Erik P. Ankerberg, Ph.D. has accepted a call to serve as the next president of Concordia University Wisconsin and Ann Arbor, the largest university affiliate of The Lutheran Church—Missouri Synod (LCMS) in the nation. Ankerberg, who currently serves as provost of Concordia University Chicago, will begin his tenure at CUWAA on Monday, Jan. 9, 2023.
After a global call for candidates in the summer of 2021, an LCMS Prior Approval Panel named Ankerberg to its list of 11 finalists for the position. Ultimately, on Oct. 25, 2022, Concordia's Board of Regents unanimously voted to extend Ankerberg a Divine Call.
"CUWAA is blessed to welcome Dr. Erik Ankerberg as her president-elect," said Concordia University System President Dr. Dean Wenthe. "He brings extensive experience in higher education governance, administration, and teaching. These abilities are anchored and enhanced by a robust, confessionally Lutheran faith and life."
His vision for Concordia
As part of the interview process, Ankerberg visited the Mequon and Ann Arbor campuses last month to meet in person with faculty, staff, and students. In a webinar address he delivered to the Concordia community on Oct. 3, Ankerberg laid out his strategic priorities for Concordia:
Implement a university-wide framework for Christian formation for mission.
Relentlessly focus on student success by developing a Concordia Promise that promotes specific success initiatives and outcomes.
Maximize post-traditional student enrollment.
Identify, prioritize, and live out a portfolio of distinctive, innovative, high-quality academic programs.
Promote teaching, learning, and research that stretches faculty and students and provides clear value to the Church and the wider world.
"I am humbled and honored to accept the Call to serve as President of Concordia University Wisconsin and Ann Arbor," said Ankerberg. "This university has a long and rich history of serving Christ, the Church, and the wider world by providing a rigorous, Christ-centered education that forms each student's mind, body, and spirit as preparation to find 'uncommon' ways to meet the needs of others. I am eager to begin this work in such a faithful university community, whose members are deeply committed to student success."
With recognition and appreciation for the significant accomplishments achieved under the leadership of Ankerberg's predecessor, Rev. Patrick T. Ferry, Ph.D., Ankerberg says he plans to spend his first few months as president mostly engaged in intentional listening.
"I think it's terribly important to start by listening to people and making sure that every person who is part of this university community feels cared for, respected, and heard," Ankerberg said. "Within that, I think it's really important that we focus on what's gone well. The past 25 years, and even longer, have been a real blessing for this university. We should not forget that."
His experience in higher education
Ankerberg's professional resume includes nearly 15 years of experience in leadership positions at Lutheran higher education institutions. Within that time, Ankerberg has led academic operations for three separate universities: as provost for Concordia University Chicago and Concordia University Texas, and as assistant provost at Wisconsin Lutheran College. He also served as interim president for Concordia Chicago in summer 2019.
Prior to his tenure as a provost, he served as a department chair and held faculty positions at Wisconsin Lutheran College. He also taught at Concordia University Ann Arbor and Concordia University Wisconsin early in his career.
He holds a Ph.D. and Master of Arts in British Renaissance Literature from Marquette University and earned his bachelor's degree from Concordia Chicago. His research interests include aesthetics and the intersection of early modern literature and theology. He is currently pursuing pastoral ordination within the LCMS.
His home life
Ankerberg and his wife, Jennifer, have been married for 27 years. Jennifer is a literacy educator in the River Forest public schools. They have two sons: Peter, who is completing graduate work in architecture at the University of Michigan, and David, who is studying Psychology at Valparaiso University.
About Concordia
Concordia University Wisconsin and Ann Arbor is an uncommon community of students, faculty, staff, alumni, and supporters who are gifted by grace and ever-preparing to live out their purpose to serve Christ in the Church and world. The university serves more than 6,000 students at two residential campuses in Mequon, Wisconsin, and Ann Arbor, Michigan; at three accelerated learning center locations in Wisconsin; and globally, through online programs.
A decade ago, Concordia University Wisconsin and Concordia University Ann Arbor existed as separate, independently run institutions. In 2013, however, the two strategically merged and have since thrived as one university under the leadership of one president and one Board of Regents while continuing to maintain their distinct identities and serve unique student populations.
Ankerberg will serve as the seventh president of Concordia's Ann Arbor campus and the ninth president of CUW. Founded in 1881, CUW's main campus is located on 200 acres of beautiful Lake Michigan shoreline. Concordia Wisconsin offers more than 70 undergraduate majors, dozens of master's degree programs, and six doctoral degrees in physical therapy, pharmacy, occupational therapy, nursing practice, educational leadership, and business administration. The CUW campus alone graduates the most church workers for the LCMS in the nation, including the most Lutheran Teacher Diploma candidates and the most pre-seminary candidates.
CUAA is located on the banks of the Huron River in Ann Arbor, Michigan, the number one college town in America (WalletHub 2021). Since its merge with CUW, Concordia Ann Arbor has seen precipitous enrollment growth, solidifying its status as the fastest-growing public or private college in Michigan, according to IPEDS data. Within the past decade, the total undergraduate enrollment on the Ann Arbor campus has climbed 75 percent. Following the merge, the university undertook numerous capital improvement projects and added multiple programs, including a School of Nursing, physician's assistant studies program, and occupational therapy and physical therapy degrees.
---
Want in?
Come and see what Concordia University Wisconsin and Ann Arbor has to offer you. Schedule a visit to either of our campuses to experience an all-inclusive view of student life and to learn more about programs.