Photo op! Did you know that Ann Arbor is home to many awesome murals?
---
For lovers of art or those looking for unique spots to take pictures, we hunted down some local murals for you and your friends to visit in Ann Arbor.
Click here for a complete mural map provided by Ann Arbor Art Center.
Live in Color
The first mural I stopped by was located on the backside of the Ann Arbor Art Center. I was immediately in love with the fun colors and modern patterns, but what made this mural was the tiny pig painted on the wall directly right of the much larger painting. This mural, I found out, was painted by a student group named "Live in Color" at the University of Michigan, with over 350 members.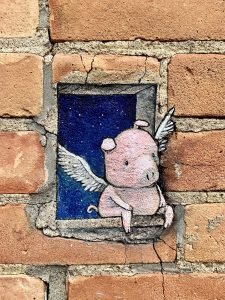 ---
"Drifts" by Ouizi
This gorgeous mural at 200 S Ashley Street had me looking forward to spring weather on sight. The painting is spread on three different connecting walls, both on brick and a small garage door. As the warmer temperatures approach, this mural would be the perfect spot to come back to with family and friends to take pictures with. I know I will make my way back here!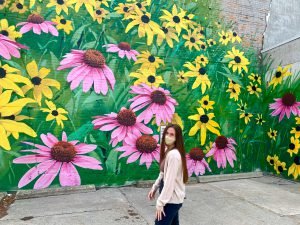 ---
"Not afraid to dance" by Gary Horton
This mural is located at the Circ Bar Alley and was way too fun to pass by. The art style was unlike all the other paintings I chose to stop by and I would love to come back in my red Concordia Ann Arbor gear to have a red and black themed photoshoot!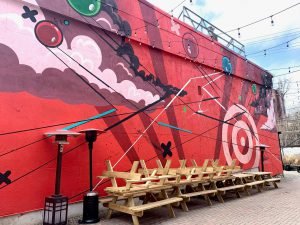 ---
Midnight Olive
The artist, who goes by Midnight Olive, paints her murals in black and white patterns that are intricate and unique. This particular one is located at 111 N Ashley Street, not too far from the other murals I visited. I am a sucker for a neutral colored background, so this one was one of my favorites by far. It is only a few feet taller than myself (5'4″), so if you're approaching 7 feet, your head may not make the picture!
---
Experience Concordia University Ann Arbor's campus! Click here to set up a CUAA campus visit or to view a 360-degree photo campus tour.
— Ellesyn Fritcha ('24) is a student writer majoring in biomedical science. Questions or concerns related to this article may be directed to news@cuaa.edu.
If this story has inspired you, why not explore how you can help further Concordia's mission through giving.