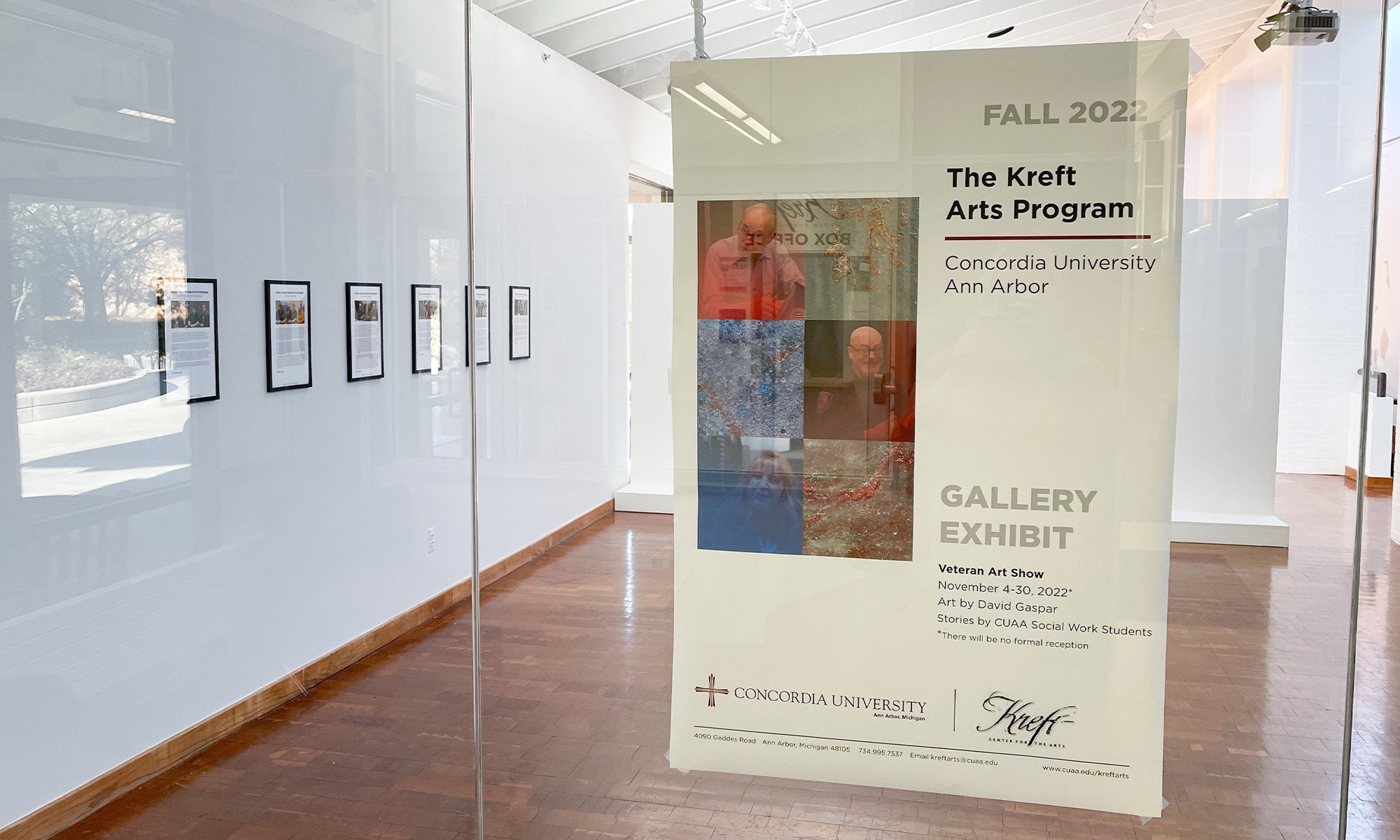 ---
In addition to other Veterans Day festivities on campus, the work of veteran and artist David Gaspar is featured in the Kreft Gallery for the month of November.
---
Veteran art on display
Three of David Gaspar's paintings are currently featured in this year's Veteran Art Gallery at CUAA. The three pieces are titled Gunshot Masquerade, Australian Sunset, and Corruption of Wealth, respectively.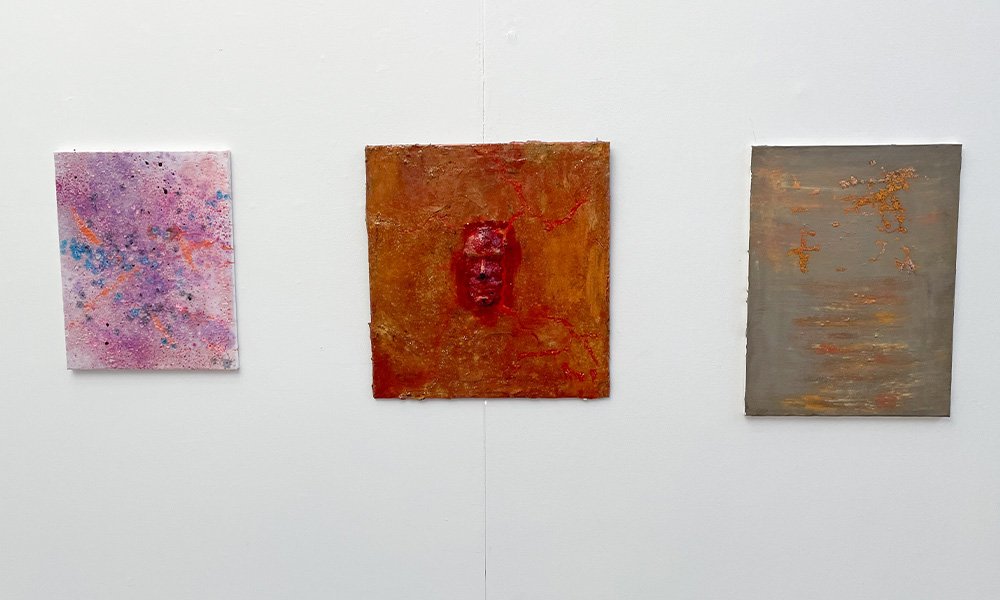 Artwork Descriptions
Gunshot Masquerade (left painting), fluid acrylic, dyes, powders, spray paints, and liquid rubber.
"There is a layer of glow-in-the-dark spray paint that creates a different effect when the lights go out. The name of this piece is derived from the effect that was achieved using glow-in-the-dark paint. It reminded me of the luminal and backlight scene in every crime show."
Australian sunset (center painting), artist's own technique using concrete, resin, and acrylic paint. The entire canvas is painted with concrete. Resin is used in the natural cracks that occur when the concrete dries.
"I lived in Australia, in Canberra, growing up. We took a trip across the continent to Adelaide. I'm trying to capture some of the essences of the outback."
Corruption of wealth (right painting), artist's own technique using acrylic concrete, plaster, resin, powder, paint, and gold leaf on wood.
"This piece was made to annoy you. It's good, we like gold, but it's not pretty, it's not attractive…neither is the obsession we have with wealth. It makes us evil, and ugly."
About David Gaspar
Artist statement is taken from David Gaspar's website.
Background:
Professional – USAF Aug 1997-Jul 2018 – Retired SMSgt (E-8)
Education – Master of Arts (International Relations), School of International Service, American University, D.C. (SIS/19)
Artistic vision and focus:
"My art is a representation of my memories and experiences, the different cultures I've experienced and interacted with. I focus primarily on the colors that dominate your eye when looking at someone/thing/place for the first or the last time. The glow of lights, the pop of advertising, and the darkness of shadows. I try to capture that feel, mainly through color and texture changes. There is a political aspect to some of my work, especially physical pieces that don't involve canvas."
Influences:
"I draw a lot of inspiration from music, which will occasionally show up in painting titles. I also use photography, my own or what I find looking around on various websites. In terms of artists I draw from, I try not copy anyone else's style, but I am influenced by Joan Mitchell, Mark Rothko, Invader (French Artist), and the generic term street art (graffiti I can't source)."
Related: See more of Gaspar's work at DMG Arts
---
Upcoming gallery shows
CUAA is proud to offer a wide variety of art shows in the Kreft gallery throughout the academic year. Click on the link below to learn more.
---