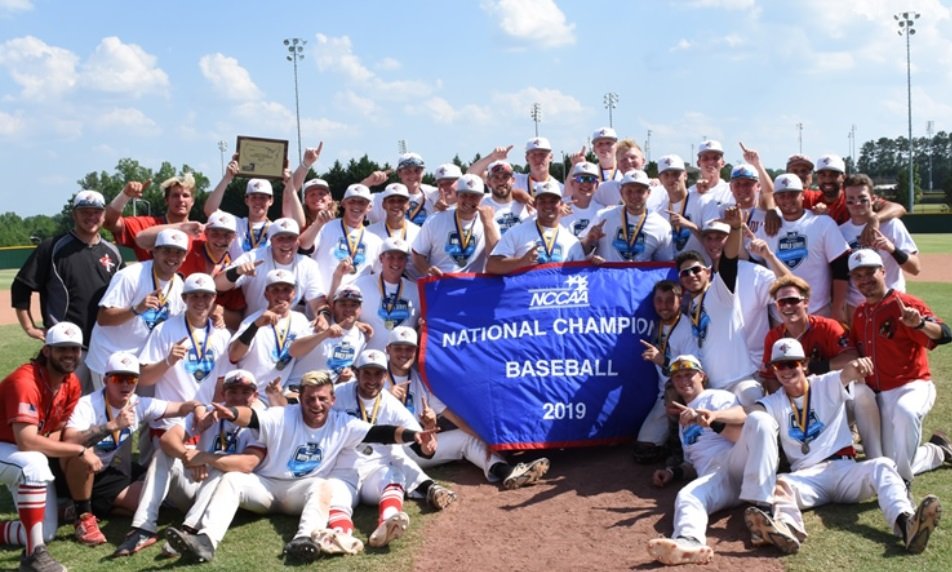 Let's go, Cards! Concordia University Ann Arbor celebrates another national championship.
---
Concordia University Ann Arbor's baseball team made school history on May 25, 2019, when they took home the national championship title of the National Christian College Athletic Association (NCCAA) World Series.
The fifth seeded Cardinals were one of ten teams invited to participate in the NCCAA post-season tournament based off regular season play within each teams' conference affiliation. Of the 92 NCCAA 2018-19 member institutions, 55 have baseball programs.
"Words cannot express how proud and happy I am for this team. Throughout the year, we continuously talked about how they wanted to be remembered," said Head Baseball Coach Zach Johnston, who is also a 2010 alumnus of CUAA and at 2018 inductee into the athletic hall of fame. "Our team spoke about what kind of teammate do you want to be remembered as? What kind of person? What kind of student? I know that they will always be remembered now, and I'm so thankful for that because they deserve to be remembered."
The NCCAA is a Christian-based organization that promotes intercollegiate athletic competition with a Christian perspective and includes opportunities for outreach and ministry. CUAA's athletic department reinstated membership to the NCCAA in 2017 while still maintaining existing membership to the Wolverine Hoosier Athletic Conference (WHAC) and National Association of Intercollegiate Athletics (NAIA).
Concordia's prior stint with the NCCAA lasted until 2002 around the time that the WHAC was first established.
"We decided to rejoin the NCCAA not only because their Christ-centered mission aligns with ours as an athletic program, but this dual affiliation allows our student-athletes and team more avenues for recognition and post-season play," said Director of Athletics, Lonnie Pries.
Since reinstating membership in 2017, the Cardinals have celebrated many post season appearances including women's soccer (2017), baseball (2018), softball (2018), women's basketball (2018), softball (2019) along with the 2019 NCCAA Baseball World Series Champions.
"This team never stopped pushing themselves to improve. They kept their passion for the game throughout the months of the season and were determined and driven in their quest for excellence, and that quest was fulfilled," said Johnston. "They did it, they're national champions. They did it for themselves, each other, their alumni, and their university! I'm so thankful they took me along for the ride—it was a great one!"
— Rachel Thoms served on Concordia University's Strategic Communications team from 2015-2022. Any inquiries about this story can be sent to news@cuaa.edu.
If this story has inspired you, why not explore how you can help further Concordia's mission through giving.