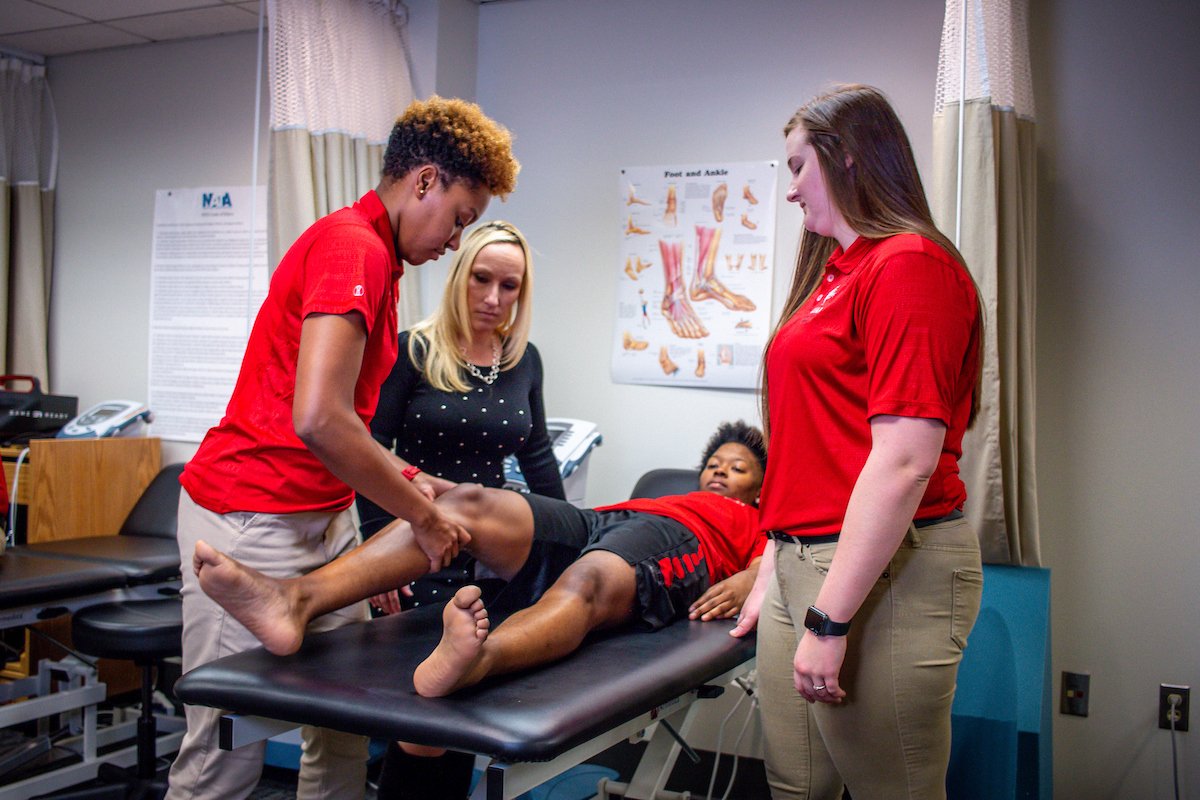 Do you want to know how to become an athletic trainer?
---
How to become an athletic trainer
If you're thinking about becoming an athletic trainer (AT), it's important to understand what's ahead of you. ATs play an important role in a collaborative care team. This is because they're highly-skilled medical professionals. Ultimately, an athletic trainer's role is to make sure their patients get excellent care and can return to their activity.
So, how exactly do you become an AT? First of all, you must obtain a master's degree from an accredited athletic training program. Within your program, you will gain clinical experience that will prepare you for practice. According to NATA, after graduation, you must pass a certification exam to receive your license to practice. Your first step is finding a program that works for you.
Become an athletic trainer, earning two degrees in only 5 years
Concordia University Ann Arbor makes it easier and cost-effective to get your degree faster by offering a combined bachelor's and master's program. When you finish this five-year program, you'll receive a Bachelor in Science and a Master in Athletic Training degree.
During the first two years, you'll take the undergraduate course and meet the requirements for entrance into the master's degree program. Next, during the final three years, you'll take graduate athletic training classes and perform clinical education site requirements. You'll also have the summers off to work or do internships.
What's the MSAT coursework like?
Concordia's M.S. in Athletic Training (MSAT) program will prepare you to enter into a variety of employment settings. Throughout your training, you'll learn best practices for engaging with a diverse population of individuals engaged in physical activity.
If you're feeling nervous about the challenging coursework, Timothy Neal, MS, AT, ATC, CCISM, the AT program director at our Ann Arbor campus, shares some useful advice. He says, "MSAT students may feel overwhelmed at the start when looking at the curriculum. However, the academic plan is designed to ease you into your degree program to encourage academic success and build toward a greater understanding of knowledge and implementation of skills. You will be challenged in this program, but with good time management and attention to detail. Our present MSAT students have plenty of time to complete the program and enjoy the collegiate experience on campus."
Neal shares how passionate the faculty is about student success. "As faculty, we are very committed to the success of our MSAT students. Our faculty have decades of hands-on experience in caring for thousands of student-athletes over their careers prior to becoming full-time faculty. Therefore, this real-world experience helps encourage our MSAT students in realizing their potential as athletic training professionals."
Hands-on learning is important
Hands-on learning experiences are what set our program apart. Students get to use the cadaver lab and virtual reality learning to develop skills. On-campus athletics present hands-on opportunities to work with student-athletes during clinical education. In addition to on-campus opportunities, Concordia has clinical sites at Concordia University Ann Arbor, the University of Michigan, Eastern Michigan University, local high schools, and sports medicine clinics.
Neal is passionate about connecting students with experiential learning opportunities. He says, "classes not only cover the content but the MSAT student is provided ample opportunities to grow in their skills and philosophies of care as they develop into athletic training professionals. The faculty give life to the content through their instruction and hands-on mentorship. Our faculty have instructed future athletic trainers who have gone on to careers in the NFL, Major League Baseball, National Basketball Association, National Hockey League, Women's National Basketball League, the Olympics, and major colleges and high schools."
How do you know if becoming an AT is right for you?
Neal sums it up like this: "The profession of athletic training is growing. There are so many opportunities to obtain athletic training positions after graduation and passing the Board of Certification exam. Athletic training is an outstanding career for those wishing to provide high-quality health care to athletes and populations that are physically active."
If you're considering a future in athletic training, it's a good idea to research a variety of employment settings. There are many options when it comes to finding the right workplace, so it helps to know what is available.
Do you want to know more?
If you want more information on becoming an AT through Concordia University Ann Arbor's program, visit us here.
—
If this story has inspired you, why not explore how you can help further Concordia's mission through giving.