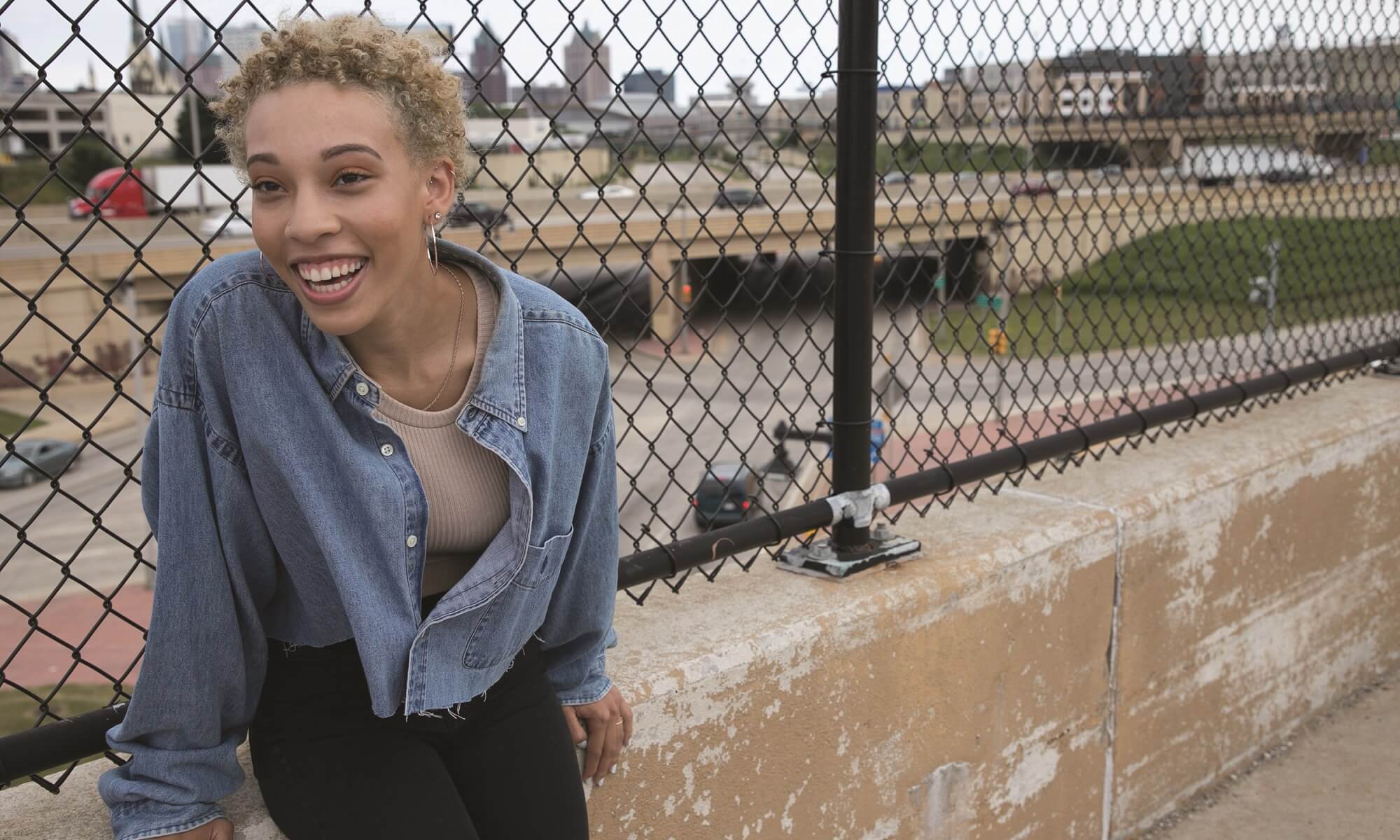 This story first appeared in the fall 2018 issue of the Arbor Light, the official magazine of Concordia University Ann Arbor.
---
Concordia's justice and public policy department is working to instill positive mental health habits among the next generation of law enforcement.
During her summer internship in Milwaukee, Wisconsin, Mikaela Morgan  recognized the importance of talking to her justice and public policy professors at Concordia for support. Studies show talking to someone reduces the rate of PTSD in law enforcement.
Mikaela Morgan isn't one to shy away from hairy situations. This past summer the Concordia University Ann Arbor justice and public policy (JPP) major chose to intern with the Milwaukee based nonprofit Exploit No More, whose mission is to turn the tide of sex trafficking in the Greater Milwaukee area. She first learned of the organization through her pastor, who serves on the Board of Directors, and was impressed with how Exploit No More was able to leverage faith, family, the community, and those who protect it to tackle the dire concern.
Morgan never met with any of the victims she devoted her summer to helping, but she heard plenty of stories. Especially weighing on her were the stories of a girl enslaved in a trafficking ring at the age of 6 and the 11-year-old taken from her drug-dealing parents as a form of punishment to the adults.
Morgan admits the summer work at times took a tremendous emotional toll, but it didn't deter her from wanting to continue. Following her graduation this coming spring, she plans to pursue a career in law enforcement that will allow her to continue to help victims of sex trafficking. The summer did, however, reinforce a vital lesson learned through her classes at CUAA. "One of the main things I've learned at Concordia is that it's always good to speak to someone about a traumatic situation after it happens," Morgan says. "I really plan on taking that lesson to heart in my career and having it be a consistent thing that I do to ensure that I'm not keeping it all bottled inside."
THE SILENCE KILLER
History and statistics show that first responders who do not make a habit of talking to someone about the trauma they experience can face harmful, sometimes even deadly, consequences.
In April 2018, the Ruderman Family Foundation—a philanthropic organization that works for more inclusion and rights for the disabled— released a white paper that articulates the concern. The study looked at depression, post-traumatic stress disorder (PTSD), and other issues affecting first responders and the rates of suicide in departments nationwide.
According to the study, first responders (police officers and firefighters) are more likely to die by suicide than in the line of duty. In 2017, 243 firefighter and police officer deaths were attributed to suicide compared to 222 in the line of duty. More than half of those suicides—140—were police officer suicides, which was more than triple the number of officers who were fatally shot last year.
The study also found that on average police officers witness 188 "critical incidents" during their careers and that this exposure to trauma can lead to several forms of mental illness. PTSD and depression rates among firefighters and police officers have been found to be as much as five times higher than the rates within the civilian population, which causes these first responders to commit suicide at a considerably higher rate.
"There are untold numbers of people who are suffering from a whole spectrum of problems," says Frank Rubino, MA, TLLP, a clinical psychologist and adjunct instructor for CUAA's justice and public policy program. "It's something that isn't talked about in police departments or fire departments because people are ashamed of it, or there's a fear that people will judge you as unfit for the job."
Rubino would know. He served 19 years as a police officer before he retired from law enforcement in 2015. In 2012, spurred by a desire to make a difference among his colleagues, Rubino became a licensed clinical psychologist and continued to work for two more years on the force in an unofficial counselor capacity, giving his coworkers a much needed non-threatening outlet to process the weightiness of the job.
When he joined Concordia in 2017 as an adjunct instructor and part-time counselor, he found a kindred spirit in Concordia's justice and public policy head Dan Chlebos, as well as support from university leaders who saw the value in preparing students in "mind, body, and spirit" so that they can better serve others.
Like Rubino, Chlebos has experienced firsthand the dynamics between law enforcement and mental health. With more than 45 years of law enforcement experience, Chlebos worked the streets in Twin Lakes, Wisconsin, for nearly two decades as an officer and, eventually, chief of police. After leaving the department, he founded Criminal Justice Solutions International, where he has become a highly regarded police trainer and consultant.
"It was typical of the day and era that I grew up in to 'suck it up' and move on," Chlebos says. "Today, I would tell someone with that mentality that they're living in a dream world. There's too much evidence out there for us to justify continuing in that manner, and it's really our responsibility as a Christian university to make sure our students are cared for in a manner that they can then fully serve others."
PRACTICING HEALTHY
One of the ways Concordia's justice and public policy department is working to turn the tide for future first responders is to require "debriefs" for every JPP student on internship.
Debriefs are not therapy sessions, and Rubino says he's careful to articulate the difference between the two to students. Rather, debriefs are approximately 15-minute check-ins that students have periodically with a JPP professor. It's a way for the students to decompress and process what they've seen and experienced while observing the same potentially traumatizing events as first responders do.
It's also a way to get students accustomed to talking to someone— professional or not—so that hopefully they'll continue when they graduate, says Rubino. 
Chlebos acknowledges the debriefs are an added commitment for the department, one that doesn't fulfill any accreditation standards, but Concordia's low student-to-teacher ratio makes it manageable. The university's distinctive approach to education that develops students holistically and from a Christ-centered perspective makes it necessary.
"It's an enhancement to the curriculum that has to be done," Chlebos says. "If we're going to do the job of training future law enforcement, let's do it right. We've found this to be an integral part of the process for the overall health and well-being of our students, and those they'll eventually serve, and we're not going to avoid it."
About halfway into Morgan's internship, around the time she learned about the 6-year-old, she had her first debrief with Rubino, and she says the conversation helped her get through it. "I was super drained by it; it was super heavy," says Morgan. "It was just nice to have someone to talk to."
Morgan said she anticipated these types of days would come when she decided to major in justice and public policy. She's dealt with some heavy things of her own in the past and has experienced bouts of depression as a result. Through the help of a counselor at one point, and friends and family throughout, she was able to emerge emotionally and mentally healthy.
"I think there was a point where I was concerned about the stigma against mental health, but now I'm to the point where I'm going to do what's best for me, and what's going to keep me safe and healthy in the long run," she says. "For me, it was a lot of I was just a kid stuck in the cross fire of my mom and dad. It was a heavy burden and weight to carry, and I don't want another kid to have to go through that if I can play a part in helping."
THE CONVERSATION CONTINUED
Rubino and Chlebos have taken steps in the past several months to extend the mental health discussion and learning opportunities beyond the Concordia community. This year the pair began to host a series of seminars on various iterations of the topic, and how concerns with unaddressed trauma or other issues manifest themselves in our society today.
In February, Rubino and Chlebos hosted "The Man Up Problem: A Harmful Approach to Raising Young Men," which was so well attended that the duo decided to hold an encore seminar about a month later. The seminars, which each drew several dozen members of the Ann Arbor community, explored the concern of how young boys in America are being raised to trade empathy, respect, and humility for aggression, machismo, and bravado.
In June, the two targeted first responders and veterans as their audience for "The Silent Partner: Identifying and Coping with Post-Traumatic Stress," and in August they invited school officials and parents to their final seminar "Signs of the Times: Recognizing Indicators of Violence in School."
The fall Arbor Light hits mailboxes the week of October 1, 2018. View a .pdf of the Arbor Light magazine here. If you are not on our mailing list, but are interested in receiving a free copy, call 734-995-7317. 
— This story is written by Kali Thiel, director of university communications for Concordia University Ann Arbor and Wisconsin. She may be reached at kali.thiel@cuw.edu or 262-243-2149.
If this story has inspired you, why not explore how you can help further Concordia's mission through giving.