June 2020: Bachelor's of Social Work update
---
The newer BSW (bachelor's of social work) program at CUAA is growing. We expect to be over 20 student majors through junior year in fall 2020, and recently celebrated the first BSW program graduate, Liz Larsen, in May 2020.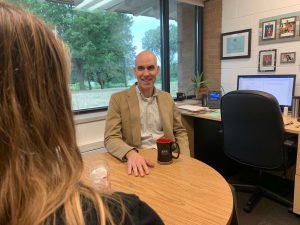 We are attracting more and more students who seek to give hope, serve others and change lives at a university with a Christian foundation. These are special students as they are planning to dedicate their lives to serving others in need.
Some of our social work students come from difficult circumstances and from places like Detroit, Flint, Saginaw, rural areas, and even Taiwan.
Through CUAA's Adopt-a-Student program, donors can choose to support a social work student. This is truly a gift that will keep on giving! Also involved with this gift (of which 100% goes to the student) is a personal connection with the recipient. You become a part of their journey to change lives! Read more about the CUAA Adopt-a-Student Program, or contact Linda Sproul to adopt a student today!
For more information on the BSW Program visit www.cuaa.edu/socialwork or contact Prof. Eric J. Shanburn, CUAA's BSW Program Director.
—Written by Prof. Eric J. Shanburn
—
If this story has inspired you, why not explore how you can help further Concordia's mission through giving.