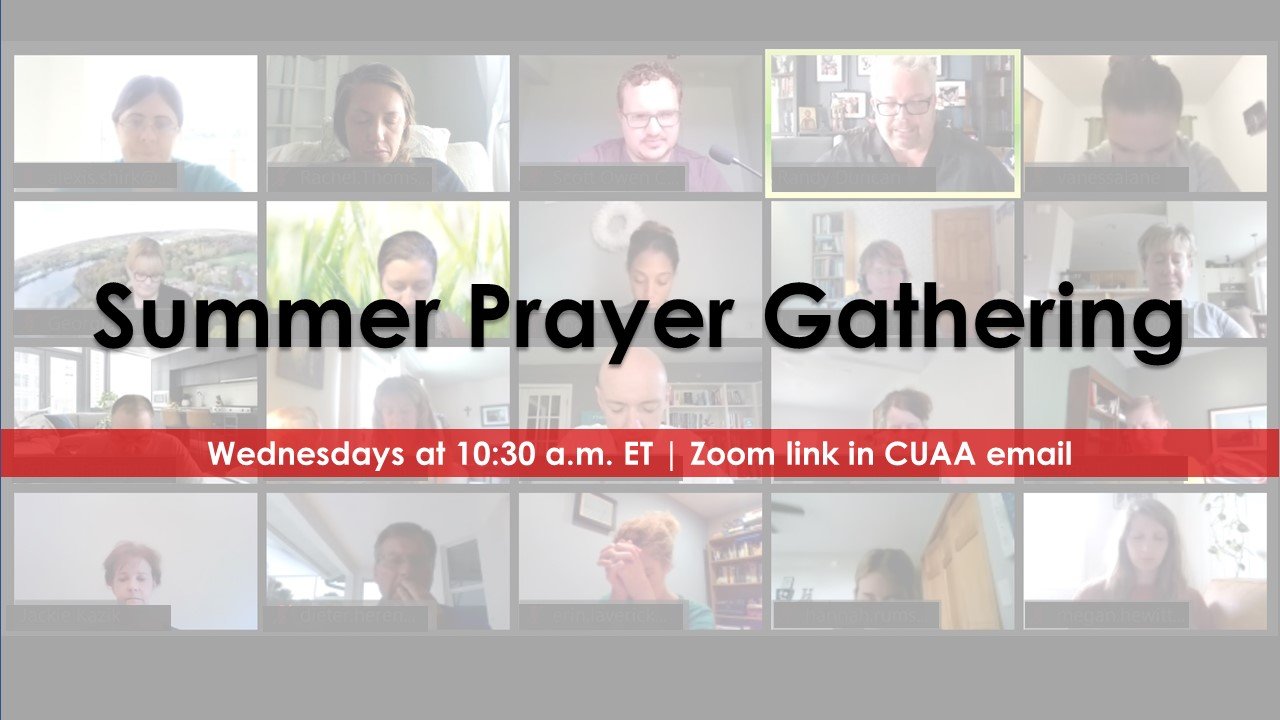 Concordia University Ann Arbor faculty, staff, and students are invited to join one another weekly for a virtual Summer Prayer Gathering.
---
The Summer Prayer Gathering—a time for song, Scripture, and focused prayer for our campus, society, and world—takes place on Wednesdays at 10:30 a.m. ET via Zoom. Members of campus can access the zoom link through their CUAA email from Campus Pastor Randy Duncan.
This gathering is organized in lieu of Summer Bible Study where faculty, staff, and students gathered together on campus each week in the summer to study the Scriptures, pray, and eat lunch together.
Related: Return to campus plan announced to CUAA students
Joining together in one room isn't a reality right now, but coming together with one heart—the meaning of the Latin word Concordia—and voicing our prayers and petitions to our Savior and Redeemer can still be done virtually.
"As Concordians, our hearts are broken together due to the civil unrest and injustice plaguing our society, as well as the upheaval caused by the COVID-19 pandemic," said Campus Pastor Rev. Randy Duncan. "We wanted to offer some follow-up action steps that we can engage in as a campus and the first is for us to bring our hearts and voices together in prayer."
Following the prayer time, faculty, staff and students have have the opportunity to have an additional time for conversation and encouragement, including asking questions and sharing ideas with Duncan and Director of the Office of Multicultural Engagement Shanitra Cheff.
"This timely gathering presents a unique and impactful opportunity to engage in discourse regarding social injustice, creating allies, reconciliation of racism through intentional action and prayer," said Cheff. "We wanted to come together to offer an enlightening forum where faculty alongside students and staff work through ways to make our CUAA community a Christ-centered institution that models the needs of our diverse student body."
Duncan was encouraged by the questions, reflection, and prayers offered at the first Summer Prayer Gathering at the beginning of June and is eager to continue through the summer.
"As sinners, we have a lot of heart work to do. We pray for the Lord to equip us with zeal, a zeal for righteousness, and to value one another as He has valued us with His everlasting love," said Duncan.
Questions about the Summer Prayer Gathering? Email Randy Duncan at Randall.Duncan@cuaa.edu.
— Rachel Thoms served on Concordia University's Strategic Communications team from 2015-2022. Any inquiries about this story can be sent to news@cuaa.edu.
If this story has inspired you, why not explore how you can help further Concordia's mission through giving.