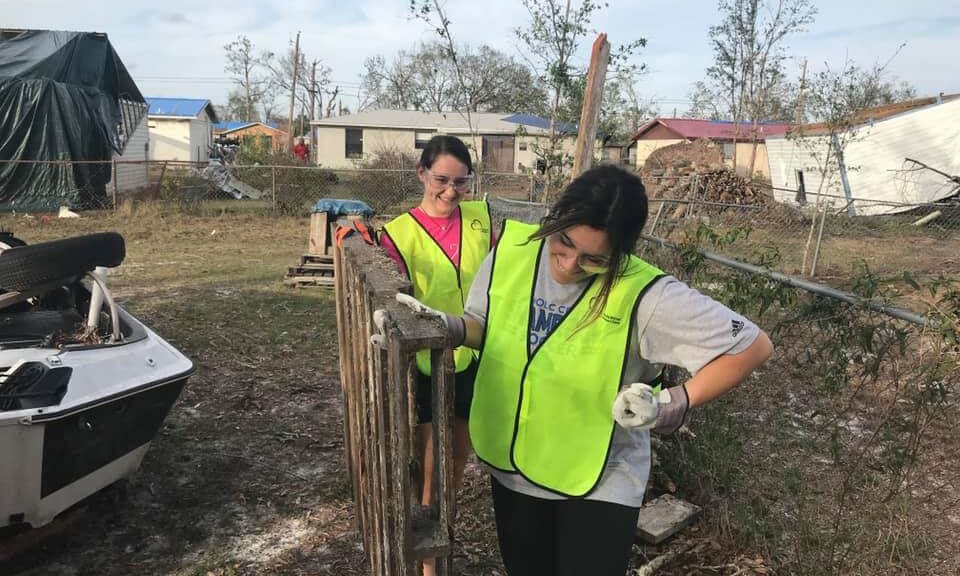 This story first appeared in the spring 2019 issue of the Arbor Light, the official magazine of Concordia University Ann Arbor.
---
In January, I traveled with a group of 10 students from Concordia University Ann Arbor on a mission trip to serve Panama City, Florida. We partnered with Trinity Lutheran Church in Panama City to assist in the Panhandle's process of picking up and clearing out debris from the devastation caused by Hurricane Michael in October 2018.
It was eye-opening for me to see how three months after the storm there were still people's belongings everywhere, houses destroyed, and damage untouched. None of us realized how bad the destruction was and still is today.
The people we encountered and the faith they had, and continue to have, in the Lord through this disaster was what left the biggest impact on me and my own faith. Every person we worked with had a positive outlook on their situation. They weren't complaining about what happened, but instead thanking the Lord that they're still here. Most of them were right there with us helping with the clean-up and debris removal. Talking to these people, hearing their life stories, and how they trusted and continue to trust in the Lord's plan through all of this was amazing and inspiring to me. It made me realize how much I take for granted.
If these people who had so much taken from them, some even without a bathroom nearby, are still positively trusting in the Lord, then certainly I can do the same. Through everything, God is good. This is one of the reasons why I think it's so amazing that CUAA offers opportunities like these for us to go and serve others. It's so easy for us to get caught up in ourselves and our own lives. Going and serving these people who are picking up the pieces of their lives from a disaster that'll take years to recover from is very humbling and helps us to put things into perspective. We're all a part of God's family, and we should be picking each other up when a part of our family is weak, whether it's in a different country, state, or even in our everyday lives
on campus.
This mission trip was a good reminder to not only think of our own needs but the needs of others, as well. It was a life-changing experience to be able to serve and build relationships with so many servant hearts of CUAA, volunteers from Trinity, and the people of Panama City.
ABBEY BENTZ ('21)
Learn more about campus ministry at CUAA here.
The spring 2019 Arbor Light hit mailboxes the beginning of May. View a PDF version of the magazine here. If you are not on our mailing list, but are interested in receiving a free copy, call 734-995-7317 or send us an email.
—
If this story has inspired you, why not explore how you can help further Concordia's mission through giving.