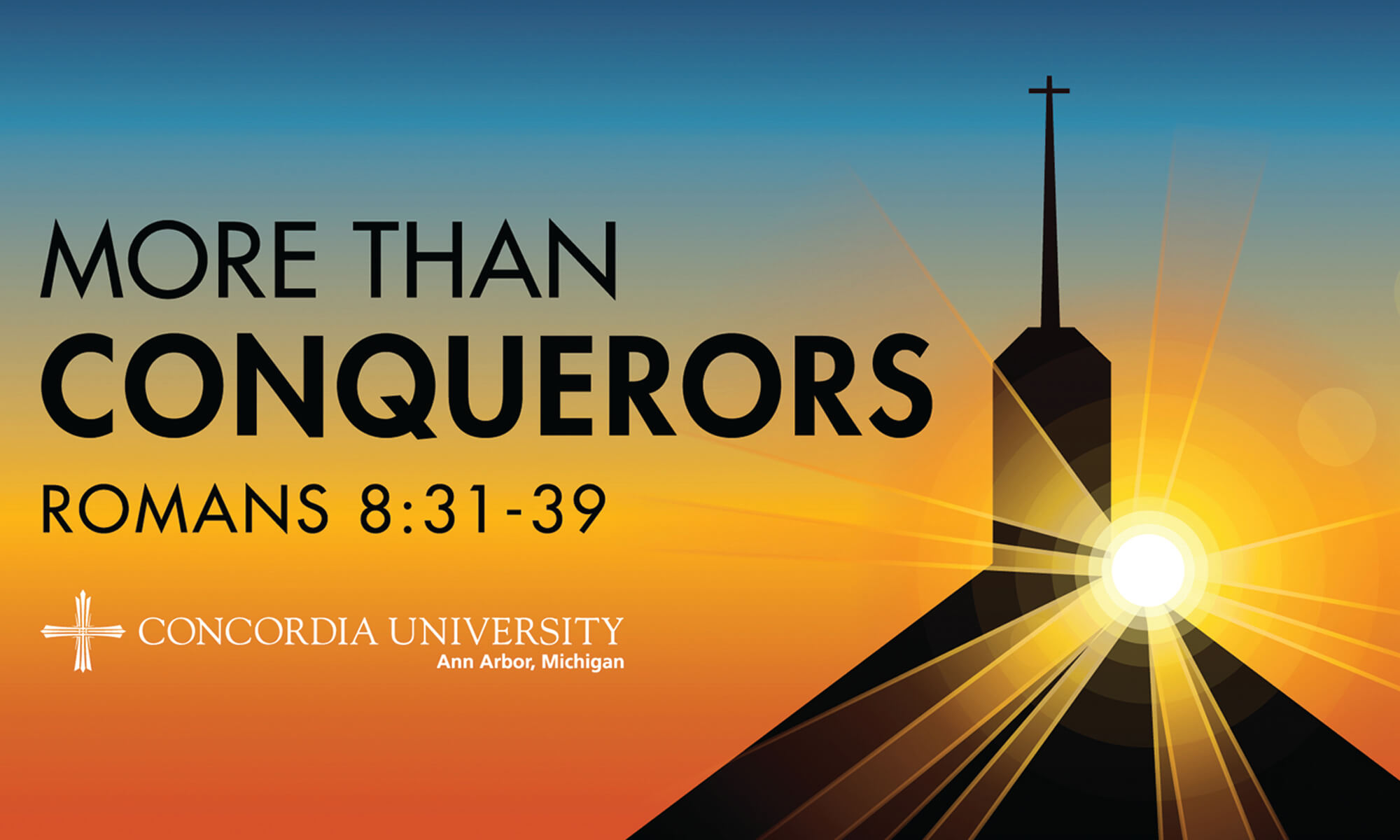 This letter, written by Campus Pastor Rev. Dr. Ryan Peterson, first appeared in the fall 2018 issue of the Arbor Light, the official magazine of Concordia University Ann Arbor.
---
As a teacher, one of the techniques that I have found to be effective at times is to ask a rhetorical question. It primes the pump, causes students to think, and begins to engage them in learning.
The Apostle Paul employs this strategy in Romans 8:31–39, the passage from which we drew inspiration for our 2018–19 school theme, "More Than Conquerors":
What then shall we say to these things?
If God is for us, who can be against us?
Who shall separate us from the love of Christ?
With CUAA's 56th academic year underway, we are not simply hoping the year is smooth. We are confident in God's Word that we are "More Than Conquerors" through Him who loved us. We live, learn, and teach as ones who have victory solely because of the victory Jesus won for us.
We can't promise students that this year will be struggle-free. Nor does Paul assure the Romans that trouble, hardship, or persecution won't happen. Rather than being overcome by those struggles, Paul acknowledges that they (and we) are "More Than Conquerors."
Throughout this year, students will be pointed back to this truth and reminded of it often.
When the unexpected happens …
When the relationship fails …
When the injury occurs …
We are "More Than Conquerors" through Him who loved us.
Over these past years, we have seen students experience that love and know this truth through the waters of Holy Baptism, through the study of Scripture in theology classes, and through serving on mission trips. This year, we pray for more students to know Jesus, as well.
Would you join us in that same prayer?
The fall Arbor Light hits mailboxes the week of October 1, 2018. View a .pdf of the Arbor Light magazine here. If you are not on our mailing list, but are interested in receiving a free copy, call 734-995-7317. 
—
If this story has inspired you, why not explore how you can help further Concordia's mission through giving.