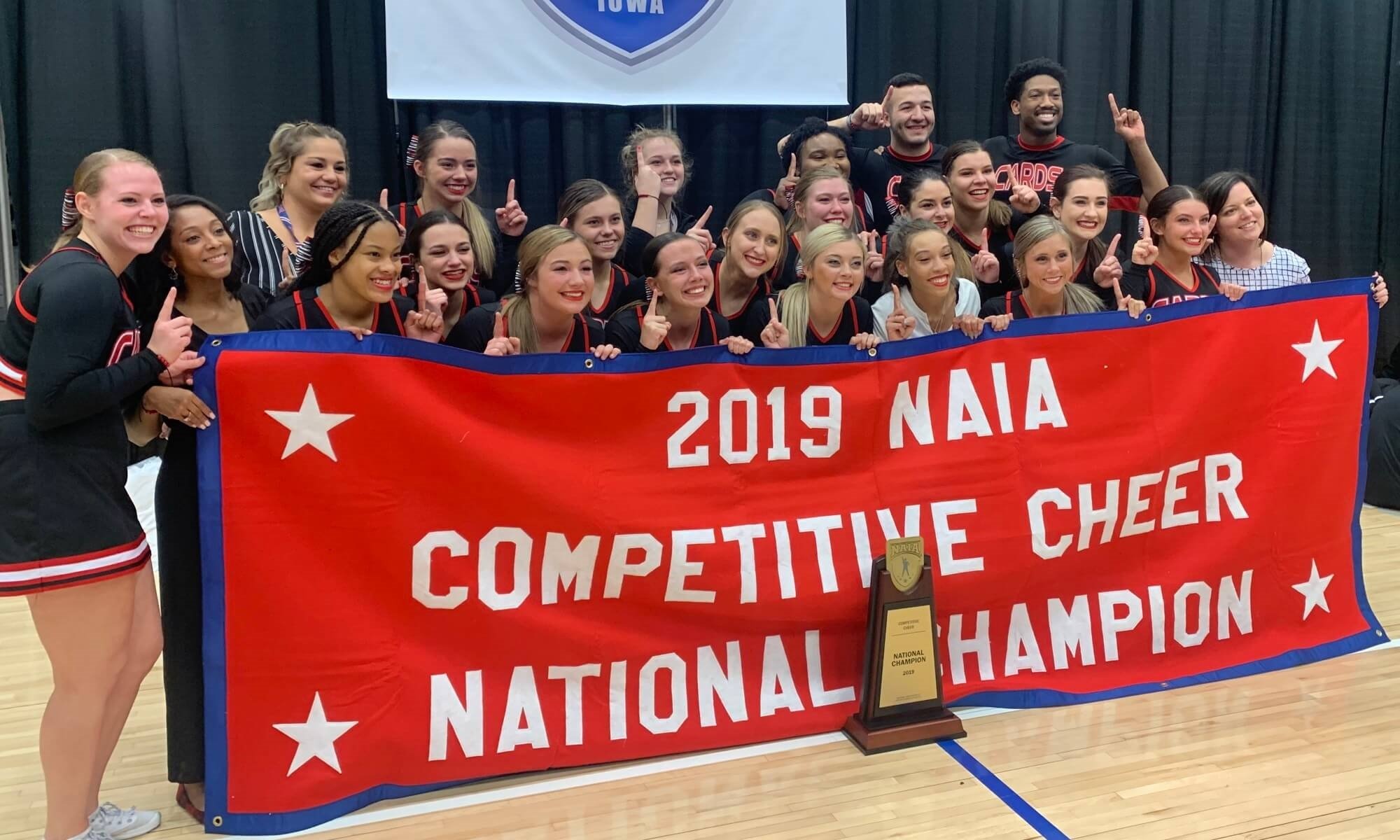 "And the NAIA competitive team cheer national champion, with a score of 82.12, Concordia University Ann Arbor, coached by Kate Edge!"
---
Leaps of joy and tearful hugging ensued as the 20 members of Concordia University Ann Arbor's competitive cheer team celebrated their first moments as the named national champions.
On Saturday, March 9, 2019, the CUAA's cheer team's first place finish at the NAIA Competitive Cheer and Dance National Championships in Davenport, Iowa was the first team national title in Concordia University's history. (CUAA celebrated its first individual national championship in May 2018.)
"When it dawned on me that we won I thought, 'Oh my goodness. It happened. This is happening,'" said Head Cheer Coach Kate Edge, who also oversees CUAA's competitive dance and stunt teams. "When they announced the third place team, then I knew we would either be second or first. I walked over to our team and reminded them, 'Remember what we said, we are proud of our performance no matter what.'"
The squad's 2018-19 season motto "One Step Closer" drove them to focus on the task at hand each day of the season, taking it one step, one stunt, and one routine at a time until they reached their ultimate goal of performing a zero deduction routine at nationals.
And they did.
"This is, without a doubt, the most focused team I have ever coached," said Edge. "About two years ago, as a program, we honed into the philosophy to stay focused on ourselves and our goals. When the distractions of other teams or negative comments came our way, we'd remind each other all we can do is our best, the rest is not up to us."
The Cardinals focused mindset allowed them to cap-off the season with a quadfecta—four first-place finishes including conference, qualifier, national championship preliminary round, and national championship final round.
Edge, who has been leading the Cardinals for nine seasons since the program's inception, put Concordia on the map in the competitive cheer world before it was officially sanctioned as a championship-level sport by the NAIA in 2016. Concordia's cheer team has qualified for the NAIA national championships each year, finishing 5th in 2017 and 4th in 2018.
Prior to the NAIA national championships, the Cardinals competed in the national invitational with impressive 2nd and 3rd place finishes in 2015 and 2016, respectively.
While one might think that bringing home the famed red and blue NAIA national championship banner was Edge's highlight of the season, she would tell you differently.
"I am most proud of the way this team praised God every day, thanked Him, asked Him to walk beside them," said Edge. "They tell me that when they're on the mat, they feel God's presence. They are a faithful, humble, dedicated, hardworking and gracious group."
Concordia's cheer team is also much beloved by the CUAA community. The squad presented a final run-through of their routine to a field house full of peers before hopping on the bus to Iowa last Wednesday afternoon. Their departure date also happened to be on Ash Wednesday, so they made sure to pause their preparations for the imposition of ashes and invited Campus Pastor Randy Duncan send the team off with a prayer on the bus.
Edge said they felt support from CUAA's campus community in a million different ways; from a send-off filled with well-wishes, to the Cardinal Crazies lining the sidewalk to welcome the team home on Sunday afternoon, playing Queen's "We Are the Champions" and throwing poms in the air. Edge says each day has been filled with congratulatory messages and emails.
So what's next for the national champions?
"We're ready for some much needed rest," said Edge, who eagerly anticipates some down time over next week's spring break. "Then we'll order our rings and start working toward next year. The team is already talking about next season and what they hope to accomplish."
Click here to learn more about what it's like to be a student athlete at Concordia University Ann Arbor. Support CUAA student athletes at the annual Cardinal Golf Classic (Friday, May 31) and Hall of Fame Gala (Saturday, June 1). Visit www.concordiacardinals.com for details.
— Rachel Thoms served on Concordia University's Strategic Communications team from 2015-2022. Any inquiries about this story can be sent to news@cuaa.edu.
If this story has inspired you, why not explore how you can help further Concordia's mission through giving.