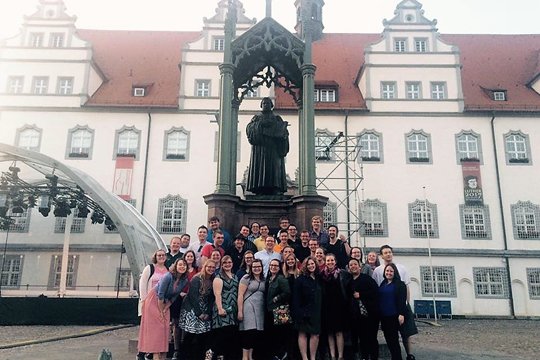 This summer, Concordia University Ann Arbor's choir traveled throughout central Europe on a performance tour to celebrate Concordia's Lutheran heritage and the university's continued celebration of the 500th anniversary year of the Reformation.
---
With an itinerary centered on visiting the historical landmarks of Martin Luther's life and ministry, the group from CUAA comprised of both current students and alumni choir members gave formal performances in churches throughout Poland, Czech Republic, and Germany.
"For these pastors and their congregations, seeing a large group of Christian young people singing so powerfully and convincingly is a heavenly gift," said Director of Choirs Dr. Brian Altevogt."The Concordia students provided a tremendous service to these congregations and in return we received hospitality and the opportunity to discover first-hand the power of the Reformation."
The choir spent time in Lutherstadt Wittenberg, where Luther lived and taught for 36 years, visiting the home where he lived with his family as well as Castle Church, where Luther is buried and where he posted his 95 Theses. The group also spent time in Eisleben, visiting the locations of Luther's birth and death, the church of his baptism, and Market Square with its Luther Memorial.
Altevogt shares that in each place visited, there was an understood pride of Luther's contributions to the German people and how his writing created waves throughout Europe. The tour guides and materials openly presented Luther's statements onsola fide (saved by faith), his devotion to Scripture, and his German translations of the Bible.
"In a world that tries to push Jesus outside our view, it was wonderful to constantly hear and see the name of Jesus!" said Altevogt. "This is a trip we will never forget. Someday, our students will share these stories with their grandchildren."
CUAA has been celebrating the relevance of the Reformation and its continued impact today, 500 years later. Planned campus events include: a Reformation 500 Oktoberfest (September 16), Reformation Roundtable (September 19), and a Reformation Service (October 31), among other events.
— Rachel Thoms served on Concordia University's Strategic Communications team from 2015-2022. Any inquiries about this story can be sent to news@cuaa.edu.
If this story has inspired you, why not explore how you can help further Concordia's mission through giving.