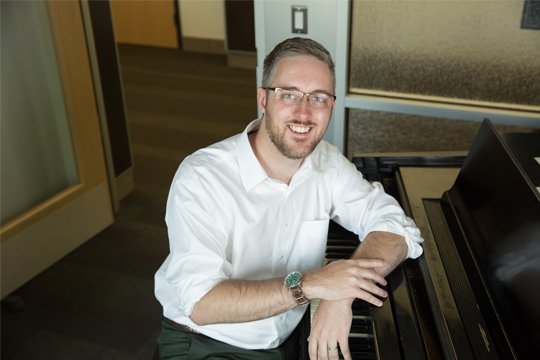 Concordia University Ann Arbor, building on its commitment to develop Church musicians prepared to best serve the needs of congregations, announces John Boonenberg of Dearborn, Mich. as the University's new director of worship arts.
---
"Concordia Ann Arbor has a long history of developing skillful, faithful musicians prepared to serve the Church through choral and instrumental music ministry," shares Dean of Arts and Sciences Dr. Robert McCormick. "Professor Boonenberg will continue this commitment to nurture the artistic gifts of our students, both within the classroom and through various co-curricular opportunities that enrich campus spiritual life through music and song."
Boonenberg, whose training at both the internationally renowned Juilliard School, where he earned his master's degree, and the University of Michigan—one of the nation's top-ranked music schools and where Boonenberg earned his doctoral degree— carries more than a decade of parish music ministry experience into his new role.
"It's this mix of academic rigor and expertise, paired with genuine congregational experience that makes John a truly wonderful addition to our faculty. Our professors are absolutely top in their disciplines, but they also possess a genuine, practical perspective that uniquely prepares our students to achieve their God-given potentials in a wide array of contexts," says McCormick.
CUAA's worship arts offers a comprehensive musical education including coursework in written and aural music theory, history, technique and performance. Classes include offerings such as Song Writing and Arranging, Intro to Multimedia Production, and Worship Theology and Practice.
"We have broad needs in the Church, and it is for that reason that we want to prepare students with broad skillsets," said Boonenberg. "We need to educate students for professional success, and that means plenty of opportunities for performance, not just classwork. And students need plenty of exposure to real contexts, where they can practically apply their education."
Boonenberg fell in love with music at a young age, his first memory of his life passion occurring at just four years old. "I remember being amazed by the organ at church. Sneaking past my parents, I found my way to the balcony, pushed the key to make a sound and I was hooked. That was it."
Currently a member at Guardian Lutheran Church in Dearborn, Boonenberg has served as the director of music ministry for the church and school for the past 11 years. Prior to his new role at Concordia, he also taught music education to students at Lutheran High School Westland.
"I love the heart for worship that I feel here at Concordia, not just in the worship arts students but in the whole community," said Boonenberg. "I get to use what I've learned to equip and empower students who have that heart for worship, daily giving honor and glory to God through their gifts and abilities."
Learn more about Concordia's music department here.
— Rachel Thoms served on Concordia University's Strategic Communications team from 2015-2022. Any inquiries about this story can be sent to news@cuaa.edu.
If this story has inspired you, why not explore how you can help further Concordia's mission through giving.