Teaching in December can feel chaotic. Between winter concert rehearsals, field trips, volunteering in the community, and sugar highs, most teachers find themselves saying, "Lesson plans? In December? Great joke."
---
Teachers, lean in.
You do not need to be a hero in order to be an effective teacher during the disorder of December. Here are some suggestions to help you finish the year strong. Disclaimer: Scaffold these suggestions to meet your students' unique needs.
Movie Day
That's right. I said it. Assign a literary criticism/analysis of a film, possibly even a holiday film. Teachers, it's time for us to take back the movie. Showing important, culturally relevant, and diverse films in the classroom can teach students to consume media responsibly and thoughtfully. Plus, it saves your energy and voice for a bit. For the younger grades, it can be a book report of a film, possibly even a retelling of the plot in the student's own words.
Hand-made cards and gifts
As kindness expert Fred Rogers once sang, "There are many ways to say I love you." Giving students the opportunity to express themselves through a handmade gift, card, or note is a big December win. Creative expression, social/emotional growth are great, but maybe you can rework this activity to meet an academic standard as well.
Let's Party!
The winter season is full of diversity in celebrations. What a perfect opportunity for your students to explore a tradition that is different from their own. Some students might be prepared and engaged enough to do their own self-guided research. Reach out to a colleague either in your building or on the web to find the right graphic organizer to support this.
Speed-friending
A series of 2-minute conversations between pairs. Split the class in half. Half of the class will remain in place when the time is up, and the other half will move down the line so that each round, a new pair is formed. Post a topic on the board, such as, "What is your favorite holiday tradition, and why?" or "Describe the perfect winter break." Each student should answer the question fully. This is a great time to practice social/emotional skills, such as body language, each person gets a turn, and active listening. When the timer goes off after 2 minutes, students who were designated to move can politely end the conversation and move to their next partner, when it can all start again.
Compare/Contrast
There is so much folklore, history, and religious tradition surrounding the holidays. Have your students create a visual representation comparing two or more of these accounts. This activity can be done using library books, web searches, or even by interviewing classmates and family members. Analyzing cultural similarities and differences with respect is a great life skill, and will prove useful for any holiday gathering for years to come.
Teachers, you got this.
Remember that your identity as a teacher is not wrapped up in a few weeks of scattered planning and craziness. Remember why you became a teacher in the first place, and exhale. It's winter break now!
You do not need to be a hero in order to be an effective teacher during the disorder of December.
Learn more about CUAA's School of Education by clicking here.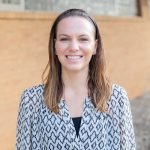 — Vanessa Lane is the Content Marketing Lead at Concordia University and can be reached at vanessa.lane@cuaa.edu. When she's not at work, she can be found playing with her kids or watching NBA basketball with her husband.
If this story has inspired you, why not explore how you can help further Concordia's mission through giving.