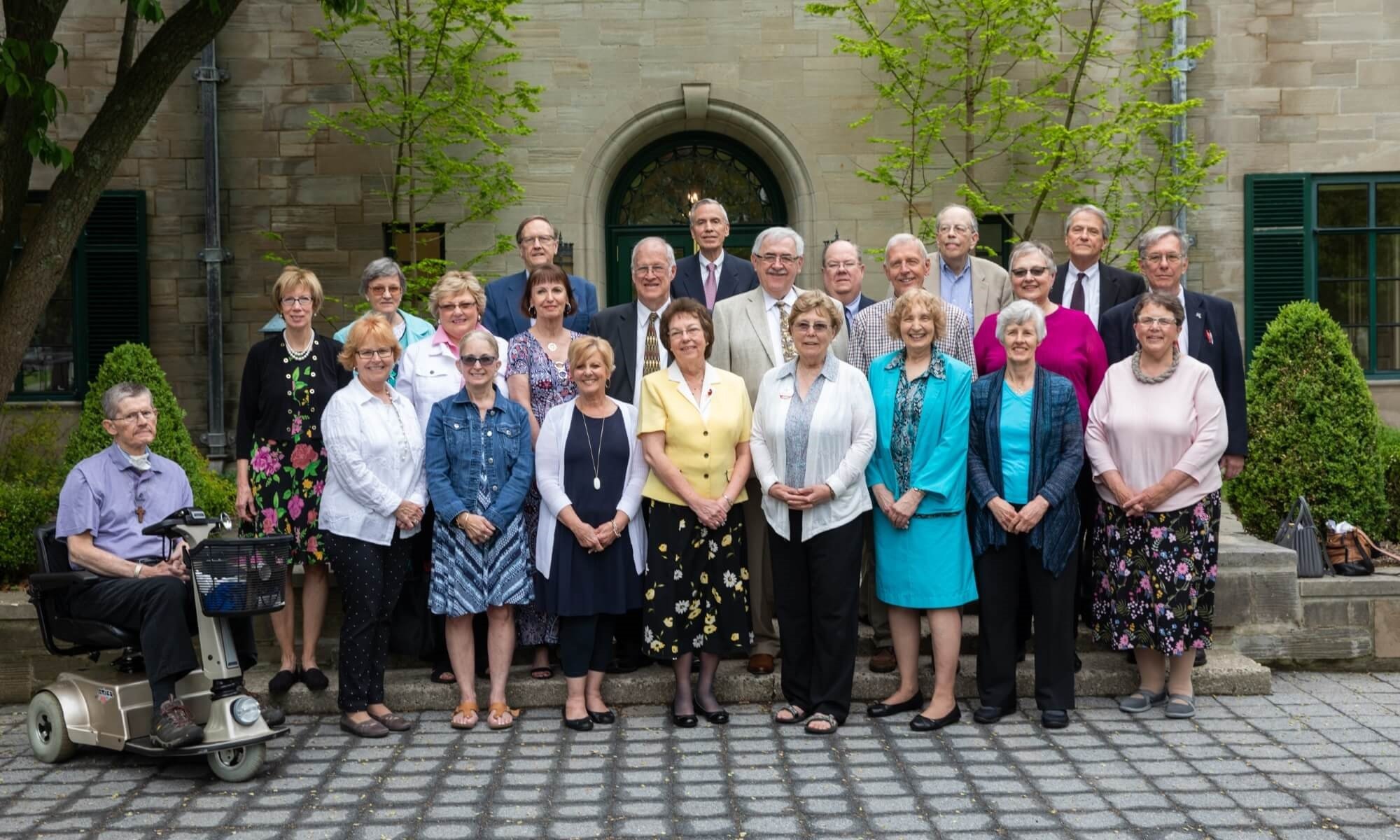 On May 18-19, 2019, nearly 30 members of the Concordia Lutheran Junior College (CLJC) class of 1969 gathered for 50 year reunion at Concordia University Ann Arbor.
---
Concordia first launched 50-year reunions in 2015 to honor CLJC's first-ever graduating class from 1965 and has held a reunion each commencement weekend since. The long-time friends and alumni spent time in fellowship reminiscing with one another and reconnecting with their alma mater.
"What I heard as the reoccurring theme all weekend is that Concordia is the place where these alumni really grew-up and formed life-long friendships. Some hadn't seen classmates in over 40 years, and were able to pick up right where they left off," said Director of Donor and Alumni Relations Linda Sproul ('92).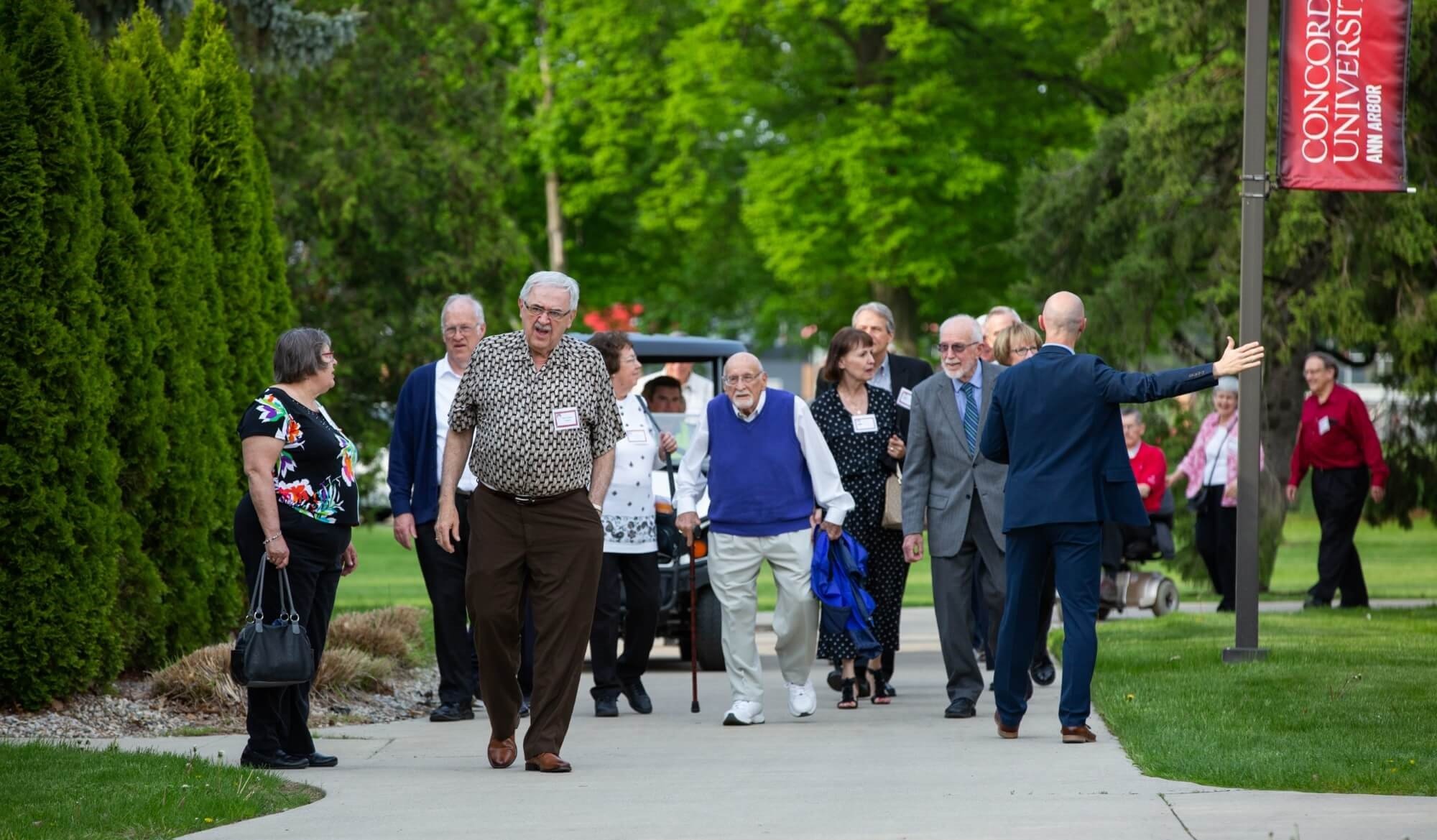 One classmate also shared that attending the reunion was his way to give glory and thanks to God for all that has been able accomplish because of his Concordia education.
The group, along with their spouses, first gathered on the afternoon of Saturday, May 18. Day one of the reunion launched with a campus tour led by Rev. Dr. Ryan Peterson, vice president of administration, sharing details of a typical day-in-the-life of CUAA students today.
Many reunion attendees hadn't visited campus since their graduation 50 years ago and they were sure to bring their 52-year-old Concordia beanies, given to them at freshmen orientation, as well as primatums (or, yearbooks) signed by classmates throughout the years.
Following the campus tour, the group gathered for a Service of Thanksgiving in the Chapel of the Holy Trinity with a message shared by Rev. Dr. Craig Dohse ('69). The service was designed by Rev. Bruce Cameron ('69) and classmates from '69-'71 helped to lead worship including trumpeters Nelda Cameron ('69), Rev. David Winningham ('71), Judith Blum ('70), and trombonist Dean Kratz ('71). Following the service, the group gathered for a reception in the Earhart Manor.
Day two of the reunion started with a 50th Reunion Recognition Breakfast in the Earhart Manor Tent with special guests from Concordia leadership including members of the Board of Regents and Concordia University President Rev. Dr. Patrick T. Ferry.
Like many others throughout the weekend, classmate Rev. Dr. Paul Hoffman ('69) shared tales of his years as a college student including somehow getting a Volkswagen into the cafeteria and sending a staff member's clothes up the flagpole.
The Class of 1969 was able to celebrate with Concordia's newest graduates, the Class of 2019, who celebrated Baccalaureate and Commencement throughout the day on Sunday, May 19.
Class of 1970, save the date!
Concordia will hold the Class of 1970 50th Reunion on May 16-17, 2020 at Concordia University Ann Arbor. Contact Linda Sproul (Linda.Sproul@cuaa.edu) for details or to join the reunion planning committee.
— Rachel Thoms served on Concordia University's Strategic Communications team from 2015-2022. Any inquiries about this story can be sent to news@cuaa.edu.
If this story has inspired you, why not explore how you can help further Concordia's mission through giving.