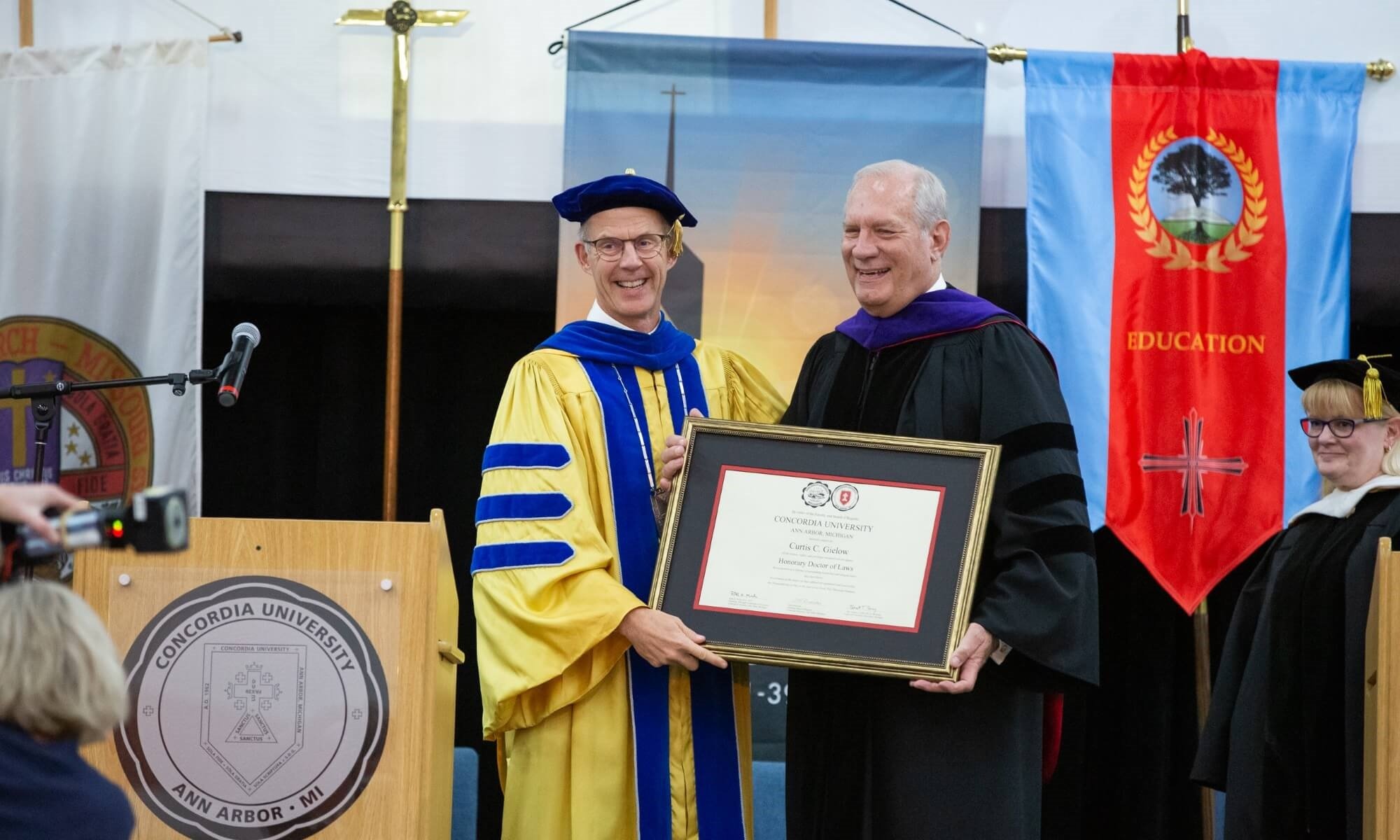 The Doctor of Laws degree is awarded to an individual who has rendered invaluable service to Concordia, the Church, the community, the state, or the nation, and comes from the ranks of business, religious, service, or political communities.
---
Read more about the 2019 Spring Commencement award recipients and honorees here.
The Concordia University community celebrates with profound joy and gratitude people who live out in meaningful ways our mission of service to Christ in the Church and in the world. Curtis Gielow, who is delivering the 2019 commencement address, is an example whose life and ministry has significant impact on the lives of others.
Mr. Curt Gielow's career with Concordia began in 2007 on the Mequon, Wisconsin, campus when he was asked to explore the feasibility of starting a school of pharmacy to address the acute shortage of pharmacists in the state.
In 2008, Mr. Gielow was appointed Executive Dean of the School of Pharmacy Project at CUW, and in 2010, the first class enrolled. The creation of the School of Pharmacy had a ripple effect at Concordia that led to growth in size and reputation in multiple areas of study, including business, health care, and the sciences.
Based on his success as a leader who could turn a mission into a thriving reality, Mr. Gielow was once again tapped by the University's leadership to carry out a successful integration of the Concordias in Wisconsin and Ann Arbor. Under his management, CUAA grew incrementally in its size and offerings. Since his arrival in 2013, enrollment has doubled to over 1,200 students, and last fall CUAA graduated the first class in the School of Nursing.
In his five years at CUAA, he oversaw the purchase of the North Building, located two miles north of the main campus. That building now houses the School of Nursing and the School of Health Professions.
Thanks to Mr. Gielow's skilled leadership and dedication, CUAA is now well on its way to becoming a major educational force in southeast Michigan, "helping students develop in mind, body, and spirit for service to Christ in the Church and in the world."
—
If this story has inspired you, why not explore how you can help further Concordia's mission through giving.