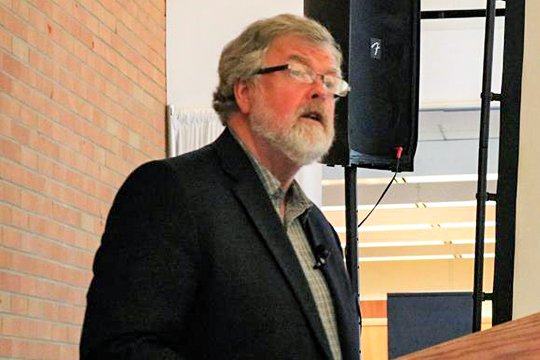 The Concordia Center for the Family (CCF), an institute of Concordia University Ann Arbor and Wisconsin, recently presented results and discoveries from the National Lutheran Church--Missouri Synod (LCMS) Church Worker Family Needs Assessment, a research effort implemented in partnership with Congregational Family Services (CFS), Concordia Planned Services (CPS) and LCMS office of National Missions (ONM).
---
On Tuesday, February 28, representatives from 21 LCMS districts, 4 Concordia University System schools, Concordia Planned Services, Concordia Publishing House, and Concordia Seminary St. Louis tuned into the livestream presentation of the pilot assessment findings being broadcasted in front of a live audience from the campus of Concordia University Ann Arbor.
Ben Freudenburg, Director of the Concordia Center for the Family, and Glenn Gritzon, Family Ministry Research and Consultant and Managing Partner of CFS, led the presentation with findings from the pilot assessment, conducted throughout the fall and winter of 2015 with three volunteer districts of the LCMS: Pacific Southwest, Kansas, and Ohio.
"We are thrilled to be able to share some initial discoveries to many leaders and members of our church body, but we have only begun to scratch the surface with this research," said Freudenburg. "Our aim is to enlist a new wave of district participation so that we can continue this critically important assessment of church worker family health."
The project's purpose is to gather reliable data on church worker family health and satisfaction in an objective, anonymous, and comprehensive process in order to provide focused solutions and resources that are effective, solid, and needed as a pathway to prevention and/or recuperative family church worker health.
Some aims of the LCMS Church Worker Family Needs Assessment include:
Serving church workers and their households emotional, relational, mental and physical needs more effectively based on reliable data
Increasing church worker retention and satisfaction through appropriate prevention and/or recuperative care
Strengthening churches through the deliberate support to church workers and their families
Better enriching and supporting church workers and their spouses to understand their individual, marital, parental lives, and spiritual needs and the problems they have with themselves, others, and the world/environment in which they work
Providing training to LCMS districts to effectively launch the Family Needs Survey, followed by a walk-through of survey results and using the data to implement action plans and steps
"This aggregate is a great launch into this broader discovery process, but our true destination of understanding church worker household health in the LCMS is still somewhere ahead of us all," said Gritzon, chief researcher and lead writer of findings.
Learn more about the LCMS Church Worker Family Needs Assessment by visiting the website or by contacting Glenn Gritzon at ggritzon@gmail.com.
Strong families make strong churches. Sign up for a FREE three session email course for Family Life Education through Concordia Center of the Family, click here.
— Rachel Thoms served on Concordia University's Strategic Communications team from 2015-2022. Any inquiries about this story can be sent to news@cuaa.edu.
If this story has inspired you, why not explore how you can help further Concordia's mission through giving.