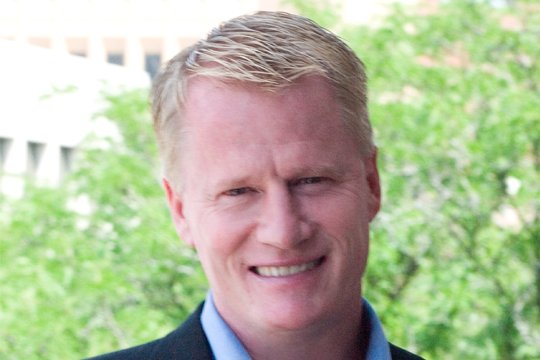 The Athletic Department at Concordia University Ann Arbor is privileged to announce John U. Bacon as the speaker for the CUAA Hall of Fame Gala on Thursday, June 1.
---
John U. Bacon, an Ann Arbor native, has worked more than two decades as a writer, speaker, radio commentator, college lecturer, and hockey coach, winning awards for all five. Bacon also free-lances for The Wall Street Journal, Yahoo and others, appears often on television including HBO, ESPN, Fox Business, MSNBC, Al Jazeera and the Big Ten Network, and delivers weekly essays for Michigan Radio and occasionally NPR.
"We are extremely excited to welcome John U. Bacon as keynote speaker for what is certain to be a night to remember," said CUAA Athletic Director Lonnie Pries. "Not only is John an avid sports fan and renowned author, he is also a very entertaining and engaging speaker."
While Concordia's athletic department has been inducting Hall of Fame classes since 2010 in tandem with the Cardinal Golf Classic, this is the inaugural gala to be held the evening prior to this year's golf outing.
"We wanted to provide a special evening where both Hall of Fame inductees and the Ann Arbor community could come to campus and experience Concordia first hand," said Pries. "The Cardinal Gala also provides us an opportunity to financially support our student athletes through facility improvements and additional financial assistance."
Bacon, a popular public speaker, delivers speeches to corporations, universities and other groups both nationally and abroad. In 2011, the Michigan Chapter of Meeting Planners International (MMPI) named him "Speaker of the Year."
Bacon shares, "I grew up just up the road from Concordia University, and I've watched it grow, too. I'm excited to speak for a University with a clear sense of mission, and a bold vision for its future. These are rare qualities, and I'm honored to support their work. It will be a fun, energetic night!"
The Hall of Fame Gala will begin at 6:00 p.m. on Friday June 1 in the Earhart Manor Tent of Concordia University, one of the most sought-after event spaces in the area. The event includes a featured keynote address from John U. Bacon, dinner, the celebration and induction of Concordia's 2017 Hall of Fame Class. Ira Weintraub from Sports Talk 1050am WTKA The Ticket and host of Cardinals Corner will emcee the event. The gala is open to the public and registration is required. Registration closes on Tuesday, May 23.
Following the Hall of Fame Gala, the Cardinal Golf Classic will be hosted by Stonebridge Golf Club in Ann Arbor, Mich. on Friday, June 2. Registrations are now being accepted for the Cardinal Golf Classic with two tee-off flights for participants, offered both in the morning and the afternoon. Each golfer will receive 18 holes of Florida golf scramble, lunch, drink tickets, awards, and prizes along with Cardinal giveaways throughout the day.
Concordia's Hall of Fame Class of 2017 has been selected and will soon be announced to the public.
To register for CUAA's 2017 Hall of Fame Gala and Cardinal Golf Classic, visit www.concordiacardinals.com. For questions regarding the event, contact Kyle Thoms at Kyle.Thoms@cuaa.edu or 734-995-7319.
— Rachel Thoms served on Concordia University's Strategic Communications team from 2015-2022. Any inquiries about this story can be sent to news@cuaa.edu.
If this story has inspired you, why not explore how you can help further Concordia's mission through giving.