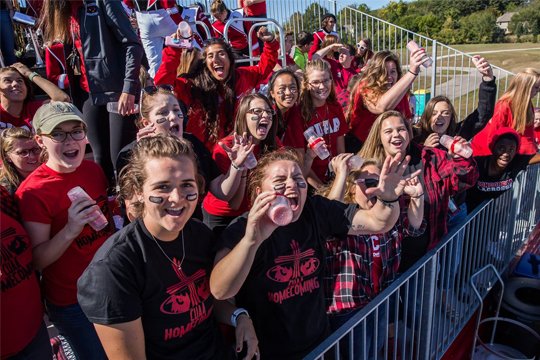 Concordia University Ann Arbor has topped its 2016 record-breaking enrollment, with a 2017 total that continues the campus' precipitous five-year climb, according to fall 2017 census data released this week by the Office of Institutional Research.
---
Concordia's total student population for fall 2017 is 1,081, a new historical high for the campus. Over the past five years, CUAA has grown more than 60 percent, and is among the fastest-growing private universities in the Midwest. The Ann Arbor campus saw especially strong gains in traditional undergraduate enrollment this year with a 10 percent increase from last year's total.
"We are pleased by the continued positive trajectory of new student enrollment at CUAA," says University President Rev. Patrick T. Ferry, Ph.D. "As we develop new academic and co-curricular programs, we look forward to more and more opportunities to reach students and provide them a fantastic Concordia experience."
Along with enrollment, student satisfaction has increased steadily in recent years and now exceeds the national average in many areas. CUAA also was recently top ranked in a national survey of campus safety.
Concordia's BSN nursing program showed the strongest retention this year, with 94 percent retention for new freshmen and 91 percent retention for new transfers.
The figures represent CUAA's first two returning cohorts of nursing students. With classes launched in fall 2016, CUAA's School of Nursing provides students with the leadership skills and clinical experience needed for general nursing practice across the spectrum of health care, while preparing them to live out their faith through service to others. Classes are held in the recently acquired and renovated North Building, located just under three miles north of the main campus.
CUAA has recently added several new undergraduate majors, such as social work, athletic training, radiological technology, nursing and hospitality and event management. New graduate degree offerings include special education, computer science, athletic training and student personnel administration in higher education.
CUAA offers 24 varsity-level athletics, with new men's and women's hockey programs set to launch next academic year. Accompanying CUAA's 5-1 football team this year is the newly formed Cardinal Regiment, the first marching band in the Concordia University System.
The campus' spiritual health continues to thrive as well. More than 200 students attend Daily Chapel on average, and last year's Spiritual Life Survey results revealed that 75 percent of students surveyed identified as Christian believers. The other 25 percent, despite not necessarily identifying as Christians, were nonetheless engaged in service to others.
— This story is written by Kali Thiel, director of university communications for Concordia University Ann Arbor and Wisconsin. She may be reached at kali.thiel@cuw.edu or 262-243-2149.
If this story has inspired you, why not explore how you can help further Concordia's mission through giving.