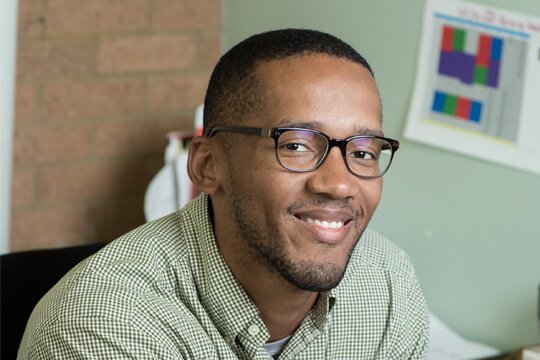 Earl Schumake, III has set a goal to help more students who start at Concordia University Ann Arbor also finish at CUAA.
---
As the director of Student Success and Retention, the assistant director of the Academic Resource Center, and an assistant Cardinals football coach, he's a natural mentor who focuses much of his efforts on helping students who are placed on academic probation gain the skills, confidence, and motivation they need to achieve academic success.
According to Schumake, students are most vulnerable at the start of their freshman year. As he explains, "The transition from high school to college is tough for many students. They often struggle most with their soft skills, like writing and communicating professionally, and effective time management."
That transition is even more challenging for first-generation college students. At Concordia, 19 percent of the student population is the first in their family to attend college. Schumake and the Academic Resource Center work hard to anticipate the needs of all incoming students, and prepare for early intervention whenever possible.
Students are placed on academic probation if they fall below a 2.0 GPA. Since each student has different challenges and skills, Schumake begins his process by getting to know these students personally. How he describes this early phase is, "I need to find what makes them tick."
Schumake starts by helping students identify their academic and future goals, as well as their "anchor points," a term he uses for extra-curricular activities that will further connect students to a positive college experience. He then assigns them to a peer academic coach, a fellow student who's doing well academically, has similar interests, and models positive choices.
Together and separately, he and the peer academic coach meet regularly with the struggling student, and always revisit the goals. This process is showing success. A year ago, 42 percent of students who were placed on academic probation left the university before graduation. Schumake is working to lower that number to 30 percent this year; which would mean that 70 percent of the identified struggling students would stick around and complete their education.
For a goal-setting man like Schumake, that would be a success.
The fall 2017 Arbor Light magazines hit mailboxes the first week of October. If you are not on our mailing list, but are interested in receiving a free copy, call 734-995-7317.
—
If this story has inspired you, why not explore how you can help further Concordia's mission through giving.