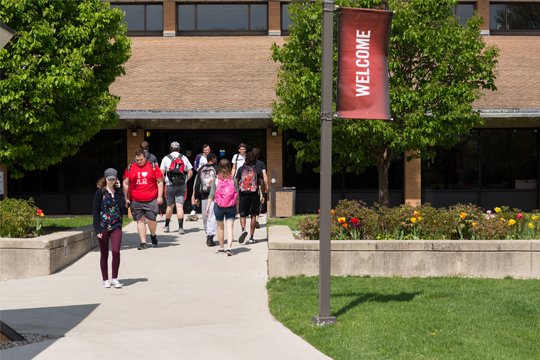 Concordia University Ann Arbor's 2016 graduates on average accrued the lowest amount of student debt out of nearly 30 colleges and universities in Michigan, according to a story recently published by MLive news.
---
A reporter from MLive compiled the list using data from a report by LendEDU, an online marketplace for student loans and student loan refinancing. Not all of Michigan's colleges and universities were included in the list because the data was self-reported, according to the MLive article.
While more students graduated from CUAA with debt than some other schools in Michigan, Concordia topped the list for its comparatively low average student debt. The average among CUAA's 2016 graduates who borrowed was $5,071 less than the second school on the list, University of Michigan, and $20,335 less than Lawrence Technological University, the last on the list.
"We're proud of the value proposition we offer at Concordia," says Campus Chief Executive Curt Gielow. "Students not only graduate prepared to make a living, they graduate prepared to live fulfilled and meaningful lives, and we're glad they can do that while keeping their debt as manageable as possible."
Last year, CUAA also topped a similar list run by MLive for its low average student debt as compared to other colleges and universities in Michigan. That list was compiled using data from the Institute for College Access and Success, which monitors average student debt at colleges and universities across the U.S. Data for most, but not all, Michigan colleges was included in that report as well.
Concordia—with its total enrollment of 1,054 students as of fall 2016—boasts more than 60 majors that are housed within four academic schools, including the CUAA School of Nursing, which launched its first cohort last year. Year after year, a vast majority of CUAA undergraduates receive financial aid, with 99 percent of undergrads slated to receive financial aid in 2017-18.
Last year, Concordia furthered its commitment to helping ease students' burden of debt. The university announced in fall 2016 the Luther Promise institutionally funded financial guarantee that offers between $16,000 and $20,000 annually to qualifying undergraduates. Prior to the new financial guarantee, CUAA students received on average $13,000 in institutional aid.
To qualify for the Luther Promise, a student must meet just one of four criteria. He or she must be: a member of a Lutheran congregation; a dependent of a Concordia University System alum; a dependent of a rostered church-worker in The Lutheran Church—Missouri Synod; or a graduate of a Lutheran high school.
Click here to learn about more information on Luther Promise. To learn more about Concordia's programs, check out the CUAA Viewbook.
— This story is written by Kali Thiel, director of university communications for Concordia University Ann Arbor and Wisconsin. She may be reached at kali.thiel@cuw.edu or 262-243-2149.
If this story has inspired you, why not explore how you can help further Concordia's mission through giving.