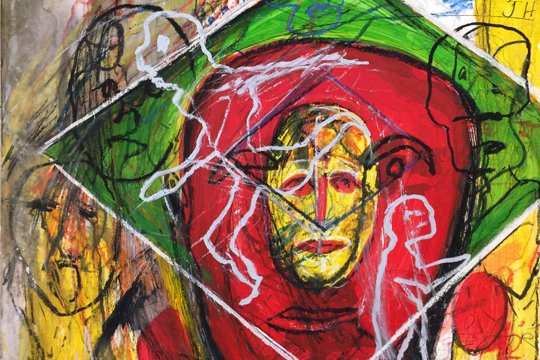 Investigating Identity, an exhibit featuring the works of modernist painter James C. Harrison, will open Concordia University Ann Arbor's Kreft Gallery fall series, September 5-October 1. An opening reception will be held Friday, September 8 from 7-9 p.m. in the gallery located on the university's campus, 4090 Geddes Road.
---
Harrison, a Detroit native, drew inspiration for his works from poetry, music, philosophy, mythology, psychiatry, and artists of the past. Largely a self-taught artist, Harrison was prolific in numerous mediums including prints, mixed media and paintings.
"Our theme for the Kreft Arts Program this school year is Investigating Identity," noted Dr. Mark S. Looker, longtime director of the gallery. "Many of our events will examine the formation of the self. Richly complex, the theme will draw on disciplines as diverse as theology, social science, literature, the musical and visual arts, the medical sciences, and health and human performance," continued Looker. Gallery hours are Tuesday-Friday from 12-4 p.m., and Saturday and Sunday from 1-5 p.m. Closed Mondays, it is free and open to the public.
Upcoming exhibits include:
Faces of Depression, October 10-15, Opening Reception Wednesday, October 11, 7 p.m.
Luther's Legacy of 1517 in Germany, England and the New World, October 24 – December 3, Opening Reception, Friday, October 27, 7 p.m.
For more information on all fine arts events at the Kreft Center for the Arts, please click here or call the Concordia Box Office at 734-995-7537.
—
If this story has inspired you, why not explore how you can help further Concordia's mission through giving.