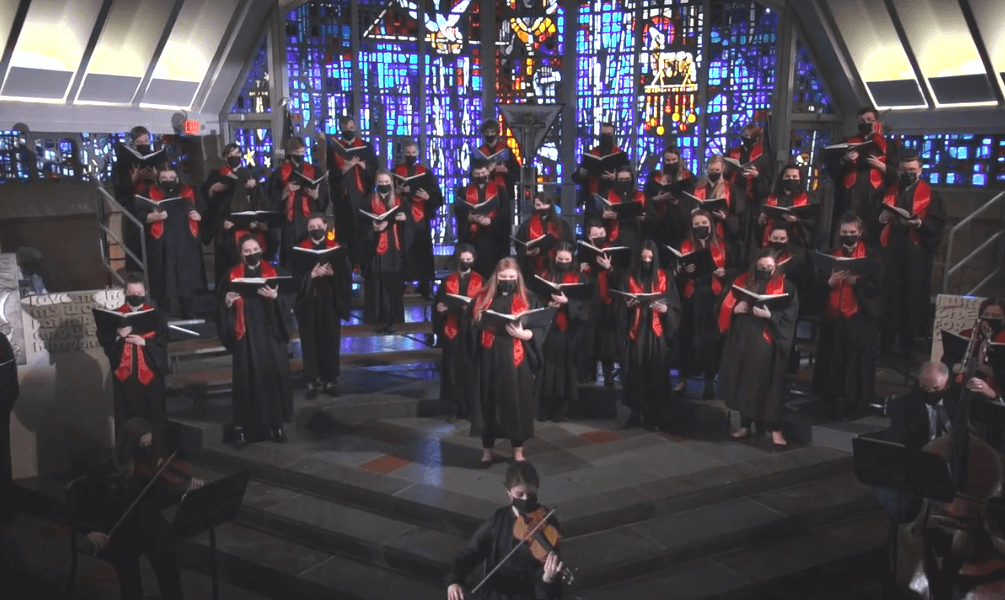 The Concordia University Ann Arbor music department presents the spring 2021 Concordia Vespers.
---
(Updated April 11, 2021) Worship with Concordia Vespers now.
Download: Concordia Vespers worship folder (April 2021)
Brian Altevogt and John Boonenberg, artistic directors
Concordia Choir and Chamber Orchestra
Randall Duncan, guest preacher
Katrina Miller, soprano
Missa brevis St. Joannis de Deo "Little Organ Mass," Hob. 22:7 – Josef Haydn
Laudate pueri from Three Motets, Op. 29 – Felix Mendelssohn
O Lieber Herre Gott, wecke uns auf, SWV 287 – Heinrich Schütz
Abendlied, Op. 69, No. 3 – Josef Rheinberger
---
Masterwork of Concordia Vespers
By Brian Altevogt
Many of us spoke or sang the same words in church this week.  The five sections of the Mass, the Kyrie, Gloria, Credo, Sanctus, and Agnus Dei, have been sung or spoken during Christian worship for well over 1,000 years. While most of us have a realistic understanding of how worship music sounded for our parents and grandparents, the incredible longevity of the Mass liturgy allows us to consider how our grandparents' grandparents' grandparents would hear the same words.  Music style in worship has changed fairly dramatically in the last half-century, but consider how worship music has changed in the last millennium or more.  Has it mimicked the popular style of the day, as it does in many churches today, or did it more closely follow the classical musical style of the time?
When Josef Haydn was writing the music performed today in Concordia Vespers, the colonists of the United States were firing their first shots in their quest for independence.  Europe was in the late stages of the Age of the Enlightenment, a period that espoused rational thought, science, and religious tolerance above the struggles, pursuits, and work of the common man.  Judging by the musical style of this Classic Era of music, it appears to be a period of civility, as if the problems of the day were handled thoughtfully in dignified discourse.  The attire of the day was formal – men wearing powdered wigs, coats with tails, and polished boots (picture general George Washington).  The music imitates or personifies this elevated style, music that is clean, clear, symmetric, optimistic, and agreeable.  There are sections (the Gloria and the opening of the Credo) that go one step further into music that is undeniably joyful, playful, and spirited.  Contrasting sections, those relating to the penitent sinner (Agnus Dei) and the suffering of Christ (middle portion of the Credo) are given notable weight and gravity, but the buoyant, regal music soon returns.  This music is not about nuance and subtlety, but bold pronouncements, as if the emotional spectrum was strictly binary – feeling this way or that way, but nothing between.
The music has a face of seriousness and reverence, even with the interjections of playfulness.  But, included in this seriousness are moments of incredible beauty.  The ideals of cleanliness and clarity leave space for tremendous lyricism.  This refined beauty is evident throughout, but illustrated immediately as the sopranos spin their opening line and the violins generate a quaint and delicate response.  The height of lyricism is the Benidictus, where Haydn pauses the action and provides a generous spotlight for soprano and organ.  Melody shimmers here in resplendent E-flat major, and the singer is invited to partake in the best of the operatic style of the period.
As is the case with many creative constructions, Haydn and other composers were working within parameters that required at times, blemished solutions.  In an effort to shorten the Mass, Archbishop Colloredo set specific time constraints on the music with the Mass.  To meet the shortened time allotment, composers had to avoid extended musical passages, a fairly crushing blow to the creative spirits of musical artists.  The abbreviated, truncated sections of this Haydn Mass are the direct consequence of the Archbishop's decree.  Seen against the larger repertoire of Mass settings, it's nearly comical to hear the brevity applied – the first section (Kyrie) begins and ends before our engines fully engage.  A greater injustice might be the compromises composers struck in their settings of the longer sections of the Mass, the Gloria and the Credo.  These two sections contain many words, and in order to accomplish these long texts, composers would unapologetically overlap the text.  In the Credo, by example, each of the four voice parts of the choir are singing different statements of the creed at the very same time.  So, while Haydn could "check the box" that all of the text was, indeed, sung, the text is entirely unintelligible, falling short of the ultimate goal of the Mass, which is to sing or state confidently and clearly prayers that prepare our hearts to receive our Savior and enable unity within the church.  Such is the case when one stuffs 8 passengers in a 4-passenger car – it can get uncomfortable quickly, but eventually, everyone arrives at the final destination.
History of Concordia Vespers
Beginning in fall 2018, Concordia Vespers takes place each semester in The Chapel of the Holy Trinity. Placing side by side the proclamation of the Word and important works within a historical liturgical context, Concordia Vespers invites God's people to respond through singing and prayers, inspired through music and the teaching of God's Word.
In the past, members of St. Paul Lutheran Church in Ann Arbor and Boychoir of Ann Arbor have been a part of this special service that draws God's people to His grace.
Behind the Scenes
The recording of Concordia Vespers was done so in accordance with recommended health and safety precautions. Made possible by unique filming and recording efforts, the CUAA music department partnered with a video company to keep all participants safe while still delivering a powerful, sacred worship experience.
Support Concordia Vespers
Experiencing music together in a worship service like Concordia Vespers heightens the senses, which deepens our understanding and increases our faith. Joining with worshipers near and far, young and old, time binds us together in Christ.
"Concordia Vespers is a gift of music to the glory of God… a gift to be shared with everyone!" said Linda Sproul, Director of Donor and Alumni Relations
If you would like to support Concordia Vespers by writing a check, please make payable to "CUAA", write "Concordia Vespers" on the memo line and mail to:
Office of Advancement
4090 Geddes Rd.
Ann Arbor, MI 48105
You may also make a gift with a credit card on our website: cuaa.edu/give. Type "Concordia Vespers" in the special instructions box.
Thank you to the many generous donors for their support in making Concordia Vespers possible.
COUNTERPOINT GUILD
Dr. Jonathan and Mrs. Janel Ehrman
Rev. Galen and Mrs. Patricia Grulke
Mr. Michael and Mrs. Patricia Kalmes
Mr. David and Mrs. Janet Kletzli
Ms. Nancy Niemela
Mrs. Judy E Wuckert
---
BACH MOTIF GUILD
Mr. Andrew and Mrs. Katie Contreras
Mr. Eugene W Haak
Mr. Willis and Mrs. Barbara Hoffmeier
Mr. Ross and Mrs. Amy Mackenzie
Mr. Brian and Mrs. Beth Pollatz
Mr. Larry and Mrs. Sandra Seltz
Dr. Linda Speck
Mr. Paul and Mrs. Joann Woodward
---
ART OF FUGUE GUILD
Mr. Matthew and Mrs. Angela Fremder
Mr. Royce and Mrs. Krista Hartmann
Mr. Mark and Mrs. Amy Ingersoll
Holy Ghost Lutheran Church, Monroe, MI
Mrs. Janice Morrison
Rev. Donald and Mrs. Karen Neuendorf
Rev. Dr. David and Mrs. Janet Stechholz
Mr. Gary and Mrs. Laura Thomas
---
WELL-TEMPERED CLAVIER GUILD
Dr. James and Mrs. Elizabeth Eggert
Mrs. Sally Kennedy
Mr. Robert and Mrs. Viola Krug
---
CANTATAS GUILD
Mr. Lester and Mrs. Barbara Altevogt
Church Extension Fund MI District
Mr. Bruce and Mrs. Monica M Heissenbuettel
Capt. Philip Klintworth
Rev. Dr. John and Mrs. Linda Sproul
---
Learn more about Concordia University Ann Arbor's church work program offerings.
— Rachel Thoms served on Concordia University's Strategic Communications team from 2015-2022. Any inquiries about this story can be sent to news@cuaa.edu.
If this story has inspired you, why not explore how you can help further Concordia's mission through giving.