At Concordia, we take pride in our staff and faculty. Check out the amazing people in our International Office who work with our international students and bring cultural education to campus.
Jennifer Tadeo, Director of International Recruitment and Admission
Jennifer Tadeo is the Director of International Recruiting and Admission. She supports the international admissions team by coordinating international recruitment efforts. Her duties include attending events abroad, meeting with visiting students, or visiting local high schools that have international students. She also coordinates recruitment with several offices on campus and focuses on improving the application process along with our customer service to ensure international students have a great experience applying to CUWAA. She works alongside staff members that review all of the application materials and creates initial immigration documents.
Jennifer states, "I absolutely love the location of both campuses and the support we provide our international students. CUWAA offers several events throughout the year for both international students and domestic students to participate in to learn about global cultures. CUWAA's faculty also care not only about international students' studies but also their overall well-being and adjustment to the U.S."
Jennifer received her bachelor's degree in Communication from Greenville College. Then went on to her master's degree in International Relations at Webster University. Currently, she is a student in CUW's Doctor of Education program. Prior to this role, she worked as a Graduate Admissions Counselor in Concordia's admissions office. Before coming to Concordia, Jennifer worked in Higher Education in International Offices.
When asked about her favorite place to travel, she couldn't choose just one. She loves India where there is great food and people. She enjoyed studying abroad in Costa Rica and learning how to adapt to new cultures. But Mexico also has a special place in her heart. This started her journey to international education at age 16.
Amber Schiessl, Assistant Director of International Admissions Operations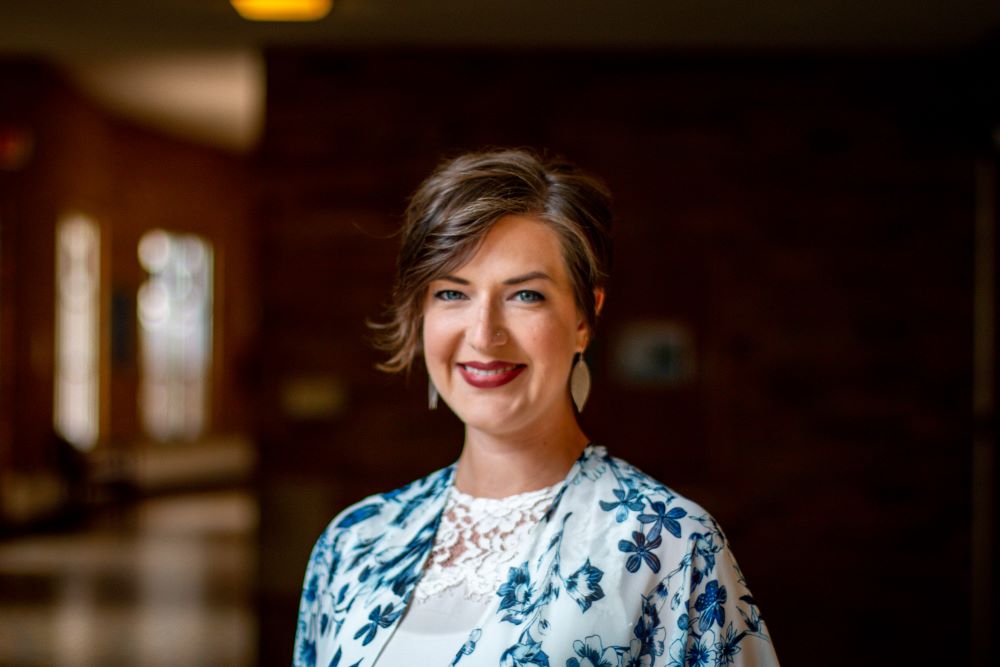 Amber Schiessl serves as Assistant Director of International Admissions Operations. She ensures the application and matriculation process is efficient, smooth, and timely. Additionally, she serves as the Designated School Official (DSO) to draft and maintain immigration documents. Her other responsibilities include helping to prepare for international student arrival and coordinating and handling the transfer process for international students.
Amber's academic background includes a bachelor's degree in Music and Mass Communication/ Public Relations from UW-Eau Claire. She has also earned a master's in Student Personnel Administration at Concordia University. Prior to Concordia, she worked at a small private college and has now been at Concordia for over 12 years.
When not at work she loves spending time with her husband, daughter, and son, by relaxing at home or their vacations to Disney World or Disneyland. She also enjoys gardening, although she states she's not a pro. Her co-workers also introduced her to knitting and she loves it.
Ambers's favorite place to travel is the Boundary Waters Canoe Area Wilderness in northern Minnesota. Her family makes the trip there each summer where they're able to relax away from the busyness of the city and recharge their batteries.
Rebekah Kellogg, International Recruitment & Admissions Coordinator
Rebekah Kellogg serves as the International Recruitment and Admissions Coordinator in the international office. Her responsibilities include recruitment of international students, reviewing international applications, issuing I20s, and assisting students through the application process.
Rebekah's academic background includes a bachelor's in Business Management and Leadership from Wisconsin Lutheran College. She also received an MBA in International Business from Concordia University. Prior to Concordia, she worked at Wisconsin Virtual Academy as a Middle School and High School Advisor.
In her free time, she enjoys baking and crafting. Mostly she loves binge-watching shows with her husband and spending time with their two kids.
Rebekah states, "My favorite part of my job is getting to know students from around the world. I love learning more about them and their cultures."
Anna Barger, Enrollment Counselor, and International Specialist
Anna Barger is the Enrollment Counselor and International Specialist on our Ann Arbor Campus. In her role, she serves traditional undergraduate students from application to enrollment. She also enjoys welcoming students and their families by showing them around campus.
Anna's academic background includes graduating from Truman State University with a B.S. in Linguistics and Folklore where she focused on translating between languages without a written system such as sign language. Then she received her M.A. in Deaconess Studies from Concordia Theological Seminary. She served her first call with the Ephphatha Lutheran Mission Society and St. Paul in Flint, MI before coming to CUWAA in 2022.
Anna states, "The community at CUWAA is like none other. Everyone cares and wants to encourage you to be your best. I feel like I'm constantly growing here."
Anna's favorite places to visit so far are Florence, Italy, and Segovia, Spain. In the United States, she loves visiting Portland, OR, Austin, TX, and her hometown St. Louis, MO.
Check this out: Learn more about being an international student first-hand.
Interested?
We've welcomed hundreds of students from all over the world to Concordia. Learn about how to apply, read student testimonials, and what it's like to live in Michigan.