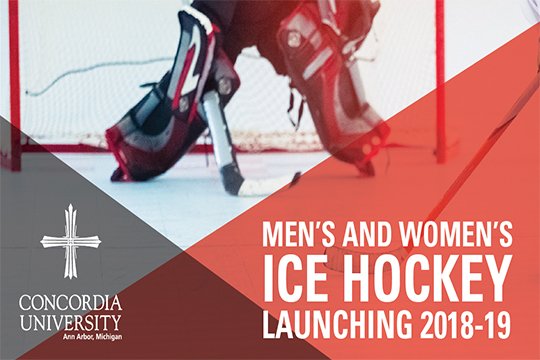 With skates laced, sticks in hand, and proudly bearing the name "Concordia" across jerseys red and black, men's and women's ice hockey teams will enter the rink in the 2018–19 academic year.
---
With the new addition, the Concordia University Ann Arbor Cardinals' varsity athletic program offerings now total 24: 11 men's programs, 12 women's programs, and one coed program.
"When we expand our athletic opportunities, we broaden our appeal to more students, which then increases our ability to have a greater impact in our communities and throughout the world," said Athletic Director Lonnie Pries.
Over the summer, the athletic department announced that Ben Kenyon and Maria Barlow were hired as the men's head coach and women's head coach, respectively. The two will play key roles in leading and building the new programs.
Follow @CUAACardinals on Facebook, Twitter, and Instagram for the latest news and announcements on all of CUAA's athletic programs.
Arbor Light magazines hit mailboxes the first week of October. If you are not on our mailing list, but are interested in receiving a free copy, call 734-995-7317.
— Rachel Thoms served on Concordia University's Strategic Communications team from 2015-2022. Any inquiries about this story can be sent to news@cuaa.edu.
If this story has inspired you, why not explore how you can help further Concordia's mission through giving.