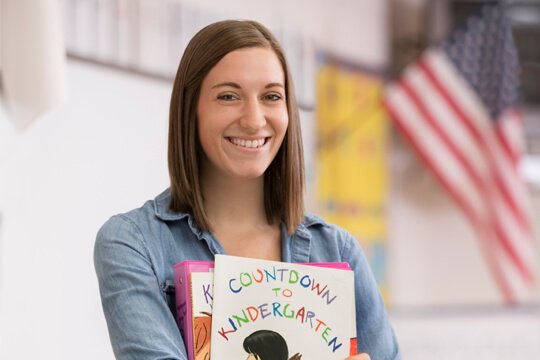 Since kindergarten, Jill Topham ('13) knew she wanted to be a teacher.
---
s the daughter, granddaughter, and cousin of multiple public school educators, her career path was seemingly set to follow in her family members' footsteps in the public school district of her hometown, Grand Blanc, Michigan. However, a visit to Concordia University Ann Arbor as a high school student changed everything.
While attending Tool Time, a weekend youth retreat presented by student volunteers at CUAA, Topham learned that she could combine her passion for teaching children with her love for Jesus by becoming a Lutheran teacher; a path she had not yet considered.
Nearly 10 years into teaching kindergarten at St. Lorenz Lutheran School in Frankenmuth, Michigan, Topham reflects on her students, her faith, and her time at CUAA.
School of Education
CUAA's School of Education is designed to prepare students to become thoughtful, skilled, and caring teachers who are committed to the success of every student. Concordia's undergraduate programs include early childhood, elementary, and secondary teaching, where students build a foundation in teaching practices and gain in-depth knowledge in subject areas of their choice.
Did you know?
Last year's School of Education graduates had a 100 percent job placement rate.
The School of Education offers master's degrees and endorsement programs beyond the baccalaureate level in ESL, special education learning disabilities, curriculum and instruction, the Michigan School Administrator Certificate, and more.
For more information about undergraduate programs, contact Carrie.Richardson@cuaa.edu. For information about graduate degrees and endorsement programs, contact Julie.Edler@cuaa.edu.
Q: Why did you want to become a Lutheran kindergarten teacher?
A: Every teacher will tell you that teaching is not a job; it is a calling. My niche is kindergarten. I wanted to work with young children because they are excited about school and their faith. I think and pray about my students constantly.
Q: How did CUAA prepare you for your teaching?
A: My professors did an amazing job getting me ready. They emphasized real-world experience, and exposed me to a variety of hands-on opportunities and class settings, even during my first semester. So I was quite sure that teaching was for me right off the bat.
Q: Describe your CUAA experience.
A: The small campus was so warm and welcoming. I came from a big high school, so the size and the tight-knit feel appealed to me as soon as I stepped foot on campus. I was super involved at Concordia, and had many opportunities to try new things with people who shared my values and beliefs.
My fondest memory was volunteering with Tool Time, the very organization that helped me find Concordia. I enjoyed working with high school students on their walk with Jesus and helping to build them up. It was especially fulfilling when they chose to come to Concordia like I did.
Q: What inspires you?
A: I find my inspiration in the way that Jesus lived His life. I think about how He walked and talked with everybody, even the little children. How He accepted and loved children; "Theirs is the Kingdom of God." I aspire to emulate that as a teacher and in my everyday life.
The fall 2017 Arbor Light magazines hit mailboxes the first week of October. If you are not on our mailing list, but are interested in receiving a free copy, call 734-995-7317.
—
If this story has inspired you, why not explore how you can help further Concordia's mission through giving.