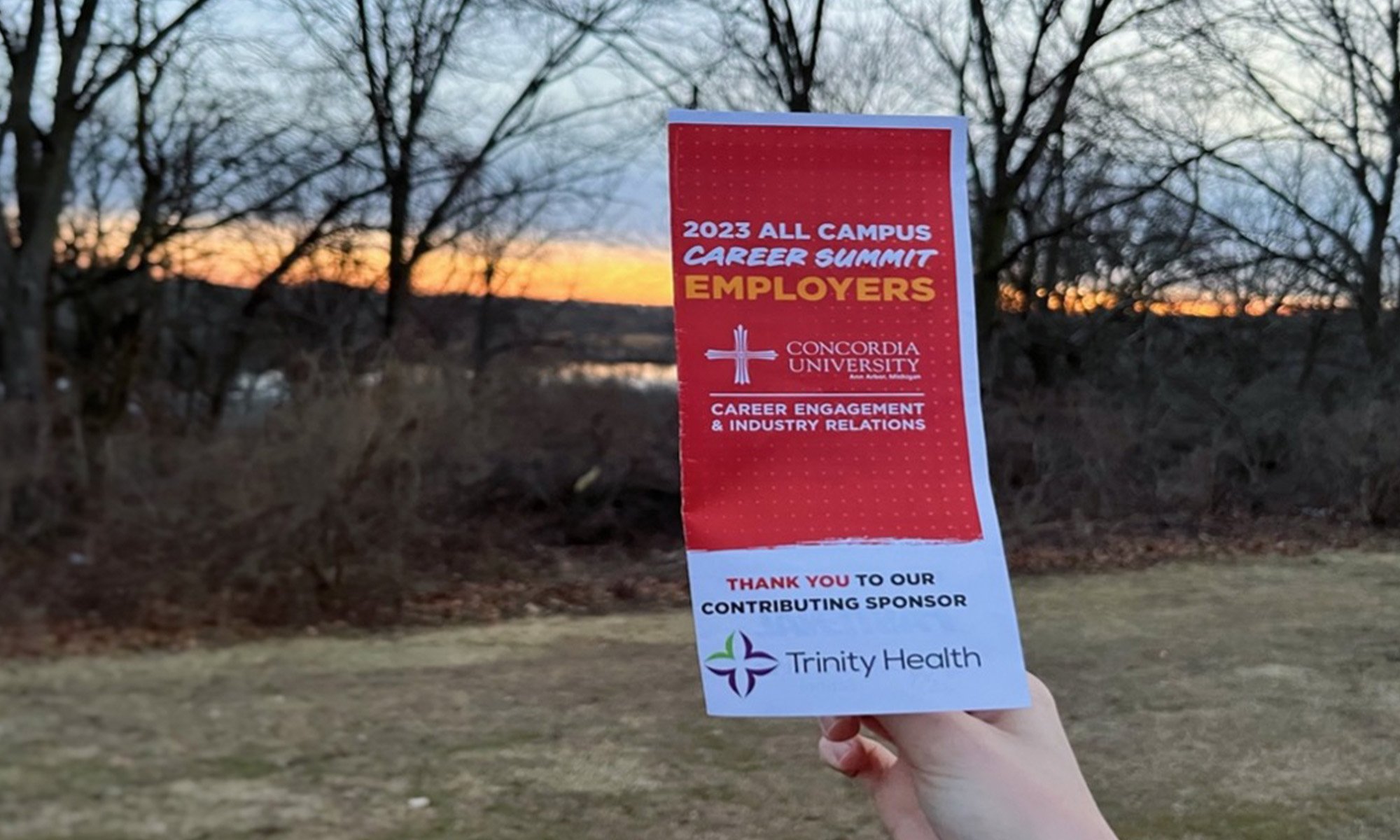 ---
On Monday, Feb. 27 Concordia University Ann Arbor held an all-campus Career Summit, giving its uncommon students an uncommon experience to grow their network with nearly 50 different employers.
---
Organized by CUAA's Career Engagement and Industry Relations team, this Summit worked to "bridge the gap" between students and employers.
We find sometimes that students don't know where to start, especially if it is their first time entering the workforce. We try to bridge that gap by bringing both [students and employers] together, in person.

Alisha Greaves, Director of Career Engagement
Successfully bridging that gap wasn't an overnight task for Greaves and her team. Alana Mortimer, one of Greaves' Student Ambassadors said that this event was in the beginning stages of planning towards the end of last year.
During these months of preparation, Greaves, her student ambassadors and Dr. Joey-Lynn Bialkowski, CUAA Executive Director of Career Engagement and Industry Relations, called almost 500 employers in order to provide students the chance to connect with a wide variety of employers at the Summit.
Additionally, they spent time meeting with campus leaders to ensure students would be able to attend the event in lieu of classes and that employers would have access to necessary resources throughout their time on campus.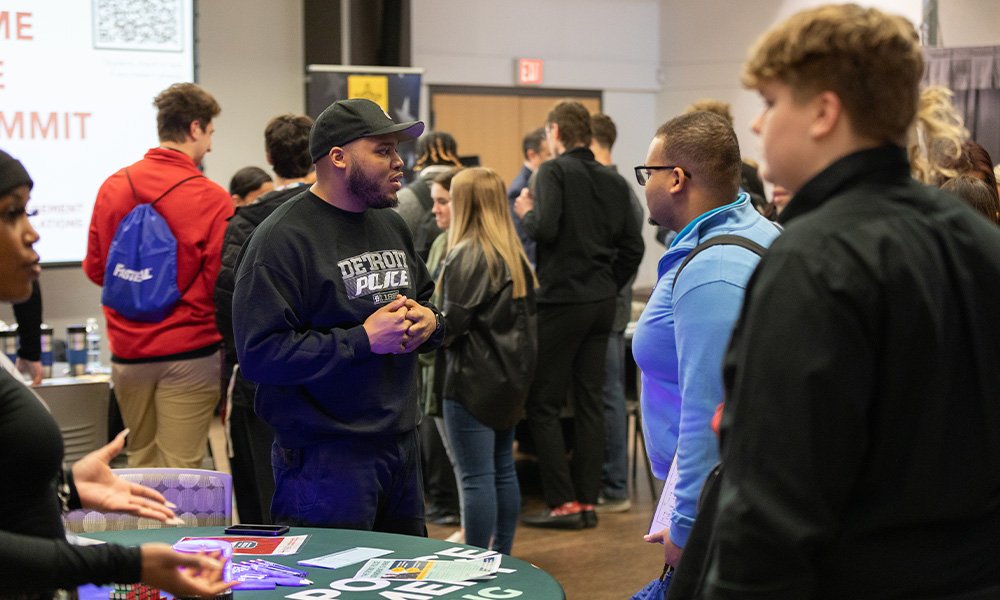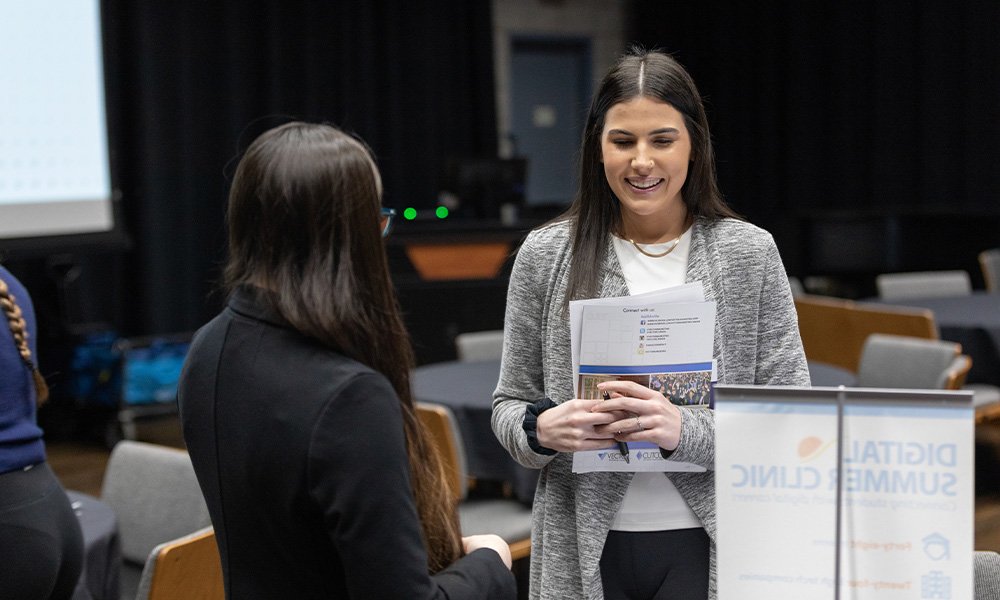 The culmination of all this planning is what students and employers saw the morning of Feb. 27. Employers were welcomed on campus with a guided check-in process in the Zimmerman Library before being escorted to their assigned locations within other buildings on CUAA's campus.
While the employers set up shop, CUAA students were gathering in the Chapel of the Holy Trinity where they were also able to check in and receive further information on the Summit from Dr. Bialkowski and CUAA Vice President Rev. Dr. Ryan Peterson.
"It was nice to hear an uplifting message from [Peterson] before meeting the employers," said Isabelle Petit, CUAA Senior and attendee of the event. "I was a little nervous about the whole thing, but this made me less nervous and more equipped to go into the event."
Once employers were set up and students were tasked by Dr. Peterson to step outside their comfort zone and take a leap into making meaningful connections, the networking buzz filled the classrooms and lecture halls all around campus.
"I didn't really know what to expect going to this event, but I think it was helpful at giving me an idea of what sort of jobs and opportunities are out there for me," said Petit.
The opportunities at the summit weren't just for the students like Petit. Employers also found value in participating in CUAA's all-campus Career Summit. Danielle Renodin, Trinity Health Senior Talent Acquisition Specialist, says that a summit like CUAA's allows her and her team to get the word out about their company and what they can offer for those interested in the healthcare field. Other employers in attendance were also able to offer opportunities in the form of possible jobs and internships.
As CUAA's second all-campus Career Summit came to a close and students and employers reaped the benefits of the Summit, Greaves said that she has received a lot of good reviews about the event from both students and employers. She hopes to make this Summit an annual occurrence.
---
Want in?
Anyone who is interested in assisting Alisha Greaves and her team in the preparation for future career summits can contact her at alisha.greaves@cuaa.edu or click the link below.
---
— Sydney Deutsch ('23) is a senior in the Digital Media Design program with an emphasis in communications and a minor in Marketing at Concordia University Ann Arbor.