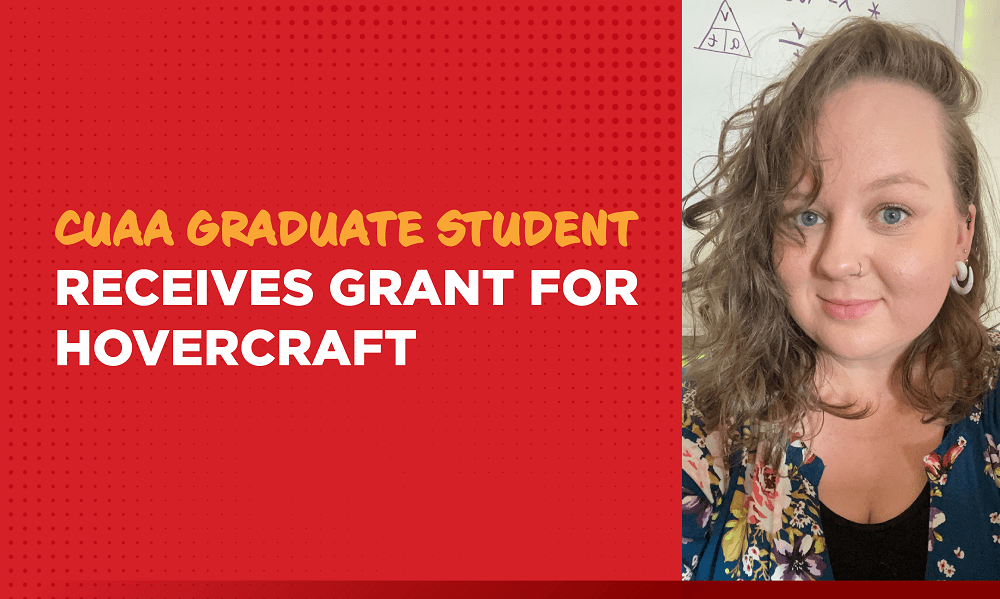 Jordan VanSickle-Covey is a graduate student in the Master of Curriculum & Instruction with Secondary Teacher Certification program. Recently she received a grant to design hovercrafts within her classroom. Learn more about Jordan, her educational journey at CUAA, and receiving the teaching grant.
Can you tell us a little bit about yourself?
I graduated from Ferris State University with a bachelor's in biology that is concentrated in forensic science. My teaching certification will be in Integrated Science at the secondary level (DI). This means I can teach most science subjects for grades 6 to 12.
I'm currently a high school science teacher for Cedar Springs Public Schools. Last year, I taught biology and chemistry. This year, I am teaching conceptual physics. My husband and I are raising 4 kids that all attend the CSPS. They keep us busy, and our lives are chaotic, but worth it.
How long have you been a student at CUAA?
I started the program in the summer of 2021. Classes began in July, and I am starting the last class this month. I'll be done this December.
What made you want to pursue the MSCI program? How did you hear about the program?
I was pursuing crime scene investigation and started substitute teaching at the suggestion of my parents. They were local teachers at the time, and they paid $70 a day. I could do that! As I developed relationships with the students, I found I could make a difference in their lives even as a substitute. I began to wonder what I could do if I was their teacher full-time.
This was in 2013 and I've been looking for the correct program ever since. I tried to pursue a post-baccalaureate program, but the financial aid never fell into place. My husband and I were married and had our children while in college.
In 2015, one of my sons was diagnosed with a rare kidney disease. I took time off from pursuing my career to stabilize his health and our lives. After a failed kidney transplant and post-transplant cancer, he was finally in remission and stable on home dialysis in 2020.
This meant it was time for me to start again. I needed to find a graduate program that allowed me to earn my certification as well. A student I went to high school with was in this program and in my mom's classroom for observation hours. She told me about MSCI Teacher Certification at CUAA and the rest is history. I knew I had finally found exactly what I needed.
What inspired your idea to create hovercrafts out of leaf blowers?
My dad! He taught high school physics for a few semesters, and it was a hands-on course. I knew I wanted to follow that path. Students learn best when they are actively thinking and discussing the issue at hand. They become frustrated and that's when you can see the learning on their face.
This physics course is one semester long, so I will receive an entirely new batch of students in mid-January. I wanted to find something they would remember. It needed to excite future students, but still, be easy to do.
I started researching momentum projects and found the hovercrafts. When talking to the science department at my district, another teacher suggested leaf blowers. We plan to use the district's 3-D printer to create an adaptor for the device. Then it will be more secure. I plan to do a project involving mini hovercrafts with CDs and balloons beforehand. The large project will be after Christmas break.
What will the grant you received cover/allow?
The grant will only cover the cost of the two leaf blowers. I still need to purchase the plastic, wood, etc and it sounds like the department will cover the rest. This project impacts over 300 students this year alone. That doesn't even include the upperclassmen that are already lining up for a turn. This grant brings fun back into the classroom. Students deserve to have fun again. Fortunately for us, they will learn about momentum in the process.
What have you learned in the program that you've been able to use in your day-to-day work?
I use what I've learned daily. I've taken more from this program than my knowledge but also found confidence in my gut decisions. Having discussions in class and the feedback from my professors is priceless. I enjoyed hearing other ideas and trying things within my own classroom. Receiving advice and being able to offer others advice reminded me that we were all in this together. It's a hard time to be an educator, but we are doing it with grace.