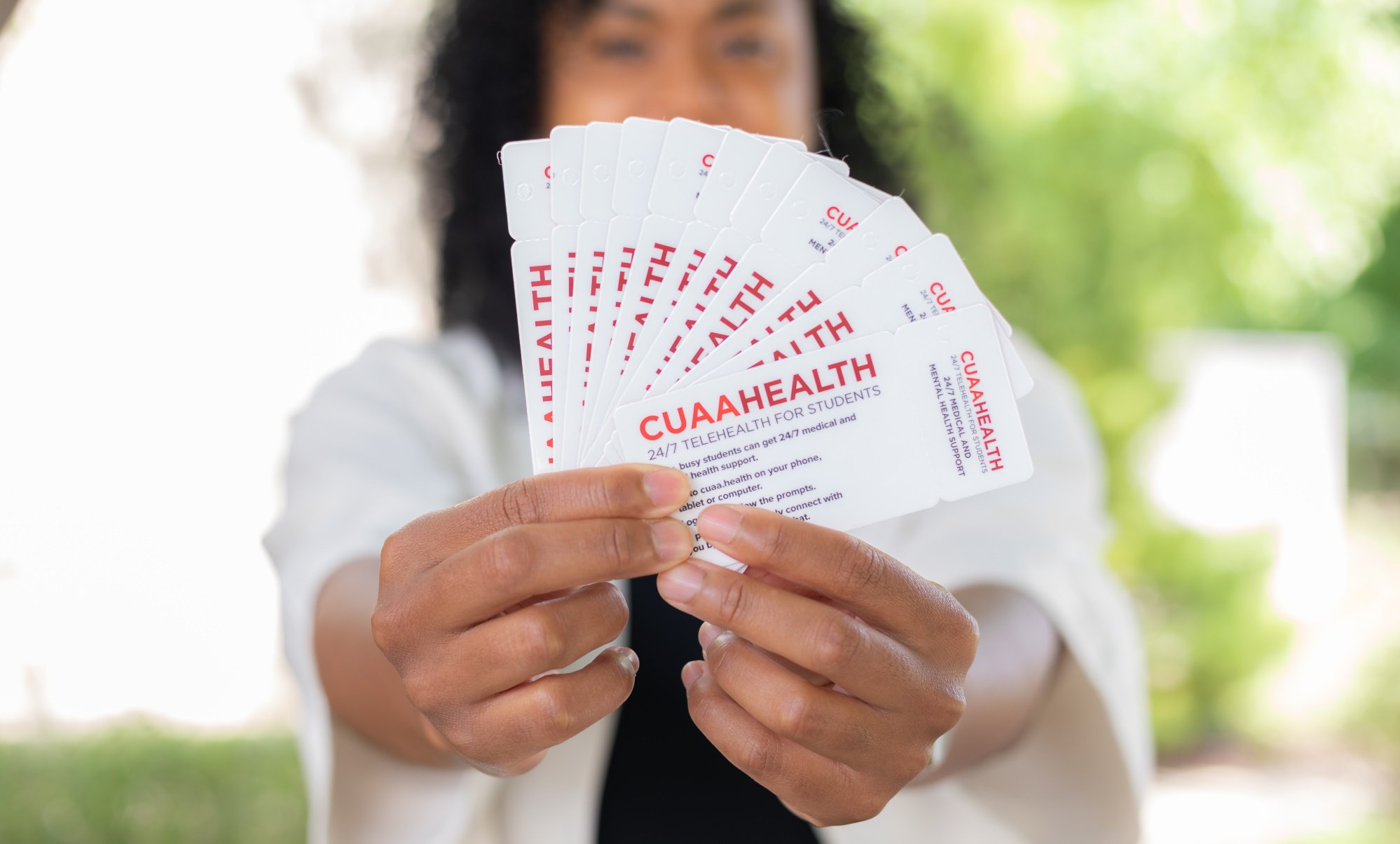 Concordia University Ann Arbor undergraduate students now have access to free, 24/7 physical, mental, and emotional healthcare.
---
Through a partnership with TimelyMD, CUAA Health (www.cuaa.health) will support CUAA's Counseling and Psychological Services (CAPS) with mental and emotional support and provide a free physical healthcare option for Concordia students who need it.
"The key word here is access," said Dean of Student John Rathje. "When in doubt about what is needed, our students can contact a health professional through this app and get the answers or direction they need. This is a great resource for our students!"
CUAA students: Visit the CUAA.health website or download the TimelyMD app. Pick up a key tag and sticker with CUAA health information from your RA or in the Dean of Student's office in Student Services Building on Central Campus.
Students should continue to reach out the CUAA's CAPS department to schedule a counseling appointment to resolve a larger issue (such as on-going relationship issues, transition issues, depression or anxiety symptoms, etc.). CAPS will utilize TimelyMD scheduled counseling appointments to supplement the counseling services that are offered in-person by CAPS staff on Concordia's campus. To contact CAPS, email CAPS@cuaa.edu or call 734-995-7441.
CUAA Health also bolsters CAPS' tool box with resources such as TalkNow—24/7 immediate access to a mental health counselor on the TimelyMD app—when students have a quick issue that they think a mental health counselor could help with. It also can be used after-hours for immediate help or crisis issues.
"At Concordia, our priority is the whole health of our students: mind, body, and spirit. CUAA Health not only fits our mission, but it allows our mission to be extended more fully in robust and intentional ways to prepare our students to live uncommon," said Vice President of Administration Rev. Dr. Ryan Peterson.
Peterson continues that Concordia University Ann Arbor is committed to working together to perform and promote COVID-19 responsible behaviors and empowering the entire campus community to honor one another out of an abundance of care for one another. CUAA Health will provide access to all students, all the time, to make wise and honorable decisions for themselves and others.
CUAA Health does not take the place of the current procedures in place for COVID-19 screening, testing, and tracing. All CUAA students, faculty, and staff are expected to take the Daily Symptom Tracker and follow the communicated protocols to mitigate the spread of COVID-19. Visit cuaa.edu/Covid19 for more information.
CUAA HEALTH FAQ'S
WHAT IS CUAA HEALTH?
A tool and resource of CUAA's Counseling and Psychological Services (CAPS), providing access to 24/7 medical, mental health and health coaching support for Concordia University Ann Arbor undergraduate students.
WHO CAN USE CUAA HEALTH?
Any Concordia University Ann Arbor undergraduate student can use CUAA Health.
WHAT SERVICES ARE AVAILABLE?
24/7 Medical visits, TalkNow visits (24/7 mental health support), Scheduled Counseling visits and Health Coaching visits are available at no cost. *Please utilize CUAA's CAPS department as a first resource.
HOW DO I LOG IN?
Go to www.CUAA.health and follow the prompts. *Mobile users will be directed to download the TimelyMD app.
WHAT CAN I BE TREATED FOR?
Our physicians, counselors and health coaches can treat/discuss a wide range of common conditions, and after talking to you, will decide on the best course of treatment. Some common conditions are:
Cold
Sinus infection
Influenza (flu)
Stress and anxiety
Relationships
Depression
Nutrition
Healthy Lifestyle
HOW MUCH DO VISITS COST?
There is no cost to enrolled Concordia University Ann Arbor undergraduate students.
CAN I GET A PRESCRIPTION?
Yes, if the provider deems it clinically appropriate.
Questions? Contact Director of CAPS Ali Ross at Ali.Ross@cuaa.edu or visit www.CUAA.health for additional information.
— Rachel Thoms served on Concordia University's Strategic Communications team from 2015-2022. Any inquiries about this story can be sent to news@cuaa.edu.
If this story has inspired you, why not explore how you can help further Concordia's mission through giving.