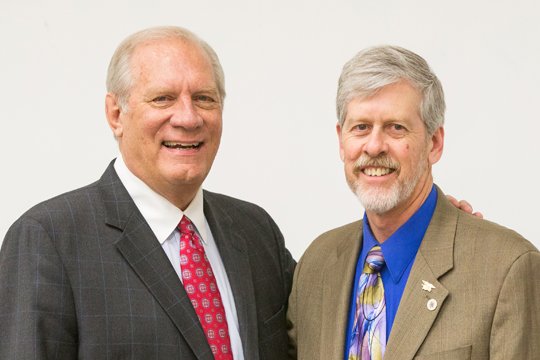 Concordia University Ann Arbor's Kreft Arts Program, in conjunction with the Department of English, is pleased to announce the eighth annual Conference on Spirituality and the Arts and Sciences taking place on Concordia's campus Thursday, April 7.
---
The Conference on Spirituality and the Arts and Sciences (CSAS) features a keynote speaker followed by concurrent sessions, with presentations authored by current students, alumni, faculty, and staff of Concordia University, from both Ann Arbor and Wisconsin.
"This conference was created to underscore the relationship between academic excellence and spiritual values at Concordia," said Director of the Kreft Arts Program Mark Looker. "It showcases the intellectual and artistic accomplishments of Concordia students, and provides a stimulating venue for discussion within the Concordia community."
The conference theme for this year is "Boundaries, Borders, and Thresholds," as it unfolds across curricula and throughout university disciplines. This year's CSAS theme approaches presentation topics such as, "What are the effects of a physical or conceptual boundary on our perceptions of reality?" or "What does it mean to occupy a borderland between cultures or identities?"
The CSAS keynote speaker is CUAA alumna Dr. Shirley Miske, founder and president of Miske Witt & Associates Inc. in St. Paul, Minn., an international consulting firm on programs of rights-based approaches to educational quality and gender equality, girls' and women's education, teacher professional development, literacy, and mathematics for numerous agencies and organizations.
"Dr. Miske was named the Concordia University Ann Arbor Distinguished Alumna in 2000, and we are delighted to welcome her back to kick off the eighth annual CSAS," said Looker.
CSAS is free and open to the public. The presentations will begin with Miske's keynote at 12:30 p.m., followed by various presentations throughout campus from 1:30-4:30 p.m., ending with a reception in the Kreft Gallery.
For additional information or questions, contact Looker or 734-995-7389.
— Rachel Thoms served on Concordia University's Strategic Communications team from 2015-2022. Any inquiries about this story can be sent to news@cuaa.edu.
If this story has inspired you, why not explore how you can help further Concordia's mission through giving.