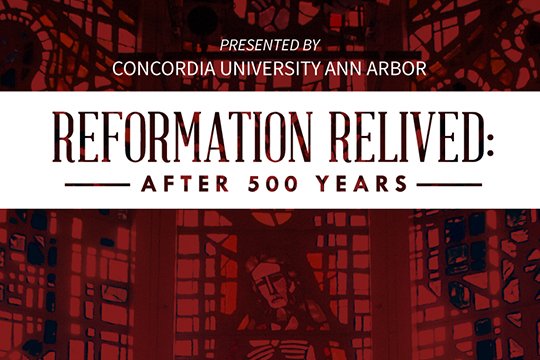 The Theology Department at Concordia University Ann Arbor presents "Reformation Relived: After 500 Years," a four-part speaker series taking place over the course of the next year on Concordia's campus.
---
The series is being launched in anticipation of the 500th anniversary of the Reformation of the Protestant Church in October 2017. Sparked by Martin Luther nailing 95 Theses to a church door in Wittenburg in 1517, the series recognizes how the Reformation continues to shape our world 500 years later.
"The Reformation Relived series features experts on Luther and the Reformation, exploring their continuing relevance for 2017 and beyond," said Rev. Ted Hopkins, Assistant Professor of Theology at Concordia University.
The speakers, dates, and topics include:
Tuesday, December 13, 2016: "Being Human: Anthropology at the Heart of the Reformation"; Dr. Detlev Schulz, Concordia Theological Seminary, Ft. Wayne, Indiana
Thursday, February 16, 2017: "Seeking Certainty: The Reformation's Quest for Confidence Concerning God's Forgiveness"; Dr. Thomas Trapp, Concordia University St. Paul, Minnesota
Tuesday, April 4, 2017: "Luther on the Six Days of Creation"; Dr. Ronald Delph, Eastern Michigan University, Ypsilanti, Michigan
Tuesday, November 14, 2017: "What the Reformation is Really About"; Dr. David Maxwell, Concordia Theological Seminary, St. Louis, Missouri
All events will begin at 7 p.m. in the Kreft Center for the Arts on Concordia's campus, located at 4090 Geddes Road, Ann Arbor, Michigan. "Reformation Relived: After 500 Years" is a free event, open to the public.
In addition to the speaker series, CUAA will host a campus-wide Reformation 500 Oktoberfest on Saturday, Sept. 16, 2017, and a Reformation Roundtable on Sept. 19, 2017. The Reformation Roundtable is a panel-led discussion on the impact and importance of Luther and the Reformation in various church denominations and contexts. Panel members leading the discussion include the President of Concordia University Ann Arbor and Wisconsin Rev. Dr. Patrick T. Ferry, and Associate Pastor of Knox Presbyterian Church in Ann Arbor Rev. Bob. Lynn.
For additional information on the "Reformation Relived: After 500 Years" speaker series, contact Rev. Ted Hopkins at Theodore.Hopkins@cuaa.edu or 734-995-7480.
— Rachel Thoms served on Concordia University's Strategic Communications team from 2015-2022. Any inquiries about this story can be sent to news@cuaa.edu.
If this story has inspired you, why not explore how you can help further Concordia's mission through giving.