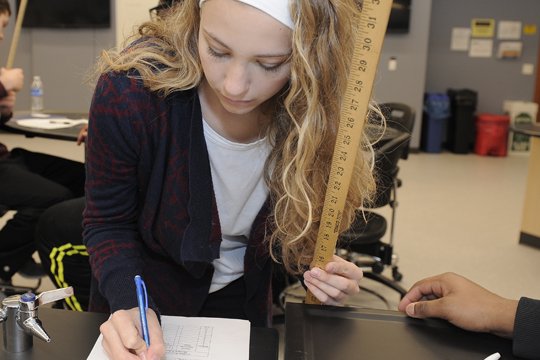 The Concordia University Ann Arbor (CUAA) Science Department and basketball programs are partnering together to offer Healthy Bodies & Minds Day Camp, a unique opportunity for grade school students to spend the day in a fun and safe learning environment on Monday, January 16, 2017 on the campus of Concordia University.
---
Healthy Bodies & Minds Day Camp is led by CUAA Science professors and current players and coaches from the men's and women's basketball teams. Campers will participate in a variety of science lessons in Concordia's newly renovated Science Building and learn basketball fundamentals in the CUAA Field House.
The day camp is open to students from second to eighth grade, and campers will be divided into groups based on current grade level. The camp puts a specific emphasis on STEM (science, technology, engineering, and mathematics) for students at the sixth-eighth grade level.
"We began offering a winter day camp last year because so many elementary students were out of school in observation of Martin Luther King Jr. Day," said Thad Sankey, Women's Basketball Head Coach. "This year, we're taking it a step further by adding the science element so that campers get an even more well-rounded experience. It's also a great opportunity for our college athletes to spend time teaching and mentoring younger kids from our community."
The camp is supported by a grant awarded to CUAA by the Brauer Foundation of Spring Lake, Mich. and long-time supporters of the University. The Brauer Foundation has provided scholarships to thirty students from Ypsilanti Community Schools based on essays written by the students describing the link between basketball and science.
The camp will begin at 9:00 a.m. on Monday, January 16 and end at 4:00 p.m. Participants will be provided lunch and healthy snacks, included with the $75.00 cost of the camp. Campers will also receive a 30-day activity worksheet with an opportunity to earn free admission to the Concordia Cardinals men's and women's basketball games on Wednesday, February 15.
To register for the Healthy Hearts and Minds Day Camp, click here. For additional information, contact Kyle Thoms at Kyle.Thoms@cuaa.edu or 734-995-7319. Concordia University Ann Arbor is located at 4090 Geddes Road, Ann Arbor, MI 48105. For campus map and directions click here.
— Rachel Thoms served on Concordia University's Strategic Communications team from 2015-2022. Any inquiries about this story can be sent to news@cuaa.edu.
If this story has inspired you, why not explore how you can help further Concordia's mission through giving.