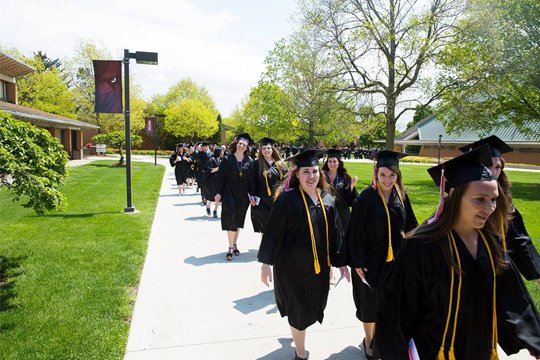 Concordia University Ann Arbor will award diplomas to 112 undergraduate and 47 graduate school students during its spring commencement ceremony on Sunday, May 14.
---
The day will begin with an 11 a.m. baccalaureate ceremony in the Chapel of the Holy Trinity, 4090 Geddes Road. The guest preacher for the baccalaureate service will be Rev. Ronnie Koch, from St. Paul's Lutheran Church in Fredericksburg, Iowa.
The baccalaureate will be followed by commencement in the Field House at 2 p.m. Rev. Dr. Dean W. Nadasdy, president of the Minnesota South District of The Lutheran Church–Missouri Synod, will deliver the commencement address. A Concordia Ann Arbor graduate, Nadasdy was named the Outstanding Alumnus in 1993 and is the author and co-editor of various children's plays and worship dramas published through Concordia Publishing House.
Three prestigious awards will be presented during the afternoon commencement: Paul G. Angott, Honorary Doctor of Letters; Kay Haab (Keturah Thunder-Haab), Christus Primus Award; and Steven Meske, Outstanding Alumnus Award.
Angott, who lives in Bloomfield Hills, Michigan, and attends St. John Lutheran Church in Rochester, is an entrepreneur who has 40 patents on products that have generated more than $10 million in sales. He has gained media attention for patenting a cancer tester that is radiation free, low cost, painless and allows for earlier detection than a mammogram. Angott is scheduled to begin sales of his product this summer.
The Christus Primus Award, a service award presented annually to clergy, educators or laypersons of the LCMS, recognizes distinguished service to the church and community. As president of the Oscar & Keturah Haab Foundation, Haab is faithful to the charity's priority of funding education, mission and Christ-centered ministries that reach out through local and international endeavors. Haab remains closely connected to Concordia's Haab School of Business – having been its most prominent benefactor – and enjoys meeting the business school students each year. She also is an avid sports fan, and follows football and basketball for the University of Michigan and Concordia.
Meske, the 2017 Outstanding Alumnus, serves as superintendent of the Lutheran High School Association of Greater Detroit and has held numerous teaching and administrative positions in Lutheran schools throughout his career. He has also been a part of numerous committees and boards supporting Lutheran education, campus ministry, the growth and implementation of curriculum in Lutheran high schools and helping children and church-workers alike with skill development in mental, physical and financial health.
For more information, visit www.cuaa.edu/graduation.
—
If this story has inspired you, why not explore how you can help further Concordia's mission through giving.