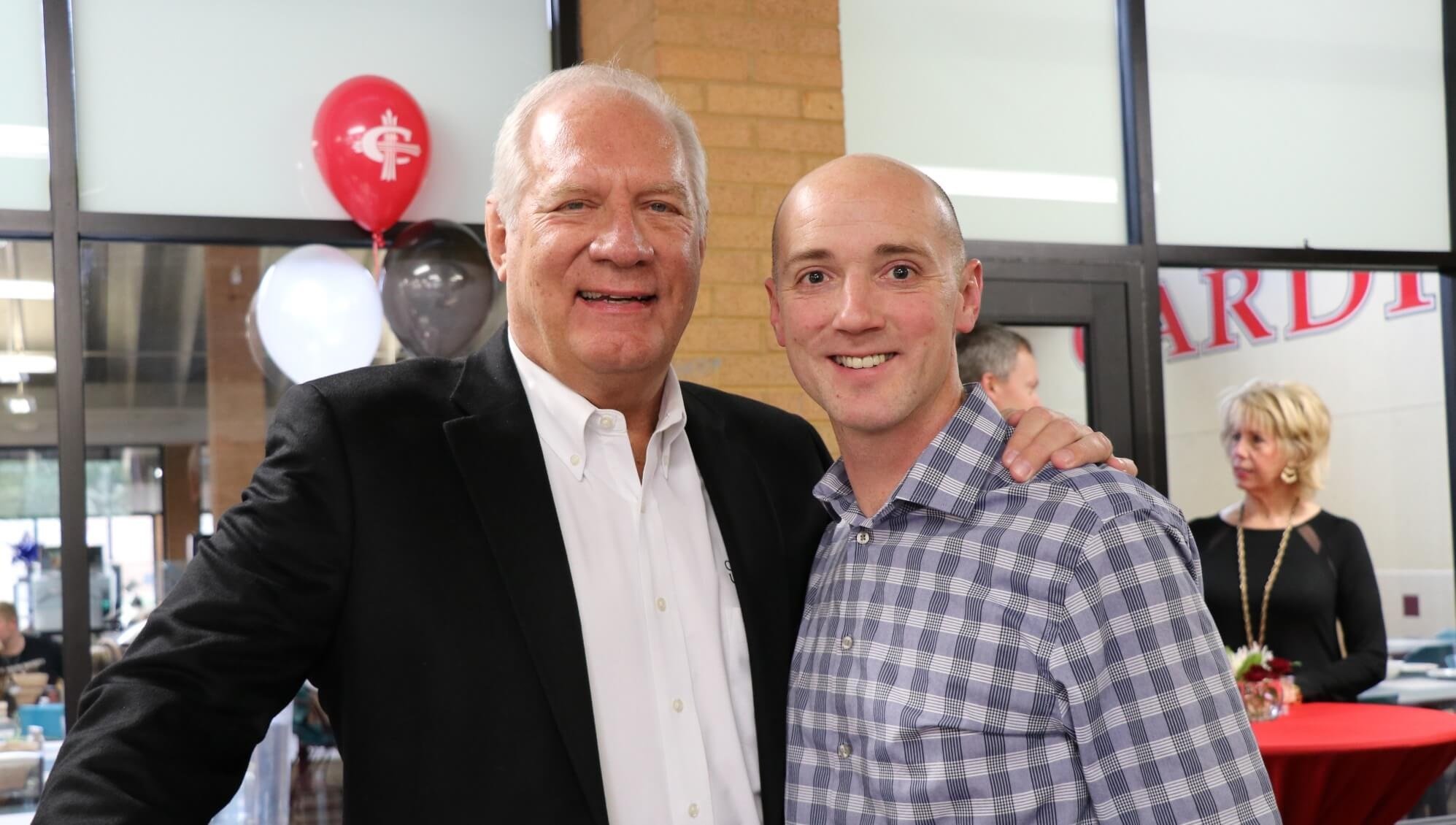 After over 10 years of service to Concordia University, Curt Gielow, vice president of administration and campus executive of the Concordia University Ann Arbor campus, has announced his retirement. In his relatively brief time at Concordia, Gielow has left his mark as a key team member behind some of the university's boldest moves, including: starting a new School of Pharmacy at Concordia University Wisconsin, acquiring the North Building at CUAA, starting a School of Nursing and a physician's assistant program at CUAA, and, perhaps, largest of all, making the unprecedented integration of two different universities in two different states work.
---
His Concordia career began in 2007 on the Mequon, Wisconsin campus, where he was tapped as a consultant by CUW President Rev. Patrick T. Ferry, PhD, to explore the feasibility of starting a pharmacy school to address the acute shortage of pharmacists in the state. Gielow was highly suited for the task. At that time, he was retiring from four years in the Wisconsin Assembly. Prior to his election to the Assembly, Gielow worked in health care management, business and executive search consulting, and had previously practiced pharmacy.
Gielow and the assembled committee of advisors affirmed the shortage of pharmacists and advocated for the school to fill the need. In 2008, Gielow was appointed executive dean of the new School of Pharmacy project, and he, along with newly appointed academic dean, Dr. Dean Arneson, and executive assistant, Janet Mushall, got to work to start Wisconsin's second School of Pharmacy from the ground up. In 2010 the first class was enrolled.
Coincidently, Gielow also was elected mayor of the City of Mequon that same year and served the community in both capacities for the next three years.
Gielow noted that it was a remarkable move for a small, Christian, liberal arts college to take on such a heavy science program. That move had a ripple effect at Concordia that led to growth in volume and reputation in multiple areas of study, including business, health care, and sciences.
After the School of Pharmacy was successfully up and running, President Ferry and Concordia's leadership were working on another remarkable move: to acquire the struggling sister school, Concordia University in Ann Arbor, Michigan, and preserve the provision of a Lutheran, Christian higher education alternative in the Ann Arbor region.
Based on Gielow's success as a leader who could turn a vision into a thriving realty, he was, once again, tapped by President Ferry and the university's leadership to carry out a successful integration between the two Concordias.
Under Gielow's management, CUAA grew incrementally in its size and offerings. When he arrived in 2013, enrollment was around 600 students and the university did not offer any health care programs. Since then, enrollment has doubled to over 1,200 students and, this year, CUAA graduated the first School of Nursing students.
In his five years at CUAA, Gielow oversaw the purchase of the North Building, the former Cooley Law School located a couple miles north of campus. That building now houses the School of Nursing, School of Health Professions, and is making room for the physician's assistant  program to welcome their first class in fall 2019.
Of all the remarkable accomplishments that Gielow has been a part of, he is most proud that he played such a pivotal role in the successful integration of Concordia University Wisconsin and Concordia University Ann Arbor.
As Gielow steps aside, he is succeeded by a campus leader who has ties to both CUW and CUAA and joined the CUAA campus community in 2013, at the same time as Gielow.
Rev. Dr. Ryan Peterson, campus pastor and an alumnus of CUW, has been promoted to vice president of administration and the chief liaison to the Office of the President, effective Jan. 1, 2019.
Pastor Randy Duncan will assume the title of campus pastor and lead the campus ministry work at CUAA with Peterson's support and counsel.
"We are a small, Christian, faith-based university nestled on a beautiful piece of property in the best college town in America," says Gielow. "With a visionary like President Ferry steering the ship, and leaders like Dr. Peterson and Pastor Duncan on the ground protecting and extending that vision, Concordia could continue to buck the higher education trend and attract more students to our culture of faith and learning and our community where everybody knows everybody."
Gielow plans to move back to Wisconsin, but, he will remain active and involved in the continued growth of CUAA. As the campus continues to redefine itself and come into its own, there will, no doubt, be many more bold university moves that will require the skills and fortitude that Gielow has spent his lifetime acquiring.
—
If this story has inspired you, why not explore how you can help further Concordia's mission through giving.